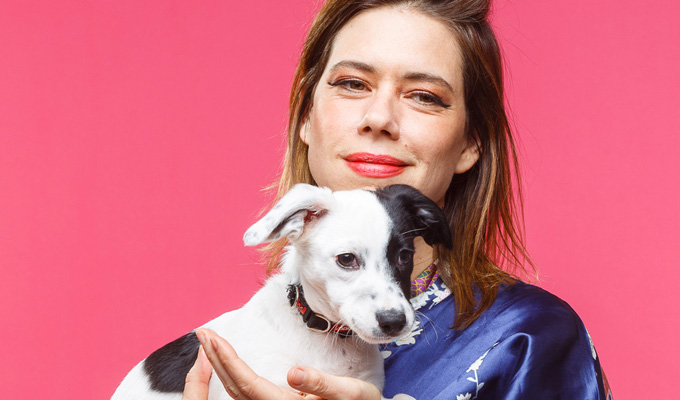 Lou Sanders launches a chat show
Here's Chortle's daily round-up of new comedy to watch at home during lockdown.
This list, updated at around 3pm daily, covers subscription services such as Netflix, Amazon Prime, iPlayer and NextUp, to podcasts and shows that comedians are releasing themselves, is your essential guide to getting a daily dose of laughs.
As well as these highlights, you can search our listings for other online events using the blue box at the left or top of this page. Or if you're a promoter wanting to add an event, details are here.
---
The Lou Sanders International Chat Show
The Taskmaster winner launches a new show promising 'games, songs and invasive questions'.
And there are a lot of guests per episode. Tonight's are David O'Doherty, John Robins, Lolly Adefope, Ed Gamble, Lucy Pearman, Mark Silcox, Ray Badran, and Annie McGrath.
Sanders said: 'I'm so psyched for this. We've bought some signs and decorations, games will be played and someone can win a piece of the moon. I for one can't wait to have some fun. Women aren't allowed to have chat shows in the UK so this is very cheeky.'
Tickets are now on sale for this online live-streamed show here, priced £7.71, including a £2 charity donation.
---
Weirdos Celebrity Twitchathon
Comedy collective Weirdos Comedy will tonight (Friday) be streaming an entirely live show of comedians recreating computer games in their own home using wigs, cardboard and anything at their disposal.
The cast includes: Katia Kvinge, Joz Norris, Ali Brice, Ben Target, Helen Duff, Eleanor Morton, Sooz Kempner, Matthew Highton and many more...
It's free to watch from 8.30pm via Twitch, although donations for the acts who have lost income because of the cancellation of live comedy are encouraged
---
RTE Does Comic Relief
The Irish state broadcaster is staging a major fundraiser tonight, hosted by Deirdre O'Kane, Baz Ashmawy and others, with performances and contributions from the likes of Dara O'Briain, Chris O'Dowd, Jason Byrne, Aisling Bea, John Bishop, David Mitchell, Andrew Maxwell, Ed Byrne, Jimmy Carr, Neil Delamere, Zig & Zag and many more...
Watch on rte.ie or RTE Player from 8pm and donate here
---
Jarred Christmas: Live From A Village Pub
After 22 years in the business, the two-time winner of Chortle's best compere award has today released his first stand-up comedy special. Live From A Village Pub was filmed in January at his very special local, The Cross Keys in Rode, Somerset.
Covering his encounters with a German drag Queen, a dare gone wrong, how to win Monopoly and the trouble with telling rude jokes at primary school, the special is available on Vimeo for £3.99
---
Robin Morgan & Friends
The Welsh comic is celebrating ten years in comedy by returning to the same venue where he did his first in 2010, Chapter Arts Centre in Cardiff. But you'll have to watch his performance for the building, which like so many others is at risk of closure, via Zoom.
Angela Barnes, Stephen Bailey and Leroy Brito are also on the bill and the show kicks off at 8pm tonight (Friday), Get ticket for a fiver here
---
Jew Talkin' To Me?
Comedians Rachel Creeger and Philip Simon today launch this comedy chat show all about being Jewish.
Guests lined up include Steve Furst, Ivor Baddiel, Sooz Kempner, and Lynn Ruth Miller. sharing their perspectives on being 21st Century Jews as well as their memories of growing up and what being Jewish means to them.
Creeger says: 'The show is a light-hearted look at Jewishness rather than Judaism, making it appealing and accessible to everyone. We aren't trying to convert, educate or return anyone to the flock. This is a warm, relaxed and funny chat show that recreates the kind of conversations you'd have if you found yourself on the miscellaneous table at your cousin Hannah's bat mitzvah.'
Someone added: 'Being Jewish means something different to everyone. For some, it might be as simple as watching Friday Night Dinner and thinking it cuts a bit too close to home, for others it could be a key part of their identity.
'The common thread is that everyone has stories to tell and thinks their grandma's chicken soup is the best. Rachel and I sit at opposite ends of the Shabbat table. She strictly observes the sabbath, I sneakily eat bacon sandwiches. Sorry mum'
Produced by Russell Balkind, series producer of The Mash Report and 8 Out of 10 Cats, episodes will be available to watch online on Facebook and YouTube and released as a podcast on all the usual platforms.
---
Jason Manford: The Weekly Stand Up
He's been busy during lockdown hosting online quizzes and doing his bit as a driver for charity – and even Iceland.
But now Jason Manford is back to hosting an actual comedy gig - albeit of the 'comics performing to their webcams at home' type – with an eight-week run of Thursday-night shows kicking off at 8pm tonight.
Rob Brydon headlines the first evening alongside Dana Alexander, lively improv group Noise Next Door and Tez Ilyas. Harry Hill, Russell Howard and Milton Jones are among those lined up for later in the run.
Manford said: "I've always been conscious of how precarious my industry can be. I set up Manford's Comedy Clubs five years ago to support other comedians and now I'm here, trying to do what I can to help again.
'I've set up the gigs to support my friends and colleagues during this awful time. While none of us would claim to be key workers, we know that a lot of frontline staff could do with having their minds taken off the difficulty of what's going on out there.
'I hope these shows will go some way to bridging the gap between now and when we are allowed back in our venues once more.'
Tickets, priced £5 for the stream or £11 for front row places where the comics can see you, and possibly interact, are available here
---
Jonny & The Baptists: Love You & Hate Covid
The musical comedy duo, Jonny Donahoe and Paddy Gervers, commence their tour that doesn't tour today.
They will play customised gigs seven independent venues around the country, starting with the with the South Street Arts Centre in Reading, based on their 2019 Edinburgh Fringe offering, Love You & Hate Bastards.
Tickets are available here.
---
Comics in Quarantine Solving Problems
The Mash Report's Stev N Allen and American turned Brit comic Erich McElroy chew the cud not he issues of the day in this twice-weekly show, airing again at 9pm tonight here
---
Remote Comedy from The Paddock
Episode four of E4's on-demand lockdown comedy dropped last night with sketches from former Edinburgh Comedy Award-winner Richard Gadd, Cat Cohen, the American cabaret performer nominated for best newcomer at last year's Fringe, deadpan Australian Aaron Chen and inventive comedy duo The Pin, aka Ben Ashenden and Alexander Owen.
---
Always Be Comedy
A star-studded from-home bill tonight with Al Murray - no doubt celebrating the imminent reopening of the pub, Mark Steel, Simon Brodkin and Jen Brister. Tickets are available here.
---
Nath Valvo: I'm Happy For You
Every few weeks, Australia's ABC broadcaster releases a stand-up comedy special via this podcast. Previous acts have included Felicity Ward, Sammy J, Ivan Aristeguieta and, Alice Fraser.
In the latest, the cynical camp Nath Valvo takes aim at smug people making good life choices in a show recorded live at last year's Melbourne International Comedy Festival.
---
Paul Kerensa: So a Comedian Walks Into A Church
The comedian, known for his regular Pause For Thought contributions on Radio 2 from his Christian viewpoint, recorded this special at Trinity Church, Cheltenham, in 2018 and has now put it online for free, with an appeal to pay what you want if you enjoy it...
---
Rachel Parris & Marcus Brigstocke's Tuesday Night Club
The married comedian launched a new weekly gig tonight, based on their popular online lip-syncs. Their elaborate mimes have wound up on BBC Two's Comedians: Home Alone and Good Morning America, as well as on countess social media.
The format will be a set form each of them before closing with the musical number, all hosted by James Gill as part of the online offerings of his club Always Be Comedy.
He said: 'We had Rachel and Marcus on at our regular online Wednesday night recently. There was a bit of a tech mishap their side - their speaker needed a new battery - and so they both had to take it in turns to pad while the other looked for a battery before their planned live lip sync battle.
'As this was happening, the comedy anorak in me was thinking: "This is literally a format for a show." And so here we are.
The show kicks off on Zoom at 8pm tonight. Tickets are £3 and are available here.
---
Comedians: Home Alone
Speaking of the BBC's lockdown sketch show, last night's edition featured Tom Allen giving some quarantine etiquette tips, Jason Manford demonstrating how to cook healthily for six kids, Meera Syal and Sanjeev Bhaskar returning to The Kumars, another animated escapade from Bob Mortimer's Train Guy and Tim Key performing more seclusion poetry.
It's now available on iPlayer
---
Eric Andre: Legalize Everything
Eric Andre – probably best known in cult circles for his anarchic fake talk show on Adult Swim – takes the stage in New Orleans for his first Netflix stand-up special.
He tackles flawed fast-food icons, the wonders of autofill and the bizarre choice for the Cops theme song, as outlined in this clip:
---
The Lock Inn Pub Quiz
Comedian Ivo Graham is the regular host of this part-game show/part-pub quiz format – and tonight (Monday) he will be joined by trivia royalty Richard Osman, Paul Sinha and Jenny Ryan.
The show goes live at 8.30pm, and in the meantime previous episodes can be watched here. The venture is raising money for the Music Venues Trust, to try to support live venues during lockdown.
---
The Paychex Business Series Podcast
OK, this doesn't scream comedy... it's hosted by certified public accountant Gene Marks and is sponsored by a payroll services company.
But this week's episode is slightly different as the small enterprise owner featured is top US comedian Jim Gaffigan, speaking about how he is using the pandemic to build up an online community he hopes to monetise later.
Part one is here and part two is here.
---
Happy Mondays
Tonight's gig includes Josie Long, Sarah Keyworth and Catherine Bohart – who are in lockdown together – Brennan Reece and Hatty Ashdown. It kicks off at 9pm today (Monday) on Zoom and tickets, priced £5.50, are available here.
---
The Bake Off: The Professionals host and his best bud from the comedy circuit are hosting a live version of their long-running podcast (five years strong!) from 8pm tonight.
Tickets are priced £5.50 and available here.
---
St Ann's Hospice Comedy Special
And Tom Allen's back for this virtual comedy night in support of St Ann's Hospice in Stockport, which had been due to take place as an actual gig before the… well, you know.
Other acts on the bill are Josh Jones, Mick Ferry, Freddie Quinne, Big Lou Jones, Matt Reed, Harry Stachini, Australia's Anna Spark and American Kate McCabe.
It's free to watch here from 7.30pm tnight (Sunday), though you can contribute by buying raffle tickets to an online draw at the Just Giving page
---
Roy Wood Jr: Father Figure
A Father's Day release for this 'honestly funny' 2017 Comedy Central special about protests, the origin of the blues and life lessons for his newborn son.
It's been released for free on YouTube, but the broadcaster is seeking donations for the NAACP Legal Defense and Educational Fund, which tackles racism through the courts.
---
Need more suggestions?
• Click here for those from the week starting June 14
• Click here for those from the week starting June 7
• Click here for those from the week starting May 31
• Click here for those from the week starting May 24
• Click here for those from the week starting May 17
• Click here for those from the week starting May 10
• Click here for those from the week starting May 3
• Click here for those from the week starting April 26
• Click here for those from the week starting April 19
• Click here for those from the week starting April 12
• Click here for those from the week starting April 5
• Click here for those from the week starting March 29
• Click here for those from the week starting March 22
• Click here for those from the week starting March 15
NOTE: Sometimes links and videos of live events expire after the event. All were valid at the time of publication
Published: 26 Jun 2020
What do you think?