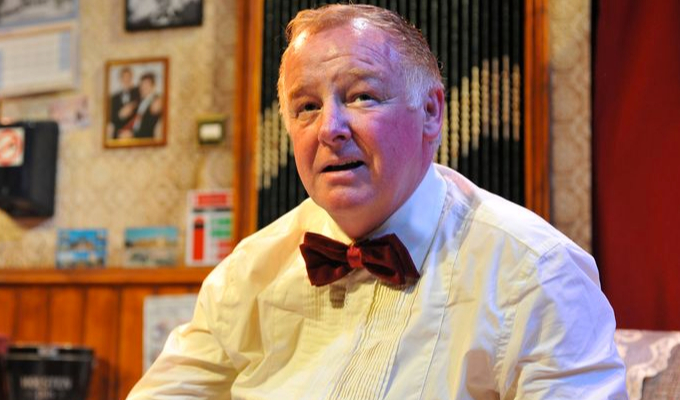 Les Dennis revives washed-up comedian Jigsy
Here's Chortle's daily round-up of new comedy to watch at home during lockdown.
This list, updated at around 3pm daily, covers subscription services such as Netflix, Amazon Prime, iPlayer and NextUp, to podcasts and shows that comedians are releasing themselves, is your essential guide to getting a daily dose of laughs.
As well as these highlights, you can search our listings for other online events using the blue box at the left or top of this page.
Or if you're a promoter wanting to add an event, details are here.
---
Jigsy
In this play, which first debuted at the 2012 Fringe, Les Dennis plays a journeyman working men's club comedian, loosely inspired by Scouse comic Jackie Hamilton, in the last throes of his career.
Dennis has now recorded a new version – easy under social distancing since it's a one-man performance – to help out the Royal Court Theatre in his native Liverpool during lockdown.
Set in the 1990s, his character is struggling for survival in a modern world that has left him far behind. Talking directly to the audience, Jigsy reviews the ups and downs of his life, mostly the latter. The theatre says the play 'gives a glimpse into the earthy heartland of Northern comedy, and also connects with the social history of Liverpool, the spirit of Scouse, and the meaning of life.'
Read Chortle's review of the original stage production here.
The new performance available for free on YouTube, below.
---
The Thank You Gala
Comedy streaming service NextUp is hosting a gala tonight (Saturday) as a 'thank you' to supporters who have contributed nearly £100,000 to a fund to help comedians who can't work during lockdown.
The event will be MCed by Richard Herring, with acts including Adam Buxton, Mark Watson, Kiri Pritchard-McLean, Tom Rosenthal, Tez Ilyas and Yuriko Kotani.
It starts at 7pm here - and click here to contribute to the Heckle The Virus crowdfunder to help comics.
---
We Know Where You Live Live
The last in Amnesty International's look back at its famous Secret Policeman's Ball fundraisers looks back at the 2001 show with a highlights package featuring Eddie Izzard, Phill Jupitus, Harry Enfield and Paul Whitehouse.
---
La Princesa De Woking
Emma Sidi has taken great care to replicate the authentic feel of 1980s Spanish-language telenovelas in this spot-on parody, set in contemporary small-town England.
At her mother's untimely funeral, Becky Hello (a typical British millennial as imagined by Mexican writers who have never been to the UK) discovers she has inherited a fortune. But it isn't long before nefarious family members begin to circle, and Becky must keep her wits about her if she is to avoid the same fate as her mother.
Sidi says it's 'a bit Acorn Antiques, bit Garth Marenghi' and is something of an extension of her 2016 Edinburgh show Telenovela.
She added: 'Performing in something you've written and created is naturally nerve-wracking, but thankfully the telenovela by its nature requires such strong strokes in terms of acting, that I just went with the mantra "If in doubt, throw your head to the side and look shocked in a sexy way".
'A lot of fun in this production came from repeatedly asking ourselves "What would a real telenovela crew do in this situation?" We managed to track down some vintage cameras that gave us an authentic and ridiculous look.'
Co-starring a bilingual cast, this pilot has already played the festival circuit, and released online his morning:
---
Ross Noble: Brain Dump
A series of six films from the freewheeling comic's Brain Dump Tour, filmed in UK and Australia, have been made available on Soho Theatre On Demand for a limited four-week run.
Across the series he imagines people riding pogo donkeys at a classic car meet, tries to calm an arachnophobe over the giant spider on stage, and discusses a why man in the audience is dressed as a mouse.
The episodes cost £4 each to hire for 48 hours and are available here
---
Beef House
New to All4 today is this Adult Swim show offering Tim Heidecker and Eric Wareheim's super-absurd take on the 1990s family sitcom.
It revolves around five men - rock-and-roll slacker Tim, best pal Eric, Ron Auster, Ben Hur and Tennessee Luke - and Eric's wife Megan, a highly-strung police detective, living under one roof.
Watch all the episodes here
---
I Adore Dolores
In a surreal sitcom world, Dolores - a manic, overly optimistic divorcée - tries to win back her clown stepdaughter by purchasing the building she lives in under house arrest.
Featuring puppets, musical numbers, talking walls, and man-babies, the 20-minute film was named 'most outrageous' contribution at last year's Orlando Film Festival.
Now creators Jo Roueiheb (an Upright Citizen's Brigade regular who also stars), Sam Marine and Emily Wilson have put it online
---
Knock2bag Presents The Moth House
Some top-notch talent tries out some new material and sketches in this pre-recorded show that will be streamed live from 8pm tonight.
The line-up includes Tim Key, Natasia Demetriou, Lou Sanders, Adam Hess The Pin, Emma Sidi, Totally Tom and many more.
Tickets, priced £5 (or free to key workers) are available here.
---
Stephen Bailey: Comedy Central special
The comic talks about joining a spin class, coming out to his parents and his butch boyfriend in this half-hour special, released for free by Comedy Central on YouTube today.
Bailey will be hosting the next series of Takeshi's Castle for the broadcaster and previous presented Celebs on the Farm for Channel 5 and has appeared on the likes of Live at the Apollo, Celebrity Mastermind and Love Island: Aftersun.
---
Coming To The Stage
This long-running launchpad for young American stand-up comedians to showcase their talents has just released its eighth season on Amazon Prime.
It's made by production company Comedians Dynamics and hosted by Jamie Kennedy who said: 'I love stand-up comedy, whether I'm playing 2000 people in a theatre in Iceland or 90 people in a bowling alley in Akron, so when Comedy Dynamics asked me to host, I jumped at the chance….mainly because it's not in a bowling alley.'
This season features Vanessa Johnston, Yusuf Ali, Josh Comers, Michael Truesdale, JC Coccoli, Vince Caldera, Edgar Rivera, Michelle Stevenson, Sarah Afkami, Andrew Orolfo, Leah Rudick, and Michael Burnett.
---
The Comedy Store Players
The UK's longest-running improv team will tonight (Wednesday) be putting a show online for the very first time since they started in 1985. They will be live-stream an hour of Sunday night footage from their archives from 7.30pm.
The line-up will feature Paul Merton, Richard Vranch, Neil Mullarkey Josie Lawrence, Lee Simpson and Andy Smart. Tickets, priced £7.50, are available here. The show will then be available to view until Saturday night.
---
Andrew Maxwell Breaks The Internet
The accomplished international comic is performing an hour's comedy from 8pm tonight (Wednesday) live on Zoom. Tickets are £9 – which is at the top end of what we've seen for live gigs, though he is very good! Tickets are here
---
Consignia: Panopticon
Consignia, an experimental sketch group (though they prefer the term 'dreams' to 'sketches') are performing their peculiar 2017 Edinburgh Fringe show Panopticon online tonight.
Comedy blogger John Fleming, who loves the weirder aspects of the festival, called it 'intentionally shambolic' and 'in the traditional spirit of the Fringe' when he saw it in Edinburgh.
It's on Twitch from 9pm tonight.
---
The Secret Policeman's Podcast Unlocked
The original cast of Goodness Gracious Me and guest Nish Kumar talk through their classic sketch Going For An English in this Amnesty International event tonight, revisiting the archives of its fundraiser gigs. It starts at 7.30pm here.
---
Angry Quiz Guy
Nick Helm plays the short-tempered titular character in this new series of comedy shorts based on the ubiquitous Zoom quiz, with comics including Rachel Stubbings, Richard Soames, Katie Pritchard and Briony Redman playing the competitors.Seven episodes are available on YouTube, starting here:
---
Next Level Sketch
This London-based comedy troupe normally stage a monthly gig at Hoopla Impro – but while they can't they have funnelled their ideas into a new sketch-based podcast.
They are Euan Brown, Zoe Browne, Paul Creasy, Greg Davies, Vic Dry, Matt Lawson, Dan Smith, James Walsh and Cody Whitaker – and here it is:
---
Some Like It Hot
Regularly making the lists of the best comedy films ever made, Billy Wilder's 1959 classic is available on iPlayer for a very limited window, until Saturday afternoon.
Tony Curtis and Jack Lemmon play musicians Joe and Kerry who accidentally witness the St Valentine's Day massacre. The boys decide to make a getaway by joining a jazz band heading for Florida. Just one problem - it's an all-girl group (who count Marilyn Monroe in their number). Watch here
---
Martin's Comedy Marathon
'Marathon' might be pushing it... for this is no Mark Watson endurance event but a half-hour collection of up-and-coming stand-ups compiled by Sam Serrano in memory of his girlfriend's brother, Martin Sullivan, who died of asthma a the age of 15.
The accompanying JustGiving fundraiser is in aid of Asthma UK.
---
Guest House Paradiso
Just arrived on Netflix today, is this 1999 Rik Mayall and Adrian Edmondson slapstick comedy, spun off from Bottom.
Their characters Richie and Eddie are in charge of the UK's cheapest hotel, but the arrival of the Nice family – headed by Simon Pegg – and the famous Italian actress Gina Carbonara (Hélène Mahieu) arrive, their shoddy practices are thrown into mayhem.
Co-stars include Bill Nighy and Fenella Fielding as fellow guests.
---
Child Labour
In this podcast, Comedian's Comedian podcast host Stuart Goldsmith and fellow comedians Sindhu Vee seek the advice of parents and experts on how to cope with bringing up children.
Arabella Weir is the guest in the first episode, which was released today, while future guests include Spencer Jones, Jo Joyner and Jen Brister.
Child Labour is available on Global Player, or wherever you get your podcasts.
---
Secret Policeman's Ball Unlocked
Amnesty International kicks off a programme of online events about their famous fundraisers with a discussion of The Four Yorkshiremen sketch.
Originally written by Tim Brooke-Taylor, John Cleese, Graham Chapman and Marty Feldman for the At Last the 1948 Show in 1967, it was popularised by Monty Python, then performed by Cleese, Terry Jones, Michael Palin and Rowan Atkinson for the original Secret Policeman's Ball in 1979.
Deborah Frances White will be joined by Juliet Stevenson and Derry Girls star Siobhan McSweeney to discuss the backstory of the sketch at 7.30pm. It will take place on Amnesty International's Facebook, Twitter and YouTube channels.
---
The Lock Inn Pub Quiz
Host Ivo Graham will be joined by Roisin Conaty, John Robins and Tim Ke in this game show/pub quiz hybrid tonight
Tonight's episode kicks off at 8.30pm, while all the past shows can be viewed (and played along with) on the Lock Inn Quiz YouTube Channel.
---
Adam Rowe: Club Comic
In celebration of the comedy circuit (remember that?), Adam Rowe filmed this special as two 20-minute sets at the London Comedy Store, performing different material for the early show and the late show. And now he's released it for free on YouTube…
---
It's the clash of the comedians who are also radio presenters double-acts (on 5Live and Radio X respectively) in this livestream from 8pm tonight (Sunday). Details here.
---
Stamptown Comedy Night
It's the second online 'outing' for the club that celebrates the more outlandish acts on the comedy and cabaret circuit, hosted by manic-depressive-comic-on-the-verge-of-breakdown Jack Tucker. Tonight's bill (Sunday) includes Lauren Pattison, Marcel Lucont, Mark Silcox, Natalie Palamides, Olga Koch and more. It kicks off at 9pm here.
---
Need more suggestions?
• Click here for those from the week starting May 24
• Click here for those from the week starting May 17
• Click here for those from the week starting May 10
• Click here for those from the week starting May 3
• Click here for those from the week starting April 26
• Click here for those from the week starting April 19
• Click here for those from the week starting April 12
• Click here for those from the week starting April 5
• Click here for those from the week starting March 29
• Click here for those from the week starting March 22
• Click here for those from the week starting March 15
NOTE: Sometimes links and videos of live events expire after the event. All were valid at the time of publication
Published: 6 Jun 2020
What do you think?