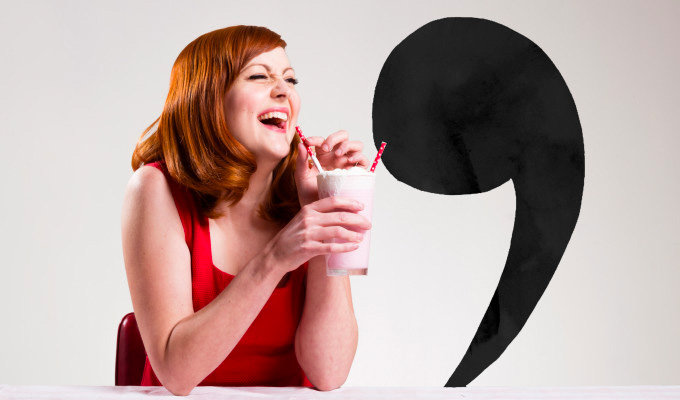 Louisa Fitzhardinge: Comma Sutra
Note: This review is from 2017
Grammarians of the world unite! You have nothing to lose but your friends…
Of all the modern tribes, the grammar nerd – apparently they don't like the term 'Nazi', who knew? – is surely one of the most clearly defined. They see themselves as proud defenders of the proper order of things, detractors see them as irritating nitpickers and intellectual snobs.
No guessing which camp Louisa Fitzhardinge places herself in as she exchanges pedantries in her efforts to bond with like-minded souls: flashing up images of misplaced apostrophe's or illiterate signs to make the audience feel like their superior.
If you couldn't read that last sentence without wincing, Comma Sutra is clearly aimed at you. If you wouldn't know a gerund from a squinting modifier, then maybe not.
But amusing as ambiguously written signage can be, much of this content is superficial, offering little more than a shared image on social media would. Her enjoyment of words also extends to the groaning puns of dad jokes, which again she has no hesitation in passing on here, no matter how corny.
Initially, her material is delivered in a slightly formal way, too, as if giving a lecture, although Fitzhardinge proves herself quick-witted in audience engagement and gradually adopts a more conversational, stand-uppy, tone.
That helps the show step up when she takes a wider look at her love of language, starting with some pleasing autobiographical romanticism when she depicts her childhood self as a timid, lonely Little Bookworm, in a winsome song.
She has a degree in musical theatre, which explains the well-sung cabaret tracks – often rewriting lyrics classics – that punctuate the hour, plus another BA in German and French. It's an education that equips her for only one thing in life, she admits: this show.
Laughing at foreign languages is nothing new, but there's a lot of charm about the way we learn about the literalism of German through an oompah-based rap, accompanied by Greg Lavell on accordion. And her description of 'cheating on' French with another tongue is sweet.
Likewise, the mistranslation of sign language is a well-trodden path – not least by Adam Hills – but Fitzhardinge's first-hand tales are amusingly self-deprecative.
Her cabaret game is stronger than her comedy one, and the hour barely scratches the surface. But it's dependably entertaining, and never more than in her party-trick closer of singing a quadrilingual version of It's A Wonderful World.
• Louisa Fitzhardinge: Comma Sutra is at the Butterfly Club until April 9.
Review date: 31 Mar 2017
Reviewed by: Steve Bennett
Recent Reviews
What do you think?