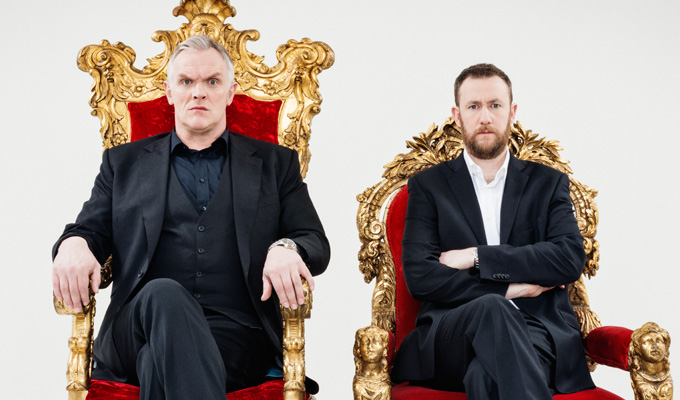 The podcast taking Greg Davies to task...
Here's Chortle's daily round-up of new comedy to watch at home during lockdown.
This list, updated at around 3pm daily, covers subscription services such as Netflix, Amazon Prime, iPlayer and NextUp, to podcasts and shows that comedians are releasing themselves, is your essential guide to getting a daily dose of laughs.
As well as these highlights, you can search our listings for other online events using the blue box at the left or top of this page. Or if you're a promoter wanting to add an event, details are here.
---
Saturday August 15
TASKMISTRESS: Mainstream America might not have taken Taskmaster to its heart, with a run of the British series pulled after just one episode. But in this new US podcast, married couple Hank and Katherine Green rewatch the series from the very start, rescore each round, debate whether Greg Davies ruled justly (probably not), and mock the contestants. Listen here.
COMEDY AT THE COVID ARMS: This virtual gig has raised tens of thousands of pounds for good causes thanks to some excellent bills, and tonight's is no exception. Kiri Pritchard-McLean introduces David O'Doherty, Lolly Adefope, Rachel Fairburn and Will Duggan. Support the project here.
GLADIATRESS:: The Smack The Pony trio Sally Phillips, Fiona Allen and Doon Mackichan.starred in this loose spoof of Gladiator, but that didn't stop critics giving it a mauling on its 2004 release. The reaction of ordinary movie fans on IMDB is more mixed … and not you can judge for yourself as it's just popped up on Amazon Prime.
DRIFTERS: All four seasons of Jessica Knappett's E4 comedy have today returned to Netflix
---
Friday August 14
LITTLE AND LARGE: The duo's last stage appearance, filmed at Bristol's Slapstick comedy festival in 2019, is being streamed tonight. It was the pair's first stage appearance for decades, and they talk about their career heyday as well as Large's health problems. He died earlier this year, aged 78, after contracting coronavirus.The film is due to be shown on the Slapstick Festival's YouTube channel at 7.30pm
SHEDINBURGH: Today is the first day of this new online festival presenting the theatre, music and comedy acts that should have been at the Edinburgh Fringe, but instead being streamed live from sheds across the country. It's a while til the comedy programming hits, but the festival kicks off with a tragic comedy theatre piece from three time Fringe First winner Gary McNair which tells the story of Sir William Topaz McGonagall, the dreadful Dundonian poet whose memory was revived by Spike Milligan.
MERYL O'ROURKE: VANILLA: In her solo show, part of the Laughing Horse's streamed Free Festival, the stand-up and writer looks at what she thought was her youthful bad behaviour, but which is now considered ordinary, or 'vanilla'. The show kicks off on Zoom at 8pm, and tickets, from £2.50, are available here
JOHNNY WHITE REALLY-REALLY: UNENDING TORMENT: The quirky, low-key comedian has today released his 2019 Edinburgh Fringe show on all the usual streaming services, including Spotify. You can also read our four-star review of the live show here.
---
Thursday August 13
SECRET ARTISTS: The second series of the podcast in which comedians chat as they create a piece of art launches today. Host Annie McGrath (pictured) is joined by Jenny Eclair in episode one, and by comedian couple Nish Kumar & Amy Annette in episode two and guests over the rest of the series include Jayde Adams, Jack Barry, Lloyd Griffith, Sunil Patel and Olaf Falafel - who has been running a successful kids' art class throughout lockdown. Series two was due to be recorded in a new live format at festivals including Machynlleth, Latitude and the Edinburgh Fringe... but guess what? It had to take place on Zoom instead. The podcast is available on all the usual platforms, including Acast
THE Tim Vine CHAT SHOW: Tim Vine is be hosting a one-off special of his Radio 4 show in which he interviews members of the public ​via Zoom​ at 8pm tonight. It's being stage by NextUp, whose founder Dan Berg said: 'Tim's chat show has always been an absolute favourite and we're so excited to bring it to comedy fans online.' Click here for tickets and further information.
JO BRAND AND FRIENDS: Being staged for an educational charity, tonight's virtual stand-up show will also feature Tom Allen, Rob Beckett, Judi Love, and Angela Barnes. Tickets, priced £5.55 are available here, and it kicks off at 8.30pm. BEST BITS OF
SO YOU THINK YOU'RE FUNNY?: Watch some early footage of Aisling Bea, Doc Brown, Maisie Adam and Sarah Millican in this compilation, offered as part of the Gilded Balloon's Retro Fringe. It's on YouTube from 8pm for free, although donations are welcome here.
SCOTTISH FALSETTO SOCK PUPPET THEATRE: Fabric-based fun from the pun-loving foot coverings who should themselves have been at the Gilded Balloon this month. Instead they are doing three shows on Zoom, starting with their 2013 Edinburgh show Socks In Space. It's on at 8pm and tickets are available here
---
Wednesday August 12
NOT THE MESSIAH: HE'S A VERY NAUGHTY BOY: This comic oratorio inspired by Monty Python's Life of Brian was performed at the Royal Albert Hall in October 2009 to celebrate 30 years of the movie and 40 years of Monty Python and featured appearances from Eric Idle, Michael Palin, Terry Gilliam and Terry Jones. And it's just dropped on Amazon Prime. Read our original review here.
ROB SCHNEIDER: ASIAN MOMMA, MEXICAN KIDS: The former Saturday Night Live star returns to the stage for a new Netflix stand-up special.
CABERNET CABARET WITH CATHERINE COHEN This time last year Catherine Cohen was on her way to winning the best newcomer gong at the Edinburgh Comedy Awards. Tonight she is is hosting an evening of song, storytelling, and stand-up comedy on YouTube, live from the US. On the bill are Meg Stalter, Chris Murphy, Sydnee Washington, and Blair Socci, with music from Palehound. Tickets are here and the show starts at 1am UK time.
---
Tuesday August 11
MARK THOMAS: WALKING THE WALL: The comedian introduces a live stream of his show about the time he went 'extrre,e rambling' in the Middle East, walking the entire length of the Israeli Separation Barrier. Thomas will answer questions after the show - which starts at 7.30pm – is done. Get tickets for a fiver, here.
MARCEL LUCONT - NO DIX: In the absence of the Edinburgh Fringe, the haughty French alter-ego of Alexis Dubus is releasing his amusingly-name stand-up special. It was the celebration of 10 years of Marcel at Edinburgh Fringe, with a live band, recorded at Pleasance Forth, and was due to continue its run at Soho Theatre and Adelaide Cabaret Festival, before you-know-what happened. It's available via Vimeo until August 27, to coincide with what would have been the Fringe run.
MEMORY LANE WITH Kerry Godliman: In this new podcast, which launched last week, the comic is joined by guests who've brought in five photos from their life to talk about. To see the pictures as you listen, you have to use the Entale app. Romesh Ranganathan, James Acaster and writer and actor Lennie James have been the first three guests. Listen here
---
Monday August 10
DADDY ISSUES: A London-based stand-up comedian inherits her father's Californian company in this new comedy movie, starring Kimberley Datnow and written and directed by Laura Holliday. It's done the film festival circuit (to admittedly not glowing reviews: two stars from RogerEbert.com, three from UK Film Review) and has now been released on demand on Amazon today Here is a trailer:
THE HR DEPARTMENT: Comedian Alexis Strum lost her day job in HR at the start of lockdown, so decided to launch this tongue-in-cheek improvised chat show set in a fictitious Human Resources department, where she finds out-of-work comedians and celebrity guests new jobs and collaborate with the online audience to create the guest a new (and always terrible) CV. which streams on Twitch every Saturday at 12pm and Sunday at 9pm, and episodes with Luke McQueen and Ben Rufus Green have just dropped on her YouTube channel
ALTERNATIVE COMEDY MEMORIAL SOCIETY: The cult favourite is putting 15 of last year's offbeat Edinburgh Fringe shows online, starting with the gig that happened at the Monkey Barrel on August 2, 2019. Each show will be put on YouTube for free for 24 hours, with donations encouraged. Thom Tuck, who hosts the nights with John-Luke Roberts, will be providing live text comedy. Acts taking part over the coming days include Alice Fraser, Bec Hill, Egg, John Hastings, Joz Norris, Yuriko Kotani, and Colt Cabana
GAME OVER - A COMEDY CROSSOVER EVENT: Stars from four Netflix comedy series - Family Reunion, Ashley Garcia, Mr. Iglesias and The Big Show Show – appear on each others's shows and play a series of games in this four-part series which dropped on the streaming service today.
---
Sunday August 9
HELP SAVE LIVE COMEDY: It's hard to overstate the awesomeness of the line-up for this fundraiser, taking part over the next three weeks from the socially distanced Clapham Grand stage, with further acts beaming in from wherever they are holed up.. Al Murray and Jayde Adams are hosting, and while producers are being coy about who is on in which week, those taking par include Ed Gamble, Richard Herring, Shappi Khorsandi, Rachel Parris, James Acaster, Aisling Bea, London Hughes, Nish Kumar, Tim Vine, Dane Baptist and Jen Brister, You can watch for free, but it really would be churlish not to make a donation. Details here.
SUMMER COMEDY FESTIVAL: In this week's instalment of the Radio 4 stand-up show Malawian comedian Daliso Chaponda curated his own fantasy Festival of Protest, featuring Black Lives Matter, MeToo, climate change, cancel culture and social mobility. His guests are Athena Kugblenu, Scott Bennett, Kate Lucas and Russell Kane, and the show is now available on BBC Sounds.
SQUEAMISH ABOUT... Matt Berry's offbeat new series - offering lies and fantasies over vintage footage in the guise of rogue historian Michael Squeamish - launched on BBC Two last week. But all episodes have also been dropped on iPlayer already.
---
Need more suggestions?
• Click here for those from the week starting August 2
• Click here for those from the week starting July 26
• Click here for those from the week starting July 19
• Click here for those from the week starting July 12
• Click here for those from the week starting July 5
• Click here for those from the week starting June 28
• Click here for those from the week starting June 21
• Click here for those from the week starting June 14
• Click here for those from the week starting June 7
• Click here for those from the week starting May 31
• Click here for those from the week starting May 24
• Click here for those from the week starting May 17
• Click here for those from the week starting May 10
• Click here for those from the week starting May 3
• Click here for those from the week starting April 26
• Click here for those from the week starting April 19
• Click here for those from the week starting April 12
• Click here for those from the week starting April 5
• Click here for those from the week starting March 29
• Click here for those from the week starting March 22
• Click here for those from the week starting March 15
NOTE: Sometimes links and videos of live events expire after the event. All were valid at the time of publication
Published: 15 Aug 2020