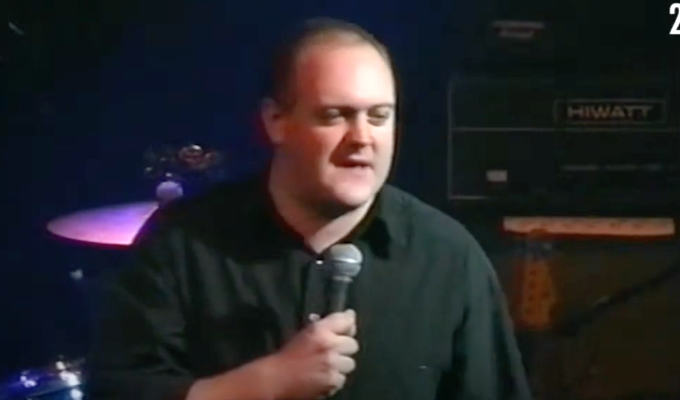 Not late and not live... but just as raucous
Here's Chortle's daily round-up of new comedy to watch at home during lockdown.
This list, updated at around 3pm daily, covers subscription services such as Netflix, Amazon Prime, iPlayer and NextUp, to podcasts and shows that comedians are releasing themselves, is your essential guide to getting a daily dose of laughs.
As well as these highlights, you can search our listings for other online events using the blue box at the left or top of this page. Or if you're a promoter wanting to add an event, details are here.
---
Saturday August 8
GREATEST EVER LATE'N'LIVE: Another strand in the Gilded Balloon's formidable online offering during this cancelled Fringe is this weekly round-up of some of the most memorable performances from the most boisterous, if not downright aggressive, gigs in Edinburgh. Dara O Briain, Daniel Kitson, Jimmy Carr, Katherine Ryan, Flight of the Concords, Tom Allen, Dane Baptiste, Aisling Bea and Adam Hills are among those who will feature in the weekly shows, which will be on YouTube at 9pm on Saturdays throughout August
EDFRINGE: COMEDY IN THE MEANTIME: The RBM agency is staging a weekly Fringe-substitute showcase for its stable of acts, too, with tonight's opener featuring Aaron Twitchen, Katie Pritchard, Adele Cliff and Eli Matthewson. The show will be live-streamed at 8pm, tickets available through Dice, priced at £5.50 for general admission and £7.50 for front row seats where audience members are able to interact with the comic.
THESPACEUK: The Edinburgh venue unveils the first of its online offerings today, too. There's not much comedy, save for poet David-Watson and pre-apocalyptic sketch show Until The Ad Break. Details
LOAFY: Loafy is a semi-improvised animated comedy about a weed-dealing manatee who runs a drug empire from his water tank at the Center Park Zoo. With a voice cast that includes Cecily Strong, Kevin Smith, Jay Pharoah, and Ron Funches, the show launches on Comedy Central's American digital platform today. Here is a trailer, and episode one is here:
---
Friday August 7
FRINGE ON FRIDAY: The virtual events that are trying to fill the Edinburgh Fringe void kick up a gear tonight with the first in a series of weekly variety shows and fundraisers. The idea is that all venues and performers can sell tickets and keep the proceeds. Tonight's opener is hosted by Suzi Ruffell and features Marcel Lucont, Tiff Stevenson, Christopher MacArthur-Boyd, David O'Doherty, Lost Voice Guy and Diane Chorley. Tickets, priced £9, are available here. The event is sponsored, slightly incongruously, but AJ Bell, an investment platform looking after a £54billion fund.
JASON BYRNE'S FRINGE, FRINGE: Jason Byrne has been to the last 24 Edinburgh Fringes, building up to become the biggest selling act for the festival. But this year he's going to have to be content to play to a very small, socially distanced audience at The Venue Theatre in Ratoath near his home in Ireland. The gig, thought, is being live-streamed from 9pm, with tickets, priced €12, available here,
LAUGHING HORSE FREE FESTIVAL: One of the festival's biggest operators is also facilitating scores of online show from today, with veteran Charmian Hughes presenting her show about vengeance, She at 8pm, and Sexpert Madame K at 10pm. The Free Festival website is here.
PAUL ZERDIN'S SPONGE WEEKLY: The comic ventriloquist, who won America's Got Talent in 2015 launches a six-part sketch series on YouTube at 5pm tonight, fearing his regular spongy characters Sam, Albert and Baby and some camera pranks. Sponge Weekly also stars Paul's real-life nephew, nine-year-old Sammy, making his screen debut, chatting with the puppets. Here's a trailer;
GRAEME GARDEN: The ex-Goodie speaks about radio comedy, including his work on I'm Sorry I'Ll Read That Again, I'm Sorry I Haven't a Clue and the Unbelievable Truth with broadcaster and author Matthew Sweet. The live-streamed event, at 7.30pm, has been put together by Bristol's Slapstick festival of vintage comedy, and tickets are available here.
ALTERNATIVE COMEDY MEMORIAL SOCIETY: The cult favourite is back for an online gig with Alexis Dubus, Ben Target, Isy Suttie, Joz Norris, Rosie Jones, Sophie Duker, Colt Cabana, Two Little Dickheads and Yuriko Kotani joining regular hosts Thom Tuck and John-Luke Roberts. Have your approved heckles ready from 7.30pm. tickets here
---
Thursday August 6
SCOT SQUAD: THE CHIEF DOES THE NEW NORMAL: Scotland's chief commissioner Cameron Miekelson returns to give lifestyle tips and legal advice under the current government guidelines in this new mini-episode, thanks to comic Jack Docherty. Watch on iPlayer.
GEOFF NORCOTT'S FRONT ROOM FRINGE: Tonight, tomorrow and Saturday, the Mash Report's token Tory is doing an online run of his new stand-up show, covering the likes of cancel culture, statues and the idea men and women are different - which he says 'is somehow controversial again'. Norcott said: 'Despite always giving the Leftie Edinburgh festival stick, I do love it and will miss it, so thought why not do it online? I'll see what I can do to make it feel like the festival. If someone could walk out ten minutes before the end because they have another online show, that would help.' The gig takes place at 8pm nightly via Zoom and tickets are available here.
THE HAPPY HOUR Q&A WITH PAUL ​SINHA: A virtual event from the Leicester Comedy Festival, with its director Geoff Rowe chatting to comic Paul Sinha about stand-up, quizzing, and how his personal travails are finding their way into his work. Tickets. Priced £5 to £20, are available here.
BEST BITS OF SO YOU THINK YOU'RE FUNNY?: The Gilded Balloon's competition is the biggest new act showdown in Edinburgh. This new weekly series, kicking off on YouTube at 8pm, will feature early performances from the likes of Hannah Gadsby, Aisling Bea, Sarah Millican, Seann Walsh and Maisie Adam.
---
Wednesday August 5
FRINGE SEARCH PARTY: On the day the first Fringe shows should have kicked off, Edinburgh's Gilded Balloon venue has teamed up with Padlox Escape Rooms to offer a socially distanced treasure hunt featuring some famous festival faces such as Alan Cumming, Bill Bailey, Shappi Khorsandi, Zoe Lyons, Fred MacAulay and Jo Brand. Can you track down big festival fan Isla Fallot somewhere in the capital? Play here at £10 per team.
BOSS WUMMIN' DRINKS The treasure hunt is just one of the many things Gilded Balloon is doing to fill the Fringe void this year... The podcast, featuring Fringe doyennes Karen and Katy Koren is another, broadcast on on Gilded Balloon's Instagram Live page every Wednesday from 8pm and then downloadable as a podcast.
PIFF THE MAGIC DRAGON: LIVE FROM VEGAS: While scoring a victory on American TV's Tournament of Laughs this week, the British comedy magician is also performing a virtual tour, while sheltering in place in the Nevada city he now calls home. Tonight's show, at midnight UK time, is with Detroit's 313 Presents, for example, while he has other shows over the next two weeks. Details here
ANDREW McCLELLAND'S MIX TAPE: The loveable Aussie comic is also a top-notch DJ, who was even Cher's official support on the decks for her last antipodean tour. This show combines his love of all genres of music with his gift of the gag... It's going to be live-streamed at 11.30am tomorrow UK time, via Serious Comedy wit thickets priced £3 to £10 depending on your budget.
---
Tuesday August 4
WHEEL OF MISFORTUNE: Friends and comics Alison Spittle and Fern Brady's BBC Sounds podcast has started today with the aim of covering 'embarrassing, bleak and cringe anecdotes' to make each other laugh'. The first episode features guest Lou Sanders discussing virginity, competing to find out how had the worst first time, and it's available here.
XS MALARKEY: It's the 20th online edition of the much-loved Manchester comedy gig tonight - yes that's how long this Covid agony has been going on for. On the bill are two differently passionate political comics, Ahir Shah and Josie Long, silly Rob Rouse from Upstart Crow, and American comic Naomi Ekperigin. It's on Twitch from 8pm.
SAM JAY: 3 IN THE MORNING: Comedian and Saturday Night Live writer Sam Jay, who previously made a Comedy Line-up 15-minute special for Netflix, is now afforded the full hour. In it she covers relationships, travel nightmares and the audacity of white people - as this clip about a visit to the British Museum shows. The full show is available here:
---
Monday August 3
DANIEL KITSON: TRIFLE: The comic return to his beloved Resonance FM for a new live late night show. Running four nights a week at midnight till the end of August, details are typically scant - but it kicks off tonight.
JUDAH FRIEDLANDER: As seen on 30 Rock, as well as numerous other TV shows, movies and late-night talk shows, the US comic is live-streaming his stand-up shows, featuring at least 70 minutes of new material and crowd work, which, he tells us 'works quite well on Zoom'. Join the 8pm show by donation, here, and you can choose whether Friedlander can see or hear you.
UNCLE TED: This low-budget indie British comedy movie is newly released for free to Amazon Prime subscribers. How low-budget? £300. In it, Ted Edwards play the titular character, a self-proclaimed comic genius and showman, who plans to put on the ultimate stage show - Project X. The only problem is that he needs a lot of money, which he hasn't got. Here's a trailer:
---
Sunday August 2
JOHN CLEESE: WHY THERE IS NO HOPE: The comedy legend has been complaining that young people don't recognise him any more because Monty Python isn't repeated... rather ignoring the fact that Fawlty Towers is still always on TV more than 35 years after it was made! But for those who do know who John Cleese is, he will perform his first streaming gig tonight, with his stand-up show Why There is No Hope airing live from the Cadogan Hall in London from 8pm. But tickets aren't cheap, at £21.99, giving access to the live stream plus access for two days following the performance. Speaking about the show, Cleese said: 'I have recently been gathering my thoughts on the future of our planet and have reached the conclusion that the situation is completely hopeless, that there is nothing that can be done about it, but that it really doesn't matter.' Tickets are available here.
BREAKING THE BANK: It's fairly lightweight stuff, but there's fun to be had with this 2014 comedy movie, just arrived on Netflix, about the inadvertent collapse of an august City bank. It can certainly boast a strong cast, led by Kelsey Grammer and also featuring Tamsin Greig, Mat Horne, Doon Mackichan and Andrew Sachs. Here's a trailer:
A NIGHT IN WITH ABC: Vintage TV specialists Network have this week launched a new on-demand service with a difference: viewers can buy a full evening's worth of curated programme. The latest, No 3, includes comics Mike and Bernie Winters hosting their variety show Big Night Out from 1963; a 1968 episode of Frankie Howerd's series Howerd's Hour, written by Eric Sykes, and a 1966 Eamonn Andrews chat show with Steptoe star Harry H Corbett among the guests.
---
Need more suggestions?
• Click here for those from the week starting July 26
• Click here for those from the week starting July 19
• Click here for those from the week starting July 12
• Click here for those from the week starting July 5
• Click here for those from the week starting June 28
• Click here for those from the week starting June 21
• Click here for those from the week starting June 14
• Click here for those from the week starting June 7
• Click here for those from the week starting May 31
• Click here for those from the week starting May 24
• Click here for those from the week starting May 17
• Click here for those from the week starting May 10
• Click here for those from the week starting May 3
• Click here for those from the week starting April 26
• Click here for those from the week starting April 19
• Click here for those from the week starting April 12
• Click here for those from the week starting April 5
• Click here for those from the week starting March 29
• Click here for those from the week starting March 22
• Click here for those from the week starting March 15
NOTE: Sometimes links and videos of live events expire after the event. All were valid at the time of publication
Published: 8 Aug 2020