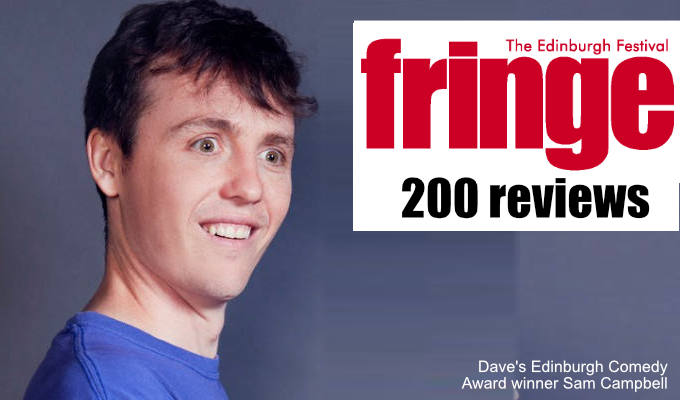 Edinburgh Fringe comedy reviews 2022





Alasdair Beckett-King: Nevermore
Crybabies: Bagbeard
Glenn Moore: Will You Still Need Me, Will You Still Feed Me, Glenn I'm Sixty Moore
Troy Hawke: Sigmund Troy'd!





Amy Gledhill: The Girl Before The Girl You Marry
Britney
Dan Cook: Loud Bit, Quiet Bit, Loud Bit, Quiet Bit
Dan Rath: Cockroach Party *
Emily Wilson: Fixed
Flat & The Curves
Frankie Thompson: Catts
Garrett Millerick: Just Trying To Help
Garry Starr: Greece Lightning
Grace Campbell: A Show About Me(n)
Kate Barron: Losing Myself
Markus Birdman: The Bearable Heaviness of Nearly Not Being
Paul Sinha: One Sinha Lifetime
Sam Campbell: Comedy Show
Vittorio Angelone: Translations





Alex Mackeith: Thanks For Listening
Alice Fraser: Chronos *
ALOK
Andrew O'Neill: We Are Not In The Least Afraid Of Ruins; We Carry A New World In Our Hearts
Aurie Styla: Green
Bianca Del Rio: Unsanitized
BriTANicK
Chloe Petts: Transience
Chris Cantrill: The Bad Boy
Chris Gethard: A Father And The Sun
Christopher Titus: Carrying Monsters
Danielle Walker: Nostalgia *
The Delightful Sausage: Nowt But Sea
Elf Lyons: Raven
Emmy Blotnick: The 30 Fragrances of Jennifer Lopez - A Show About Death, Betrayal and Financial Ruin
Finlay Christie: OK Zoomer
Flo & Joan: Sweet Release *
Geraldine Quinn: Broad *
Harriet Dyer: Trigger Warning
Heidi Regan Gives Birth Live On Stage Every Night Or Your Money Back
Ian Cognito: A Life And A Death On Stage
Ivo Graham: My Future, My Clutter
Jake Lambert: Liminal
James Roque: Badong
Jazz Emu: You Shouldn't Have
Jessica Fostekew: Wench
John Hastings: Do You Have Any Ointment My John Hastings *
Jordan Brookes: This Is Just What Happens
Jordan Gray: Is It A Bird?
Josh Pugh: Sausage, Egg, Josh Pugh, Chips and Beans
Josie Long: Re-Enchantment
Julia Masli: Choosh!
Justin Moorhouse: Stretch & Think
Kiri Pritchard-McLean: Home Truths
Kwame Asante: Living In Sin
Larry Dean: Fudnut
Laura Davis: If This Is It *
Lily Phillips: Smut
Leo Reich: Literally Who Cares?!
Luca Cupani: Happy Orphan
Lucy Frederick's Big Fat Wedding
Luke Rollason: Bowerbird
Maisie Adam: Buzzed
Mark Silcox: I Can Cure... [Perfect and Arena-Ready Show]
Mark Thomas: Black and White
Mat Ewins: Danger Money
Michelle Brasier: Average Bear
Nic Sampson: Marathon, 1904
Nikki Britton: One Small Step
Patience: Zero
Phil Wang: The Real Hero In All This *
Pierre Novellie: Why Can't I Just Enjoy Things?
Rhys Nicholson: Rhys! Rhys! Rhys! *
Rob Kemp: Agenda
Sami Abu Wardeh: Bedu
Sarah Keyworth: Lost Boy
Sean McLoughlin: So Be It
Seann Walsh: Is Dead. Happy Now?
Simon Brodkin: Screwed Up
Stefania Licari: Medico
Tarot: Cautionary Tales
Tom Crosbie: Nerd's Eye View
Tom Walker: Javelin *
Tudur Owen: Alive Huw







Abigoliah Schamaun: Legally Cheeky
AfroPolitiCool
Al Lubel: Talks About His Name for Fifty-Six Minutes and About Something Else for Four Minutes
Alex Kealy: Winner Takes All
Andy Field: Ideas (,) Man
Ania Magliano: Absolutely No Worries If Not
Bad Clowns: Invasion
Christian Brighty: Playboy
Christopher Macarthur-Boyd: Oh No
Christy Coysh: Bangarang!
Colin Hoult: The Death Of Anna Mann
Emmanuel Sonubi: Emancipated
Eric Rushton: I Had a Dream And You Were All In It
Eryn Tett Finds Her Audience
The Flop: A Band of Idiots
Foil Arms and Hog: Hogwash
Hannah Pilkes: A Woman On The Verge
Head Set
Helen Bauer: Madam Good Tit
I'm With Stupid
Ian Stone: Righter Of Wrongs
Jake Baker: Unity
Jamie D'Souza: Stop Drawing Willies On My Poster
Jen Ives: Peak Trans
Jeremy Segway: A Life Out of Balance
Joanna Neary: Wasp In A Cardigan
Josh Glanc: Vrooom Vrooom*
Josh Jones: Waste of Space
Joz Norris: Blink
Just These Please: Honestly No Pressure Either Way
Kylie Brakeman Presents: Linda Hollywood's Big Hollywood Night
Lara Ricote: GRL/LATNX/DEF
Lauren Pattison: It Is What It Is
Lloyd Langford: Dilf *
Mary Beth Barone: Silly Little Girl
MC Hammersmith: 1 Man 8 Mile
Michael Spicer: The Room Next Door
Milo Edwards: Voicemail
Mind Mangler: Member Of The Tragic Circle
Morgan Jay: Emotional Damage
Mr Chonkers
Nick Helm: What Have We Become?
Norris & Parker: Sirens
Olga Koch: Just Friends
Pernille Haaland: Resting Confused Face
Rich Hardisty: Silly Boy
Richard David-Caine: Tall, Dark and Anxious
Rob Auton: The Crowd Show
Sam Morrison: Sugar Daddy
Sam Nicoresti: Cancel Anti Wokeflake Snow Culture
Sam See: Government-Approved Sex
Shelf: Hair
Sian Davies: About Time
Sikisa: Life of the Party
Sofie Hagen: Fat Jokes
Sunil Patel: Faster Horses
Thanyia Moore: Just Being Funny
Tom Ward: Anthem
Two Hearts: We're Pregnant And The Baby is Music
Will Duggan: Iceberg
Yasmine Day: Songs in the Key of Me
Zach Zucker: Spectacular Industry Showcase





Ali Woods: Best Friend Ever
Amy Matthews: Moreover, The Moon
Caitlin Cook: The Writing on the Stall
Celya AB: Swimming
Cerys Bradley: Sportsperson
Charlie Russell Aims To Please
Chuck Salmon: Pool Noodles
Crizards: Cowboys
Eme Essien: Flat Shoes In The Club
Erika Ehler: Femcel
Grant Busé: SentiMENTAL!
HarleQueen
Illegally Funny
Jacob Hawley: Bump
Jayde Adams: Men, I Can Save You
Jody Kamali: Ironing Board Man
Julie Jay: Oops, This Is Toxic
Lanessa Long: The Lanessa Show
Lew Fitz: Soft Lad
Luke Kempner: Macho Macho Man
Mad Ron: Crime School
Marjolein Robertson: Thank God Fish Don't Have Hands
Max Fosh: Zocial Butterfly
Melissa Stephens: Hot Dogs & Tears
Morgan Rees: Bi And Large
Nathan Mosher Is Injured
Rajiv Karia: Gallivant
Red Richardson: Shots Fired
Richard Stott: Afterparty
Rosco McClelland: Goblin Mode
Rosie Holt: The Woman's Hour
Ruth Hunter and the Ruth-hunter
Sam Lake: Cake
Siblings: Siblage
Susan Riddell: Living My 2nd Best Life
Ted Hill: All The Presidents Man
Tina del Twist: Caravan in the Sky
Tom DeTrinis: I Hate New York
Tom Little Has Good Reviews So Prepare To Be Impressed
Tom Mayhew: Trash Rich
Will Mars: My Life In One-Liners





Bella Hull: Babycakes
Business Casual: Feral
Dan Kelly: How I Came Third in the North Korean Marathon
Edy Hurst:... War Of The Worlds...
Esyllt Sears: Absolutely Not
Emo Majok: African Aussie
Hannah Fairweather: Just A Normal Girl Who Enjoys Revenge
Tom Henry, Jack Hester: Tom and Jack Having the Craic
Jarred & Hobbit: The Big Beatbox Comedy Mess Around Gameshow Show
Les Dawson: Flying High
Michael Akadiri: No Scrubs
Patrick Spicer: Who's This All of a Sudden?
Paul Currie: The Chorus of Ghosts Living In My Skull Keep Telling Me To Take A Shit In The Fruit Salad
Rachel Jackson: Almost Famous
Shannon Matthews: The Musical
Tom Henry, Jack Hester: Tom and Jack Having the Craic
Vix Leyton: Pedestrian





Bruce Willis Is My Dad
Casey Balsham: Inconceivable
Christian Schulte-Loh: Comeback of the 50ft. German Comedian
Horseplay: Bareback
Jon Courtenay: Against The Odds





Chris Laker: Bully
General Secretary
Unrated
Chortle Student Comedy Award 2022 final
So You Think You're Funny? 2022 final
* = As seen at the Melbourne International Comedy Festival in April.
Published: 1 Sep 2022