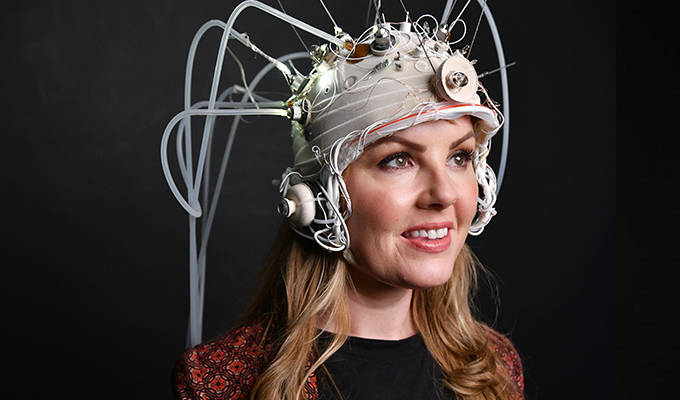 Head Set
Performance artist Victoria Melody makes theatre like a dedicated documentarian, immersing herself in a world for a few years before unveiling her work. She's been a pigeon fancier, beauty queen, funeral director and now comedian on the 'anthropologically fascinating' open-mic circuit.
As an entry point, she enrols on a comedy course run by a particularly humourless coach, obsessed by the mechanical rules of stand-up but oblivious to its spirit and freedom. The tutor's disparagement echoes through the hour, embodying Melody's inner critic.
We get a glimpse of her oddball act, which the audience greets with 'pity', in her husband's words. But as she obsessively trudges from one under-attended new act night to the next, Melody finds herself increasingly drawn into the community of socially awkward folk that is the amateur circuit.
The show adds layers when Brighton-based Melody is belatedly diagnosed with ADHD – a condition harder to spot and rarely studied in women, who, it's said, are more adept at donning social masks to hide it. And what is doing stand-up but adopting a performative mask to talk about yourself? Plus, getting laughs from strangers also gives the brain a shot of dopamine, the feelgood hormone that those with ADHD have trouble generating.
She interrogates this idea with the aid of a neuroscientist and a headset that measures her brain activity while performing… and increasingly becomes an integral part of her set. A gimmick, that internal voice of doubt might say. Melody gets a little tangled up in the science here (quite literally when she struggles to remove the headset), especially when she ponders whether you can find all the answers by measuring the firing of neurones.
Yet Head Set is an ambitious and entertaining examination of the nature of comedy as a performer and a consumer, raising broader questions as to whether you should hide or emphasise your differences to fit in easier. Melody doesn't offer a definitive answer and doesn't entirely juggle all the strands successfully – but she's an engaging and creative guide to this fascinating topic, with a show enlivened by a strong sense of theatricality.
Review date: 29 Aug 2022
Reviewed by: Steve Bennett
Reviewed at: Pleasance Courtyard