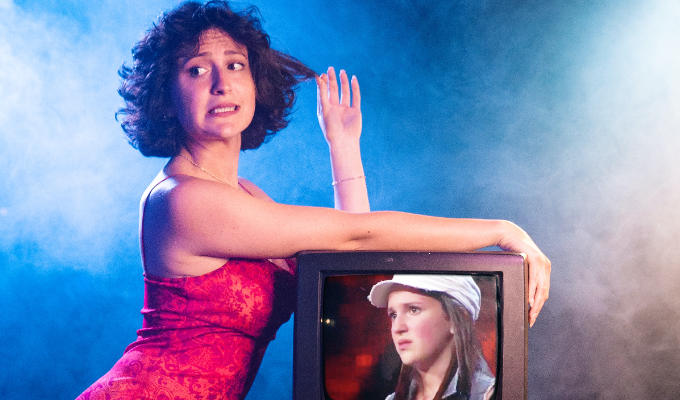 Emily Wilson: Fixed
Considering it's essentially a tale of child abuse, Emily Wilson's Fringe debut has no right being as entertaining as it is, a triumphant riposte after a distinctive trauma.
Still only 26, but with the jaded, cynical air of one who's already been chewed up and spat out once by showbusiness, the New Jersey native was 15 when she auditioned for The X Factor USA in 2011.
She performed in a duo with her best friend Austin, and a series of YouTube clips and home videos of the puppyish couple singing together are super-cute. More so as it becomes obvious that Austin is gay and the oblivious Wilson is in love with him.
Hindsight is a marvellous thing. And Wilson can be self-laceratingly wise about her naivety now, not least as her personality, political views and sexuality have evolved significantly since. But the coltish young duo are not without talent and you invest in their journey, their yearning desire for fame appealing, even as it's so clearly being manipulated and exploited.
That the juggernaut talent contest is a carefully scripted and edited scam, preying on vulnerable people's dreams, ought to come as no surprise. Wilson signed a non-disclosure agreement not to talk about her experience and, presumably, either the period covered has now elapsed or she's got really good lawyers.
With Simon Cowell, incredibly, emerging as the most sympathetic of the judges over Nicole Scherzinger, Paula Abdul and Justin Bieber's producer LA Reid, you get a rage-inducing sense of just how dreadful these celebrities are and what a rotten, inorganic enterprise the X Factor is.
Before a watching audience of millions, the panellists blithely crush Wilson's belief in her own talent, drive a wedge between her and the head-turned Austin and feign tossing them out of the competition, only to drag them and other young hopefuls back in for an ill-conceived second tilt at the top prize.
As a hatewatch, it's truly gripping. And with the capacity to pause the video, to paraphrase Bart Simpson, you can actually pinpoint the exact moment Wilson's heart breaks in two.
But that snappy editing is only part of the slick rejoinder the comic has reclaiming her destiny, answering back in a way she was unable to at the time. Hers was a coming-of-age story played out in public and took a massive psychological toll.
Regardless, she's re-emerged phoenix-like, punctuating the clips by belting out uproariously funny, probably slanderous songs that showcase a genuinely fine set of pipes and attention-demanding stage presence. These are interspersed with stand-up that's by turns waggishly self-mocking, sardonically satirical and flat-out furious at her treatment.
Throughout, she defies the two-dimensional, sanitised portrayal of her teenage self with asides about her fumbling experimentation and stumbles off-screen, important steps in becoming the more rounded, worldly person she is now. One song hilariously recounts the consolation party thrown by all the rejected young singers, the orgiastic excess a brutal repudiation of the Disneyfied image they were required to project.
It is, perhaps, a shame that Fixed never catches up with Austin, to hear his subsequent life journey, get his take on being the star in and arguably the betrayer of the duo. But he was a teenager too, so can't be judged too harshly. And it's never revealed whether he's been sought out for right to reply.
No great matter, Wilson ends her Fringe debut absolutely resurgent, a triple threat of comic, musical and physical performance talent. America is said to love a comeback. And hers is one that everyone should belatedly embrace.
• Emily Wilson: Fixed is on at Pleasance Couryard at 10.25pm
Review date: 14 Aug 2022
Reviewed by: Jay Richardson
Reviewed at: Pleasance Courtyard