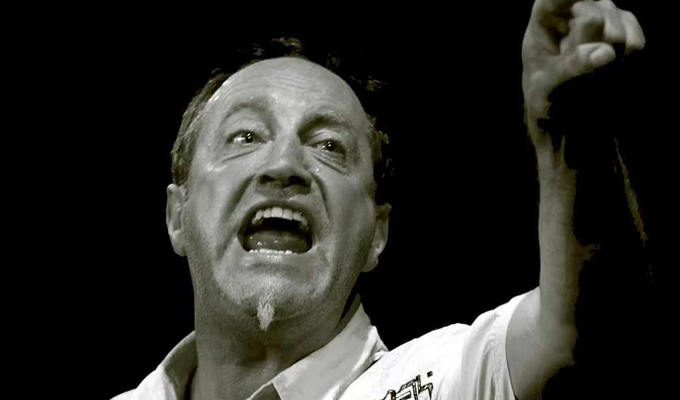 Ian Cognito: A Life And A Death On Stage
No documentary could ever do justice to the force of nature that was Ian Cognito in his terrifying, thrilling fury.
But it is also important that this film, Ian Cognito: A Life And A Death On Stage, has been made about him, to help ensure he is remembered not just for his death on stage, which so captured the public imagination, but for his many remarkable and powerful performances upon it.
Little footage exists of Cogs, as he was affectionately known, doing what he does best. And that poses something of a challenge for film-makers Joe Bor and Danny Ward, who are both also stand-ups.
But it is also an integral part of his myth. He would rage at the fact he had never been on telly – but telly wouldn't have known what to do with him, and he wouldn't have known what to do with telly. Part of the reason he was such a comedians' comedian – as the roll-call of acts paying tribute here attest – was that he represented stand-up at its purest. The magic and frisson was in the room and in the moment. He was wildly unpredictable in the real, untamed definition of the word, the antithesis of TV, especially today.
Cognito was also very much a product of his age, emerging when alternative comedy was in its unvarnished post-punk, eclectic prime. It's hard to envisage an act so antagonistic and a person so chaotic making it today, when a stand-up cannot rely on the live circuit alone and must master social media, networking and a bit of diplomacy to succeed. Not to mention having no 'problematic' material, which was the provocative Cognito's stock in trade.
As Bob Mills puts it in the documentary: 'Stand-up comedy was a weapon to Cogs. It wasn't a nice thing.'
The performance footage Bor and Ward have – a big gig at the Birmingham Glee and couple of smaller shows – gives only a taste of how electrifyingly scary it could be to witness this hybrid of troubadour, pirate, preacher, shagger and angry-man-shouting-at-bins, in his full unhinged force.
However, many of the comedians here describe a sweet and sensitive man off-stage, with a kind word for even the newest comedians – even if he would always subtly assert his alpha-comic status.
His famous attention-grabbing opener of hammering a nail into the back wall of the stage on which to hang his hat before yelling at the audience: 'Now you know two things about me: first, I don't give a shit – and second, I've got a hammer' was, it's a little disappointing to learn, normally cleared with the promoter. And he'd tidy up afterwards, So much for that stunt being the reason he was banned from more comedy clubs than any other stand-up.
But it's also clear his mood very much depended on the day you caught him, especially as his alcoholism took a tighter hold, and this film doesn't whitewash how difficult he could be.
Ricky Grover, the boxer turned comedian, recalls Cogs squaring up to him in a bar at the Edinburgh Fringe the first time they met, and insulting both him and his wife. Given the chance to withdraw it, Cognito declined – then was floored by a single punch. His agent, Nigel Klafeld, dropped Cogs as a client after being headbutted by him – something of a deal-breaker.
In a nifty film-making technique, Bor and Ward have the comics all share their most outrageous Cognito anecdotes but reduce them just to their punchlines. 'And then he ended up dancing on a balcony, but he had no pants on'… 'And when we landed the South African police boarded the plane and took him away'… 'I just heard otherworldly yelps and groans coming from inside a car wash…'
However, the story of him chucking a TV out of a Birmingham hotel window is told in full – not least because of Jo Brand's continuing upset that comics working the Glee would no longer get the perk of staying in that nice hotel once he'd trashed it. Even if he did pay for the telly.
Less successful, film-wise, is having comedians tell their version of Cognito's jokes, before we see video of him doing them much, much better. It seems like redundant padding. But it does remind us that there were sold jokes to go with Cognito's mania.
The 75-minute film also features Andrew Bird telling in moving detail how Cognito, aged 60, died on stage of the Bicester club he was compering in April 2019. He recalls the comic 'putting his arms back and leaning back on his stool... it really looked like he was lapping up his last round of applause' - until he held the pose too long at it became clear something was amiss.
'It's how he would have wanted to go,' doesn't always ring true but in Cogs' case it does. Even his family acknowledges that comedy was such a defining part of his life And when he did his time, he left the stage with audience laughter ringing in his ears.
• Ian Cognito: A Life and A Death On Stage is being staged at the Edinburgh Fringe at Just The Tonic at the Caves at 7.30pm from August 4 to 14 and 25 to 28. It is also available to buy or rent from Amazon Video
Review date: 3 Aug 2022
Reviewed by: Steve Bennett
Recent Reviews
What do you think?