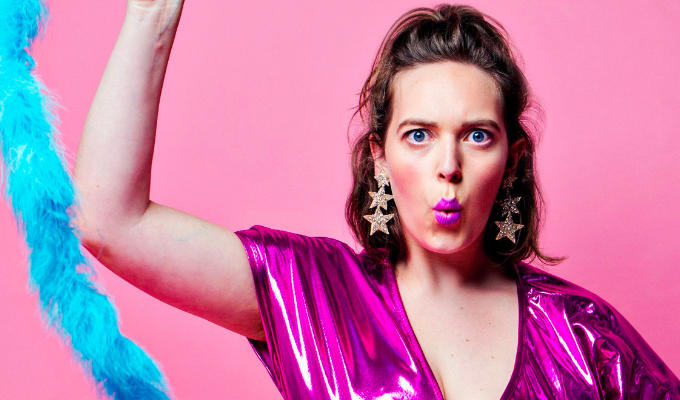 Lanessa Long: The Lanessa Show
Lanessa Long has one of those show openings that says she was trained at the Phillippe Gaullier clown school without saying she was trained at the Phillippe Gaullier clown school: a bit of physical business that playfully and silently revels in the audience's slight uncertainty about what's about to happen.
Then she punctures the hesitant anticipation with a strong visual gag that sets the bold tone, erecting a metaphorical sign that she owns this stage. With a winning energy, Long's show is one big audience flirt as the Oregonian effects a faux coyness that's fooling no one – and that's even before the song proudly celebrating her boobs.
Positivity is one watchword, along with unpredictability, as this early-morning hour is so heavily dependent on audience interaction. Long sets herself up as a musical agony aunt, addressing the audience's problems large and small – from loneliness to stubborn stains tonight – with improvised ditties. The tone is always optimistic, her own silver linings playlist. Punter issues are interspersed with her own issues, laughed off just as easily.
Later, she ropes someone in to perform half of a scripted monologue, too, a tried-and-tested trick to get laughs out of the non-performer's awkwardness. Though in Edinburgh, there's surely a 50 per cent chance the chosen mark will have their own play on in TheSpace.
All these fun and games doen't lead anywhere, especially; an upbeat salute to the self that's a blast in the moment but won't necessarily stay long with you. But it does establish Long as a vibrant, commanding performer.
• Lanessa Long: The Lanessa Show is on at Just The Tonic at The Caves at 10.50am
Review date: 6 Aug 2022
Reviewed by: Steve Bennett
Reviewed at: Just The Tonic at The Caves
Recent Reviews
What do you think?