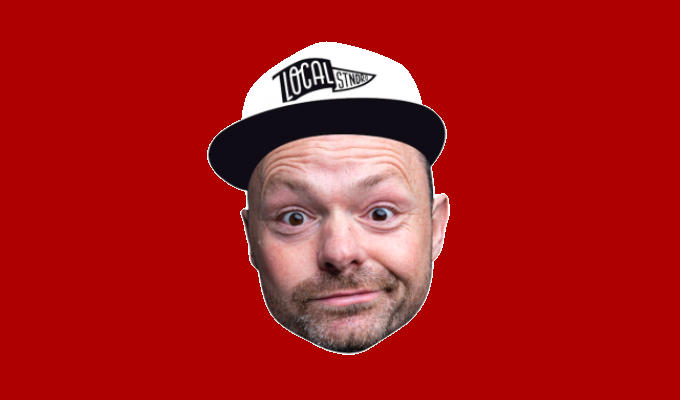 Will Mars: My Life In One-Liners
Will Mars single-handedly kept the 'joke of the Fringe' stunt going at last year's depleted event – recruiting a bloke named Dave to pick his favourite in place of the namesake broadcaster which usually does the honours.
He certainly has a vested interest in celebrating the one-liner since this show is full of them, from the clever to the corny. For a bloke who grew up without a dad, there are a hell of a lot of dad jokes here…
Punchlines are how Mars processes life's struggles, including that absent father, a mum who was barely present as she was working hard to support the family, and cold relationships with his siblings. This turns into a full-on pity party as he talks about how ugly he feels and how he could never get a girlfriend.
Tonally, it's a downer for him to be so relentlessly negative, especially as his delivery is relatively static and unemotive, detailing his background in dry facts. But he's less interested in painting us a detailed picture than in simply getting from one joke to the next as quickly as possible.
My Life In One Liners will have one of the top gag rates of the festival, and it's not just about quantity. Mars is useful joke-writer, able to turn a thought or idea on its head with clarity and efficiency. There are some lovely lines here, almost sure to make this year's Joke Of The Fringe longlists, and – yes – a few duds, but the hit rate is decent.
Occasionally his dry presence softens enough for a bit of audience to-and-fro, which adds some much-needed levity to the careful, rather dry, presentation of his crafted one-liners. He even tells us how happy he is to be doing comedy at the festival, although his controlled demeanour doesn't always seem to agree.
Now he has a relationship – even one defined by antagonism, by his typically Negative Nelly account – and a child perhaps he'll feel able to add that missing ingredient to all the smart jokes: joy.
• Will Mars: My Life In One-Liners, Gilded Balloon Patter Hoose, 2.20pm
Review date: 5 Aug 2022
Reviewed by: Steve Bennett
Reviewed at: Gilded Balloon Patter Hoose
Recent Reviews
What do you think?