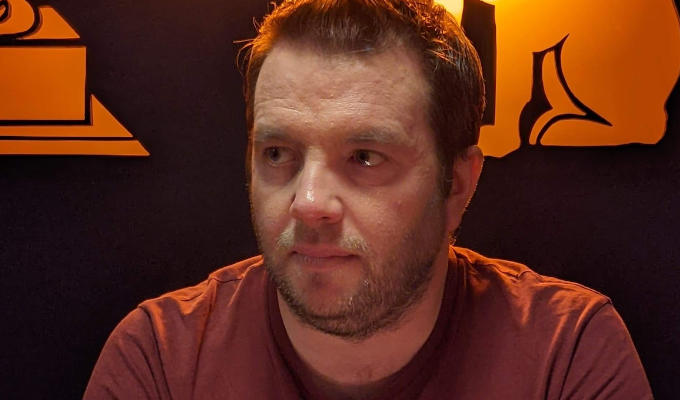 Patience: Zero
Comedian Dan Cardwell has that special morning spot for comedians who have the range and sensibility for storytelling as well as stand-up, but not the big agent or the budget.
I love this genre of thoughtful, emotionally truthful shows that come from unexpected directions. They always deserve a bigger audiences, and punters lucky enough to find these little gems will remember them long after the bigger, later, louder balls-out comedy shows have blurred into one.
Cardwell's style is low-key and undynamic, narrating a common but frequently smothered tale of trying for a baby. Initially I thought it was just a bit too quietly blokey, but it grew on me. The self-deprecating approach of, 'I'm a bit hopeless but the wife's great' is familiar, but that's because it is so frequently true.
The man is currently on crutches, which adds to the pathos of this poignant tale. The small audience laughed, smiled and were held rapt by the tale of multiple rounds of IVF, his genetically weird DNA – should he really be passing this on? – and a tendency for damaging accidents that pile the pressure on the stoic Jacqui as she has to tend to this hopeless, variably unemployable, case.
Cardwell's restrained performance enhances the story and reminds us that there's pain and hope in every life that is more powerful for not being given the full vent. He is a quietly devastating raconteur, powerful in his ordinariness, which sound like an awful putdown, but isn't meant that way.
He acknowledges that this story isn't only his to tell (I did have a moment of thinking, 'Typical! Pregnancy and miscarriage and he makes it all about him' but I stand corrected). His ability to create laughs and be funny while dealing with strong and difficult emotions made this a heart-squeezing and heart-warming story. All credit due.
• Patience: Zero is on at Laughing Horse @ The Brass Monkey at 11am
Review date: 7 Aug 2022
Reviewed by: Julia Chamberlain