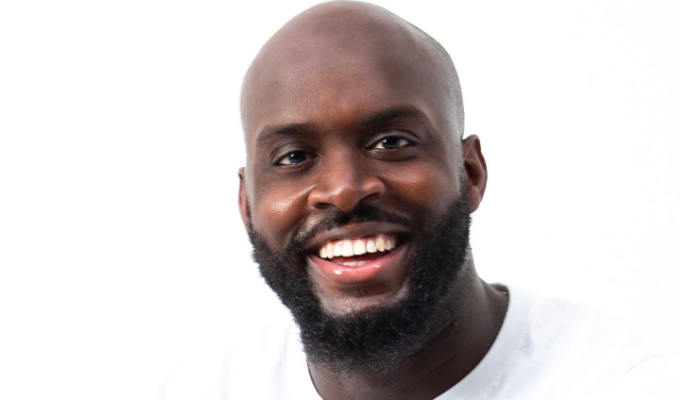 Michael Akadiri: No Scrubs
Medic and comic Michael Akadiri has some solid stand-up routines in his likeable Fringe debut but struggles with the larger storytelling arc. Some sections feel like makeweights, borrowed from his club set, that don't belong in the show, corrupting the flow and muddling its intent.
Yet by the end, his material does untangle enough to let the audience understand something of where he's coming from,. But even so the home straight scrambles a mass of callbacks together, which smacks of clunky structural artifice.
Essentially the hour is about seeing the flawed humanity of those who are put on a pedestal because they work in the NHS; to remind us that scrubs do not confer any superpowers. The corollary is that it's the same person out of the uniform than in it, even though Akadiri has had first-hand experience of being treated differently when in his hoodie then when in his medical get-up.
The Anglo-Nigerian comic engagingly offers up a few medical anecdotes and insider secrets from across the specialities he's worked in that come straight from the Adam Kay playbook. But there's a story about him being sued over the treatment he gave one patient that is so shorn of detail to make it feel abstract, which greatly weakens our feeling of the jeopardy he was in. Even more perplexing is the material about the one-eyed goddess who talks to Jesus and can foretell his life. I think.
There's a dildo-related story from his life that he doesn't play beyond the cheap laughs, while elsewherehe portrays himself as a bit of a playful prankster who likes winding his colleagues up almost as he enjoys a go on the trampoline park.
Akadiri certainly has an exuberant charisma on stage and has such energy that he plays the room like it's ten times the size and packed to the rafters. Some warm-spirited banter with fellow comic and medic Kwame Asante, who happened in the audience, also lifted this first Edinburgh performance.
When he gets stuck into an anecdote, Akadiri feels like a safe pair of hands, even for a relative newcomer to comedy. But often these talents come unstuck because the shape of the hour hasn't been figured out.
• Michael Akadiri: No Scrubs is on at Pleasance Courtyard at 8.35pm
Review date: 6 Aug 2022
Reviewed by: Steve Bennett
Reviewed at: Pleasance Courtyard
Recent Reviews
What do you think?