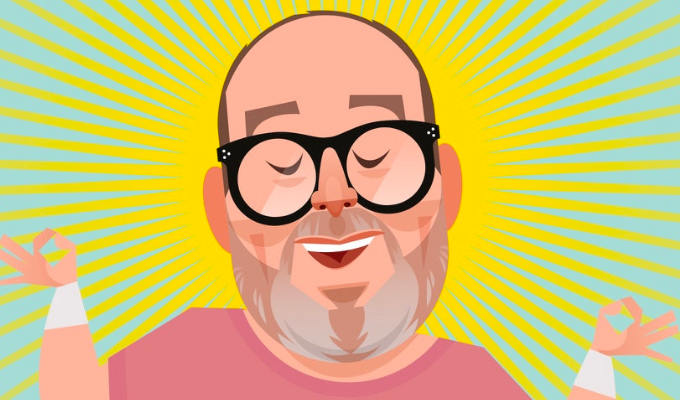 Justin Moorhouse: Stretch & Think
Discussion of comedy at the Fringe tends to focus on content. What is this show about? What's the angle?
Justin Moorhouse isn't short of things to say, but what sets him apart is the craft. Lightning-fast wit, easy-going banter and an innate understanding of how to read a room and play with its shifting energy make the minutes fly in a blur of laughter.
He's unfailingly jovial, apparently entertaining himself as much as the paying audience, buoying the crowd's spirits while concealing an authoritative presence. While this masterful delivery is enough to carry even the occasional laborious pun over the line, there's also substance in Stretch And Think, a title inspired by what his 17-year-old daughter's Catholic school calls yoga.
Moorhouse's best routine in this show is a glorious takedown of the patriarchy, not driven by any righteous ideology but top-drawer, down-to-earth and cheerily self-deprecating observational material about just how pointless middle-aged white men like himself are. Whoever would trust running the world to the sort of infantile idiots who think owning a bicycle is a personality and parade their dumb tribalism at every football fixture?
While he's unabashedly mainstream in his appeal, the Mancunian doesn't shy away from sacred cows, with some playfully iconoclastic jabs at the cult of Captain Tom. But after a few quips about religion, he also has the perfect retort for the old complaint, 'you wouldn't say that about Islam…'
Yet the tone is consistently bright and silly, as exemplified by a section about the names of dog breeds which ends up digressing perhaps a little too much for non-dog-lovers but neatly sets up his closing routine. For being over 50 also means facing up to mortality, and Moorhouse lands a strong finish by talking about his father's funeral in a funny and touching way without overtly leaning into pathos.
'Keep it light,' is his ethos, whatever lies beneath, and it makes for a hugely entertaining hour.
• Justin Moorhouse: Stretch & Think is at the Gilded Balloon Teviot at 7.30pm
Review date: 5 Aug 2022
Reviewed by: Steve Bennett
Reviewed at: Gilded Balloon Teviot
Recent Reviews
What do you think?