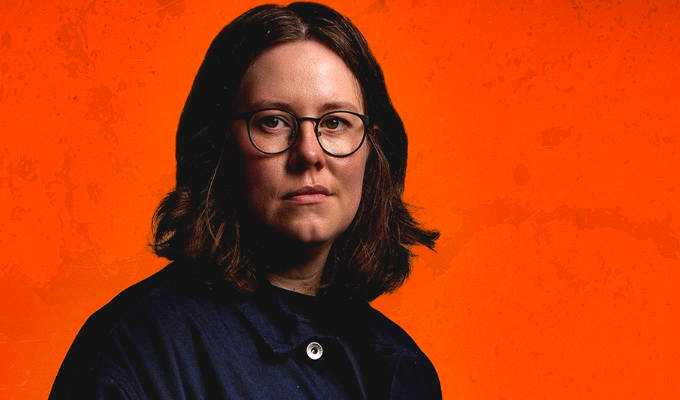 Chloe Petts: Transience
Chloe Petts' catchphrase for this show is that she 'finally became the man she always wanted to be': a statement that perfectly captures how utterly confident she is in her own skin, as well as summarising her place outside traditional gender norms.
It's rare to see a Fringe debutant with such a strong sense of who she is. And that is a middle-aged geezer in a lesbian's body. She identifies as such a football lad, you wouldn't be surprised if she gave her pronouns as 'Oi/Oi'.
That confidence is also stamped across her stand-up, and she's in calm control of both the room and her material. With the aid of director Rose Johnson, she has layered the show perfectly. It gently escalates from simple beginnings of laughing at an embarrassing teenage picture of her unconvincingly cosplaying femininity, building to potentially knottier issues of how she is perceived now she rocks a more masculine look. Let's just say that toilets play a key role in many stories…
Petts's mildly self-deprecating honesty builds trust, making the audience increasingly invested in her story of finding her place. Which is in the Crystal Palace stands, discussing motorway traffic with her neighbouring season ticket holders. And when she finally gets there, perhaps she can tuck into some of that yummy male privilege, too.
So many timely issues are addressed, but only through Petts' own experiences and anecdotes that always have funny at their core. No moralising, nor preaching nor adding to the divisive discourse, just a woman telling her disarming tales – and often being an idiot within them, even though her comedy is smart.

There's a silliness and playfulness behind many of her anecdotes, even though they are delivered with sincerity. When she tries to use her perceived masculinity to her advantage, it comes back to bite her. Meanwhile, she can offer new insight into the age-old stand-up trope about the differences between men and women, having had the vantage point of both.
How she is treated differently depending on whether others read her as male or female is revelatory – and funny. Two words which sum up the whole of this assured debut.

• Chloe Petts: Transience is on at Pleasance Courtyard at 6pm
Review date: 5 Aug 2022
Reviewed by: Steve Bennett
Reviewed at: Pleasance Courtyard
Recent Reviews
What do you think?