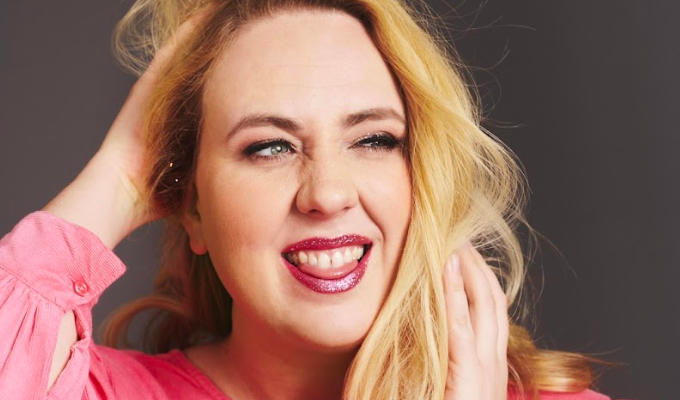 Helen Bauer: Madam Good Tit
Helen Bauer is everything she's supposed to be as a modern woman: confident, self-aware, body-positive… and an absolute bloody nightmare.
At least that's the image she projects in this rollicking hour, premised on the idea society loves the idea of an assertive female presence, but only in theory. But it's the very alpha nature of her personality that makes her stand-up zing, both because of the full-on performance and because she transgresses the convention, even today, that women shouldn't be so aggressive.
It took her a long time to find this temperament, by her own account, describing how she tried on many personalities as a teenager growing up in a bland Hampshire town, such as the tragic soul who needs saving, inspired by the Disney trope of helpless princesses.
For while this show – a follow-up to her best newcomer-nominated debut - is a personal hour, it speaks to broader issues of the messages that women are sold. And rather than simply blaming the corporate machinery that peddles such nonsense, she admonishes those (including herself, sometimes), who swallow the damaging fictions. It's a novel twist, self-deprecating about her entire gender, that makes the observations seem fresh.
Diet fads of the 1990s and the makeover myth that all your ills could be cured with a Gok Wan styling session come in for particular mockery. Why did anyone believe such bullshit? But today's phalanx of wellness gurus and self-care influencers are no better. She bends over backwards to slag off Yoga With Adrienne, which struck a chord with those familiar with the online instructor.
For all the fads, Bauer is happy to reclaim the term 'basic' to describe her personality. The Basic Pride movement starts here.
On topics such as this, she's especially feisty with the audience, allocating selected personality traits to targetted victims, whether they like it or not. It's playful, but her demeanour is so forceful it adds an edge to the rapport she's established.
There's a slight sense of danger that she could become unhinged at any moment, but it's a carefully controlled rush, like a theme park ride. Resistance to her steamroller delivery is futile, but she's got the content to back it up, too.
• Helen Bauer: Madam Good Tit is on at Pleasance Courtyard at 17:40
Review date: 5 Aug 2022
Reviewed by: Steve Bennett
Reviewed at: Pleasance Courtyard
Recent Reviews
What do you think?