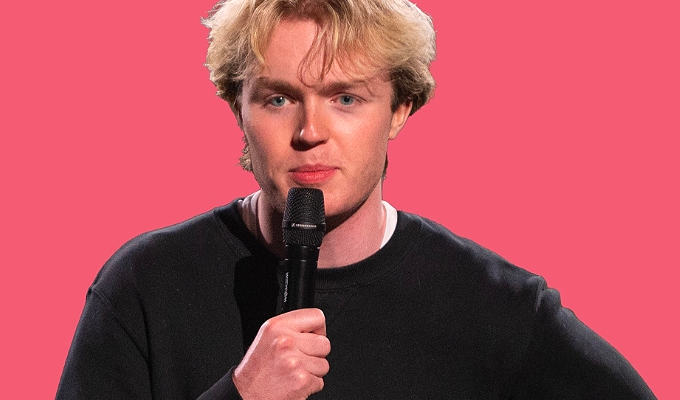 Finlay Christie: OK Zoomer
Privately educated, white and only recently out of university, former So You Think You're Funny? winner Finlay Christie introduces himself with an allusion to his huge TikTok following, seemingly oblivious to the fact that for a significant cross-section of society, he's everything wrong with the world.
What's more, he's 'written a show about being a young person', apparently hell-bent on alienating even more of the potential audience. But with abundant awareness of himself and the broader cultural landscape, Christie not only accepts and mocks his privilege, on occasion he defends it persuasively too, delivering a hugely impressive debut that could legitimately see him labelled as the voice of his generation.
Generation Z – anyone under 24 – is distinguished from millennials by their lack of expectation. The world is on the precipice of apocalypse and Christie is rolling with the punches and casually sliding into DMs, suggestive of a floppy-haired, flibbertigibbet fuckboy, embracing the fin de siècle times with ketamine and wine.
Truth is, though, he rarely seems so two-dimensional. And he's charming from the off, throwing out some clever observations that are both linguistic witty and deeper about the advantages of being perceived as a 'boy' rather than a 'man', with all the baggage of toxic masculinity thrown up by #MeToo and thousands of years of patriarchal oppression.
Arch on the low-level baseline of consideration that men are required to show women in order not to be perceived as monsters, he's nevertheless amusingly sceptical about 'good guys', pointing out how these creepy manipulators hide in plain sight.
He shares his vulnerable side in an account of stuttering through a student drinking game, but he's very much having the last laugh in the retelling. And when he frets over the wording of a flirtatious message to a girl, he's not the beta male he sets himself up as, demanding certain standards.
Amusingly, a superb routine about how he failed to get onto the politics course at Oxford, competing for a place against Nobel prize-winner Malala Yousafzai, is couched in the language of exasperated self-deprecation. But on closer inspection, it feels like a humblebrag of aspirational possibility. Christie switches up his status with smooth, chameleonic prowess, at times aligning himself with the audience, at others, setting himself quite apart.
Such pragmatism is an attribute he applies to maligned young people generally, dismissing perceptions of their fecklessness as adaptability, staunchly defending their drive for diversity, while eschewing happiness for smartphone-synced nihilism. For someone who's blown up online, the audio-visual elements of OK Zoomer are deployed surprisingly sparingly – though when they are, they're slick and satirically punchy.
Closing videos of Christie as an almost literal baby comic performing in child stand-up competitions and at birthday parties, outdoing even host James Acaster for absurdism, reiterate his youth and benefit from the cute factor, albeit with a subtext of precocious, egotistical obnoxiousness.
Yet they otherwise rather flip the script, projecting an optimistic conclusion that derives more from Christie's engaging warmth than the cynicism of much of his writing. A bit of a cheat, then. But as he has the mic, merely more of his privilege.
• Finlay Christie: OK Zoomer is at Gilded Balloon Teviot at 6pm
Review date: 8 Aug 2022
Reviewed by: Jay Richardson
Reviewed at: Gilded Balloon Teviot