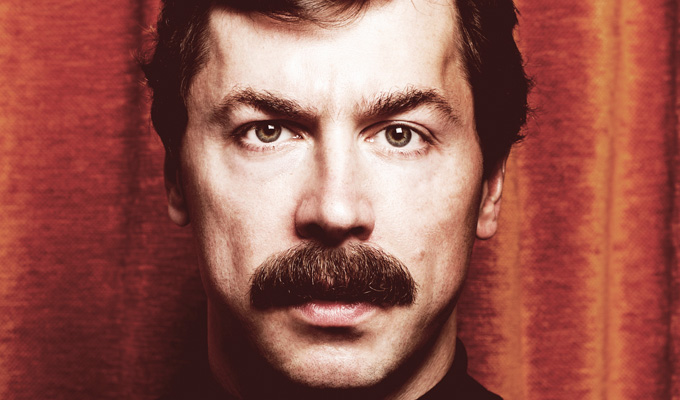 Get your latest neighbourhood news
Here's Chortle's daily round-up of new comedy to watch at home during lockdown.
This list, updated at around 3pm daily, covers subscription services such as Netflix, Amazon Prime, iPlayer and NextUp, to podcasts and shows that comedians are releasing themselves, is your essential guide to getting a daily dose of laughs.
As well as these highlights, you can search our listings for other online events using the blue box at the left or top of this page. Or if you're a promoter wanting to add an event, details are here.
---
St Elwick's Neighbourhood Association Newsletter
Malcolm Durridge delivers another official newsletter podcast detailing the local goings-on the Devon parish. And yesterday's new episode featured a new art competition with local artist Sandy Knowles(Ruth Bratt) as head judge, slightly at odds with the newsletter's editor.
It's the brainchild of stand-up Mike Wozniak, who you might know from the Greg Davis sitcom Man Down or the cult Beef and Dairy Network Podcast... and this is in a very similar vein. Listen to all 13 episodes here.
---
The Stand
Mark Nelson returns with a live stand-up show, actually filmed in the Edinburgh branch of the much-loved club. The line-up is Gareth Waugh, Jay Lafferty, Ryan Cullen, Connor Burns and Jo Caulfield, and it kicks off at 8.30pm on YouTube:
---
Comedy at The Covid Arms
Josh Widdicombe, Rachel Parris and Dana Alexander join regular host Kiri Pritchard-McLean for tonight's gig in support of The Trussell Trust. Tickets here.
---
No More Jockeys
Long-term pals Alex Horne, Mark Watson and Tim Key often play this game which they devised in private. And because of lockdown they have started putting Zoom exchanges on YouTube, promising a new episode every Friday.
And considering one of the other games Horne devised turned out to be Taskmaster, this has to be worth a view...
On each turn, players name a person plus a category they fall under, both of which can not be used by any future player, thus narrowing the field of possibilities until a player cannot name anyone new.
It's probably easier to watch than explain:
---
Sean McLoughlin: Hail Mary
The acclaimed comic (not to mention Ricky Gervais tour support) releases his special all about big tech, love and religion for free on YouTube at midnight tonight.
Originally performed at the Edinburgh Fringe 2018, Hail Mary went on to tour New York, Sydney and across Europe as well as a full UK tour, including this recording at the Top Secret Comedy Club in London.
Read our original review here - and watch here when it's released.
---
Tiger Lillies: Covid 19 II
The cult cabaret band are launching their new album tonight, with its first public performance online.
Featuring songs such as Care Home, Just A Flu and Don't Swallow Bleach, the album is the band's second account of the epidemic. The first part premiered on May 1 with 150,000 views from people in more than 30 countries.
The album has been created during lockdown, with songwriter Martyn Jacques in Berlin and bass player Adrian Stout in Athens.
Jacques says: 'Some people do the gardening - but my hobby is writing and recording songs. I'm trying to keep myself sane.
'I used to spend quite a lot of time complaining about not really wanting to go on a plane and fly somewhere. I have been getting more and more reluctant to tour. But when it stops altogether I don't like it at all.'
The launch, which will stream on YouTube and Facebook.
---
CrossBread
This new Australian mockumentary stars award-winning musician Megan Washington (pictured) and musical theatre actor Chris Ryan as members of a Christian hip-hop group as well as antipodean comedy talent including Kate McLennan, Aaron Chen, and Sami Shah.
The lead actors wrote it with comedy writer Declan Fay and it's now available as a podcast via Apple or Australian broadcaster the ABC.
---
Just A Couple
The BBC has dusted down this 2017 millennial romcom to put back on iPlayer. Six short episodes explore the modern relationship between Mark and Shavon (Michael Salami and Frieda Thiel), such as keeping tabs on each other's Instagram accounts and binge-watch Netflix together.
---
Russell Kane & Friends
The comic is joined by Tom Allen, Rosie Jones, Nathan Caton and Kelly Convey in this lockdown comedy show from 8.30pm tonight. Tickets are available here and all profits go to food bank charity The Trussell Trust.
---
Upload Comedy Festival
The latest comedy streaming festival kicks off with a double-bill tonight, with Tessa Coates (pictured) in Lock Down And Two Smocking Barrels at 7.30pm and Alfie Brown's Truncated History of Philosophy at 9pm.
The event has a couple of shows a night until Sunday with the likes of Jordan Brookes, Mat Ewins, Fern Brady and others taking part, then another next Thursday with Sofie Hagen's How To Be Fat.
Click here for the full schedule, and tickets, priced £5 plus a £1 charity donation.
---
Wife On Earth
Repressed housewife Celia Jesson - the alter-ego of comedian Joanna Neary – today returns for a second series of her book-based podcast.
With her dependable husband Fred (Joseph Nixon), Celia will use her love of books tackle such issues as identity theft, world history, diet scandals and buying bread,
Neary originally created her character in 1997 when a Sussex radio station asked if she could impersonate Celia Johnson in Brief Encounter for an advert for a fee of £10. 'I can do pretty much anything for ten pounds,' she said. The character has become part of her repertoire and featured in her own full-length Edinburgh show, FaceFul Of Issues, in 2018
The podcast, released as part of the Cosmic Shambles network, is available on Spotify and Apple podcasts/.
---
Remote Comedy From The Paddock
Phil Wang, Claudia O'Doherty, Jon Pointing and Tom Walker & Demi Lardner are the comics involved in the lates edition of the E4 lockdown show, released last night.
Wang has a bash at character comedy with prententious chef Gorge and food critic Lily Pannacotta among others; O'Doherty offers a thank-you to the guy who changed her life; Pointing delivers a DJ set and Demi comes home to find her boyfriend Tom has set up a Rube Goldberg machine for her, before having some fun with green-screen…
---
Stewart Francis: Into the Punset
The farewell tour of the Canadian wordsmith and one-time Mock The Week regular, has now landed on the streaming services.
Recorded at Vicar Street in Dublin in May last year, before he hung up his mic for good in December, it is available to buy on Amazon Video or Google Play.
Here's a trailer:
The Johnny Carson Show
New on Amazon Prime are some classic episode of the granddaddy of all US talk shows, grouped into themed seasons which will help you find some historic comedy performances.
There are nine appearances from Richard ​ Pryor and six from Jerry Seinfeld, plus a series of comedians from the 1980s, including Garry Shandling, Eddie Murphy, David Letterman and more, plus comedians from the 1990s, including Robin Williams, Jim Carrey and Keenan Ivory Wayans.
---
Short Poppies
Also new to Amazon Prime is this 2014 New Zealand mockumentary series from stand-up and Flight Of The Conchords star Rhys Darby.
Over eight episodes, real-life journalist David Farrier goes on a quest to small town New Zealand to meet ordinary Kiwis. What he finds is a lovable bunch of people, all played by Darby, who are anything but ordinary.
---
Lee Kyle: South Tyneside's Teenage Rock n Roll Machine
Kyle is writing a new full length comedy show every month of the lockdown. The latest, which drops at 8pm tonight, is nominally about is home town, but he admits it's ideal for people who want to not learn that much about South Tyneside who also like left wing rants.'
Watch on Facebook Live.
---
The Personal History of David Copperfield
Armando Iannucci's superb and witty take on the Dickens novel is out to buy on streaming services today and well worth a watch - even if you don't think you like period films.
Dev Patel leads a top-rate cast that includes lots of comedy favourites including Hugh Laurie, Daisy May Cooper and Paul Whitehouse.
It's out on all platforms, including Amazon Video.
---
Comics' Books
This new podcast is essentially a Desert Island Discs, but for books, with comedians telling producer Lucy Danser about the titles that have been significant to them throughout their lives and what reading means to them.
All the episodes come with notes so people can get the books mentioned and, unusually, a transcript, for increased accessibility.
Laura Lexx and Eshaan Akbar are the first two guests, and their episodes are available here.
---
Happy Mondays
The improv rap of Abandoman tops the line-up of tonight's Zoom comedy club, with the dry Irish wit of Eleanor Tiernan, the good cheer of Lloyd Griffith (most recently seen supporting Jack Whitehall on tour) and TV presenter and comic Michelle De Swarte.
The show is at 9pm and tickets are available here
---
Local Laughs 17th Birthday Show
'Local' very much depends on where in the world you are, as this long-running and much-loved Melbourne club breaks out the virtual party poppers to celebrate its anniversary.
And promoter Janet McLeod has assembled some of the best of Australian comedy and beyond to mark the occasion, including Tom Ballard, Celia Pacquola (pictured), Luke McGregor, former talk show host Rove McManus and France's own Marcel Lucont.
The show takes place on Zoom at 11.30am tomorrow, UK time, and tickets are available here, priced AU$20, or just under £11.
---
Ed Byrne: Spoiler Alert
The Mock the Week star's stand-up show has landed on iPlayer, thanks to a repeat on BBC Scotland last night. In the show, recorded at Glasgow's Tramway, he explores the thin line between righteous complaining and brat-like whining. Watch here.
---
DL Hughley: The Endangered List
The American political comedian's 2012 special has just been put on YouTube for free by Comedy Central – and it's something a bit different from the usual one-man-and-a-mic set-up.
Instead, it takes the form ting the black man on the endangered species list, arguing it might help wider society value their lives more. While it's a frivolous premise, Hughley gets increasingly serious about a topic that's sadly even more relevant today than it was eight years ago.
---
Need more suggestions?
• Click here for those from the week starting June 7
• Click here for those from the week starting May 31
• Click here for those from the week starting May 24
• Click here for those from the week starting May 17
• Click here for those from the week starting May 10
• Click here for those from the week starting May 3
• Click here for those from the week starting April 26
• Click here for those from the week starting April 19
• Click here for those from the week starting April 12
• Click here for those from the week starting April 5
• Click here for those from the week starting March 29
• Click here for those from the week starting March 22
• Click here for those from the week starting March 15
NOTE: Sometimes links and videos of live events expire after the event. All were valid at the time of publication
Published: 20 Jun 2020
What do you think?