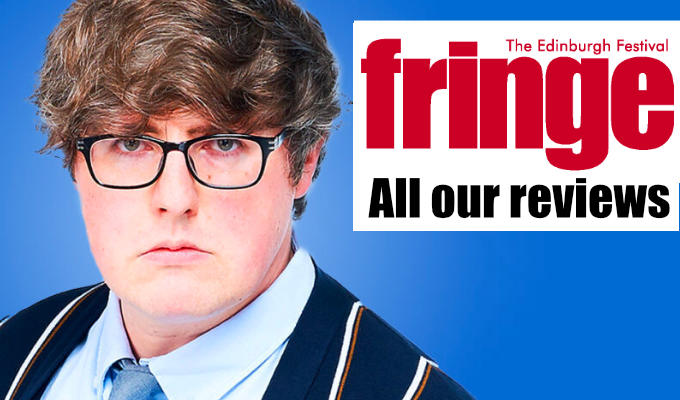 Edinburgh Fringe comedy reviews 2022





Alasdair Beckett-King: Nevermore
Glenn Moore: Will You Still Need Me, Will You Still Feed Me, Glenn I'm Sixty Moore
Troy Hawke: Sigmund Troy'd!





Britney
Dan Cook: Loud Bit, Quiet Bit, Loud Bit, Quiet Bit
Dan Rath: Cockroach Party *
Emily Wilson: Fixed
Garry Starr: Greece Lightning





Alice Fraser: Chronos *
ALOK
Aurie Styla: Green
BriTANicK
Chloe Petts: Transience
Chris Gethard: A Father And The Sun
Christopher Titus: Carrying Monsters
Danielle Walker: Nostalgia *
Finlay Christie: OK Zoomer
Flo & Joan: Sweet Release *
Geraldine Quinn: Broad *
Harriet Dyer: Trigger Warning
Ian Cognito: A Life And A Death On Stage
Jazz Emu: You Shouldn't Have
John Hastings: Do You Have Any Ointment My John Hastings *
Jordan Brookes: This Is Just What Happens
Jordan Gray: Is It A Bird?
Justin Moorhouse: Stretch & Think
Laura Davis: If This Is It *
Leo Reich: Literally Who Cares?!
Luca Cupani: Happy Orphan
Lucy Frederick's Big Fat Wedding
Luke Rollason: Bowerbird
Mark Silcox: I Can Cure... [Perfect and Arena-Ready Show]
Mat Ewins: Danger Money
Michelle Brasier: Average Bear
Nic Sampson: Marathon, 1904
Patience: Zero
Phil Wang: The Real Hero In All This *
Pierre Novellie: Why Can't I Just Enjoy Things?
Rhys Nicholson: Rhys! Rhys! Rhys! *
Rob Kemp: Agenda
Sami Abu Wardeh: Bedu
Sarah Keyworth: Lost Boy
Sean McLoughlin: So Be It
Simon Brodkin: Screwed Up
Tom Walker: Javelin *







Abigoliah Schamaun: Legally Cheeky
Ania Magliano: Absolutely No Worries If Not
Christian Brighty: Playboy
Christopher Macarthur-Boyd: Oh No
Christy Coysh: Bangarang!
Colin Hoult: The Death Of Anna Mann
Eric Rushton: I Had a Dream And You Were All In It
The Flop: A Band of Idiots
Helen Bauer: Madam Good Tit
I'm With Stupid
Ian Stone: Righter Of Wrongs
Jamie D'Souza: Stop Drawing Willies On My Poster
Josh Glanc: Vrooom Vrooom*
Josh Jones: Waste of Space
Lloyd Langford: Dilf *
Milo Edwards: Voicemail
Pernille Haaland: Resting Confused Face
Rich Hardisty: Silly Boy
Rob Auton: The Crowd Show
Sam Nicoresti: Cancel Anti Wokeflake Snow Culture
Sikisa: Life of the Party
Two Hearts: We're Pregnant And The Baby is Music
Yasmine Day: Songs in the Key of Me
Zach Zucker: Spectacular Industry Showcase





Ali Woods: Best Friend Ever
Celya AB: Swimming
Charlie Russell Aims To Please
Crizards: Cowboys
Eme Essien: Flat Shoes In The Club
Illegally Funny
Jacob Hawley: Bump
Jayde Adams: Men, I Can Save You
Jody Kamali: Ironing Board Man
Lanessa Long: The Lanessa Show
Lew Fitz: Soft Lad
Luke Kempner: Macho Macho Man
Mad Ron: Crime School
Max Fosh: Zocial Butterfly
Melissa Stephens: Hot Dogs & Tears
Nathan Mosher Is Injured
Rajiv Karia: Gallivant
Red Richardson: Shots Fired
Rosie Holt: The Woman's Hour
Ruth Hunter and the Ruth-hunter
Tina del Twist: Caravan in the Sky
Tom DeTrinis: I Hate New York
Will Mars: My Life In One-Liners





Esyllt Sears: Absolutely Not
Emo Majok: African Aussie
Hannah Fairweather: Just A Normal Girl Who Enjoys Revenge
Jarred & Hobbit: The Big Beatbox Comedy Mess Around Gameshow Show
Les Dawson: Flying High
Michael Akadiri: No Scrubs
Patrick Spicer: Who's This All of a Sudden?
Vix Leyton: Pedestrian





Christian Schulte-Loh: Comeback of the 50ft. German Comedian
Horseplay: Bareback
Jon Courtenay: Against The Odds





* = As seen at the Melbourne International Comedy Festival in April.
Published: 16 Aug 2022
What do you think?