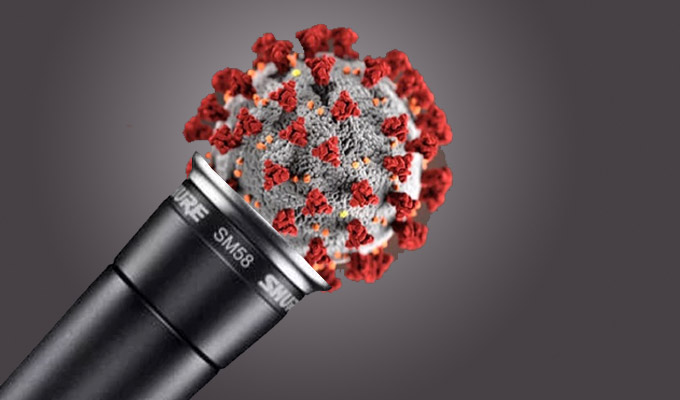 Coronavirus: Which comedy gigs have been hit?
Given the government's advice that everyone should avoid social contact, such as going to pubs and theatres, the assumption now is that all comedy shows are currently cancelled until recommendations are relaxed.
March 19 updates
Ambassador Theatre Group have announced that all their venues which closed on Monday will remain dark until at least Sunday, April 26.
The night of comedy to commemorate Jeremy Hardy has been postponed by a full year. Friends including Mark Steel, Jack Dee, Harry Enfield, Miles Jupp, Angela Barnes, Imran Yusuf, Shappi Khorsandi and the cast of I'm Sorry I Haven't A Clue. has been due to celebrate the comic's work at the Eventim Apollo, Hammersmith. next Wednesday but has now been moved to March 25,2021. Tickets for the new date are available here.
Milton Jones has shelved all the spring dates in Milton Impossible tour, with the aim of rescheduling them later. The tour was already set to resume in October - see dates here
The Last Leg has confirmed that, like most other studio TV shows, this week's final episode in the current series will not have a studio audience. However hosts Adam Hills, Josh Widdicombe and Alex Brooker, plus guests Rob Beckett, Lorraine Kelly and O.T. Fagbenle will be broadcasting live on Channel 4 at 10pm on Friday.
Comedy-on-demand platform NextUp is to launch a number of initiatives to get comedians' work to fans under the title #HeckleTheVirus, including a virtual comedy venue and launching a hardship fund via JustGiving.
The Friends reunion has been postponed. Jennifer Aniston, David Schwimmer, Matthew Perry, Courteney Cox, Matt Leblanc and Lisa Kudrow had been scheduled to get together on Monday to record a talk show for new streaming service HBO Max. Production has now reportedly been delayed until at least May.
Daniel Sloss has postponed his 21-date tour of Australia in April and May following the cancellation of the Melbourne, Sydney and Perth comedy festivals.
March 18 updates
The Bath Comedy Festival. which would have taken place from March 30 to April 19, has been cancelled. Organisers say they are working to move the 170 events in the festival to September instead. More
The Frog and Bucket in Manchester has decided to close its doors until at least Thursday Apri 9. In a statement, they said: These are extremely difficult times for all of us not least for the live entertainment industry. The Frog and Bucket has been an institution of the northern comedy scene for 26 years and we will be around for many more but for these next few weeks we will miss you all. As a thank you from us for supporting live comedy we will be converting all tickets to a credit note and sticking a drink from us each on the vouchers. At a time when our nation needs the therapy of laughter more than ever we are gutted that we are not able to provide this to our fantastic audiences. '
All John Shuttleworth's tour dates from now until April 25 are being rescheduled into the autumn of 2020 and January 2021. A spokesman said: 'We apologise for all the inconvenience that this entails.'
Peter Kay's return to the stage, as a DJ at six Dance For Life charity fundraisers in April and May,  has been cancelled because of the coronavirus outbreak. They would have been his first major appearances since he cancelled his long-awaited stand-up tour in 2017 for family reasons. Read more
The Glastonbury Festival has been cancelled for 2020. Organiser Emily Eavis said she wanted to make the decision before April 1, when the 200,000 people who had paid a ticket deposit would have had to settle the balance. The event had been due to take place in Worthy Farm, Somerset, on June 24 to 28, with acts including Taylor Swift, Paul McCartney and Kendrick Lamar as week as a full line-up of comedy events. Those who had paid deposits will be given the option to hold them over to 2021, so they can secure the hard-to-get tickets. In a statement, Emily and father Michael, who set up the festival, said: ' We very much hope that the situation in the UK will have improved enormously by the end of June. But even if it has, we are no longer able to spend the next three months with thousands of crew here on the farm, helping us with the enormous job of building the infrastructure and attractions.'
US ventriloquist Jeff Dunham has pulled his Seriously!? UK tour. that was due to take place in arenas during May, rescheduling the arena dates to September. MoreÂ
The Comedy Store has closed its doors in London and Manchester for four weeks while the government is urging people to avoid non-essential contact. A statement on its website said: 'We will hopefully be back very soon to deliver the laughter we all very much need. Please be safe and look after yourself and those that may not have others to help them.'
Clinton Baptiste, the useless psychic from Phoenix Nights has cancelled his Paranormalist Returns tour. Alex Lowe, the actor who performs the character, says shows are likely to be postponed until January 2021. He wrote on Facebook: 'Gutted, but what can you do?'
An Alan Partridge fan festival planned for Norwich this weekend has been put off until September 26. Super-fan Paul Wassell, 34, who organised the event, said: 'Hopefully by then this evil, evil virus will have mostly gone away and we can all have a ruddy good time.' About 250 people were expected to attend the event at he Mercure Norwich Hotel
The Stand has cancelled all its shows in its Edinburgh, Glasgow and Newcastle venues until Monday April 13. With the closure posing a serious threat to its income, the company is offering a customer credit for cancelled shows to be used in the future. The chain said: 'Stay safe out there, adhere to our in-house motto of 'don't be a dick' and be kind to each other. Help anyone in need when you can. Keep laughing through these dark times. We will be back soon'
The Perth Comedy Festival in Australia has 'regrettably cancelled' the event which was set to take place from April 20 to May 17 featuring international acts such as Arj Barker, Daniel Sloss, David Baddiel, David O'Doherty, Stephen K Amos, Jason Byrne and Lloyd Langford alongside home-grown talent.
The Banana Cabaret in Balham, South London, has suspended all shows with immediate effect, with pending tickets being refunded. Promoters said: 'The wellbeing and safety of our customers, staff and acts is paramount and we feel sure that this is the most wise and appropriate course of action to take right now. This will come, we are sure, as no surprise to you. Obviously we must wait and see how things unfold but we very much look forward to returning to The Bedford in due course and welcoming you back to Banana Cabaret.'
The inaugural West Didsbury Comedy Festival, featuring 30 shows over three days in late April has been called off, with plans to reschedule.
Robin Ince has set up a Stay At Home Festival with comedians including Jo Brand, Sara Pascoe and the League Of Gentlemen's Mark Gatiss performing in their homes â€" and being beamed into yours. More
This Country star Charlie Cooper has revealed how he believes he 'most definitely' has come down with coronavirus. MoreÂ
Netflix has been forced to pull its mammoth comedy festival featuring the cream of international acts, just two months after announcing it. More
March 17 updates
Nick Helm has postponed his upcoming Phoenix from the Flames tour. Writing on Twitter he said: 'Inevitably & regrettably, what with everything going on at the moment, I'm postponing my upcoming tour. We're working on re-scheduling all dates so I'll let you know what's happening as soon as I know. Apologies for any inconvenience, but obviously I didn't fuck a bat.'
The virus is causing huge disruption to the Glasgow International Comedy Festival, with Oran Mor venue cancelling its shows for the week and the Britannia Panopticon and the Hug And Pint closing until further notice, and widespread axing of other shows across the programme.
Komedia Brighton has closed until March 31, and called on ticket-holders to donate to the venue and its staff rather than ask for a refund. In a statement, they said: 'Anyone who wishes to do so can convert their ticket money into a donation to the venue and our staff at this difficult time. As an independent, unfunded arts venue these are unprecedented times and we appreciate your continued support in this difficult climate.'
The Frog And Bucket in Manchester is offering distance learning in stand-up and comedy writing, pairing customers with a pro comic who will give five hours one-on-one coaching for £200. More details can be found at https://frogandbucket.com/comedy-course/
As announced this morning, the Machynlleth Comedy Festival has been cancelled.
The Teenage Cancer Trust shows at the Royal Albert Hall next week have been cancelled, including Tuesday's comedy fundraiser with Alan Carr, John Bishop, Paul Chowdhry, Russell Kane, Seann Walsh and Suzi Ruffell. Kate Collins, chief executive of Teenage Cancer Trust, said: 'We are, obviously, very disappointed that we have had to announce this. I'd like to thank everyone who committed their time and support to this year's shows for their understanding.'
The remaining dates for the tour from The Fast Show's Arabella Weir, Does My Mum Loom Big In This?, are no longer taking place as scheduled.
Topical radio comedies The Now Show and Newsjack are to be taped without a studio audience, and the Celebrity Juice audience was sent home unexpectedly. More
March 16 and earlier
These are the major comedy events that were cancelled before Boris Johnson's announcement on March 16. Some are likely to be rescheduled.
The Machynlleth Comedy Festival
The popular cult festival, which draws around 8,000 people to 250 shows in the Welsh town on the bank holiday weekend from May 1 to 3, was cancelled after Boris Johnson told people to avoid social contact.
Melbourne International Comedy Festival
The second biggest comedy festival in the world, involving more than 7,000 performances over a three-and-a-half week period was pulled after Australian PM Scott Morrison urged the cancellation of all unnecessary large public gatherings. The festival said they were 'devastated' to have to make the announcement. More
Adam Kay
The medic-turned comic has postponed all his performances of This Is Going To Hurt for March and April. He wrote on Twitter: 'I was due to perform at a dozen theatre across the UK, and by assembling nearly 200,000 audience members in confined spaces, I would be putting them at risk. The risk appears to be relatively small at the moment, but it's clearly increasing, and is ultimately an unnecessary one.' More
Glasgow International Comedy Festival
While much of the festival is going ahead as planned, the biggest shows have been pulled after the Scottish Government recommended that all events with more than 500 people should be axed. All events at the King's Theatre, including Stewart Lee, Jerry Sadowitz, Janey Godley, John Shuttleworth, Fascinating Aida, Susie McCabe and Jim Smith were postponed with no new dates yet organised. Many other shows were also pulled, More
Trevor Noah
The host of the Daily Show pulled gigs in Glasgow, Dublin and London citing World Health Organisation advice. Vowing to reschedule, he said: ''By reducing large gatherings we can help flatten the curve of any possible outbreaks to keep it manageable within our communities' More
Russell Howard
Russell Howard has cancelled most of the European leg of his world tour, pulling all the dates between now and April 5 covering Munich, Cologne, Berlin, Oslo, Copenhagen, Stockholm, Bergen, Antwerp, Zurich and Gothenburg. He said: ''It's completely out of my hands but we're gonna reschedule them for later in the year. I'm so gutted that this has happened.' More
Steve Martin and Martin Short
Pulled their gig at the Belfast SSE Arena on March 12. Steve Martin wrote on Twitter 'Dear Belfast ticket-holders, in light of the ever-evolving global situation, Marty and I have decided to postpone our Belfast show until happier times.' More
Ed Gamble
Ed Gamble pulled all his European dates after being advised to take special precautions against the bug because he is a type 1 diabetic – which means the symptoms would be more severe if he caught it. He axed shows in Noway, Sweden, Denmark, Belgium, the Netherlands and Greece. More.
Tom Rosenthal
The Friday Night Dinner and Plebs star has pulled the rest of his tour, Manhood, saying: ''Given current events I have come to the conclusion that I shouldn't be gathering people in rooms at a high density for what is "essentially an hour's worth of dick jokes" - Metro.'
Iain Stirling
The voice of Love Island has pulled shows in London, Bristol and Brighton after reporting that he feels 'under the weather'. 'With the current situation, me and my team think it's correct to take the precautionary measure of postponing,' he wrote on Twitter.
Altitude
The comedy festival in the Alps – featuring the likes of Marcus Brigstocke, Andrew Maxwell, Daniel Sloss, Reginald D Hunter and Rich Hall – was due to kick off on March 30, but the Austrian government has slapped a ban on all indoor events involving more than 100 people. Announcing the cancellation, organisers said: 'We are truly, truly sorry. We are absolutely gutted.' More
Jerry Seinfeld and others in New York
The star pulled his gigs at the Beacon Theatre before New York nixed all live entertainment, saying he'll postpone them until ticketholders 'can relax and enjoy it a lot more'. Another early New York casualty was The Night of Too Many Stars, a major autism benefit hosted by Jon Stewart, had been scheduled to take place at the 20,000-capacity Madison Square Garden.
Others
Americans Catherine Cohen, Alex Edelman and Jena Friedman pulled their shows. Cohen cited the travel restrictions between the US and Europe introduced in a bid to combat Covid-19 in dropping her three London dates More. Edelman pulled the last four gigs in his Just For Us tour and Friedman pulled her two-week run at Soho Theatre.
Published: 12 Mar 2020
What do you think?