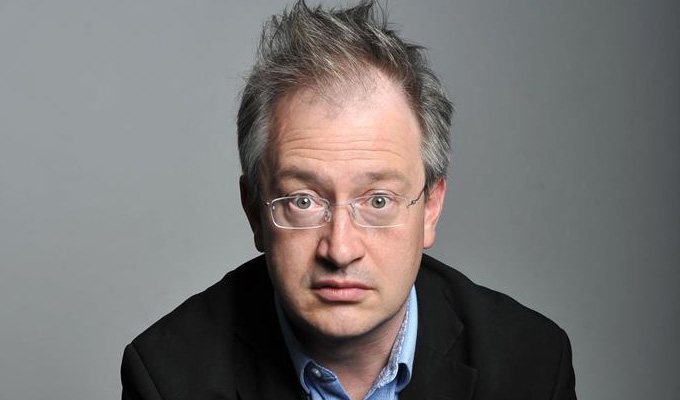 Comics take part in a Stay At Home festival
Comedians including Jo Brand, Sara Pascoe and the League Of Gentlemen's Mark Gatiss are to take part in a new festival – to be streamed direct into people's homes.
And the entertainers will all be at home too.
The Stay At Home Festival is the brainchild of Robin Ince in a bid to keep people amused when live gigs are being cancelled.
Shows will run from Monday to Thursday next week, with three preview shows over the weekend to 'test the technology', which is being provided by The Cosmic Shambles Network.
Each show will be free to watch, but with a pay-what-you-can option with any profits going to help performers and venues that are in the most need
Ince said: 'It is stating the obvious to say that strange days have got a hell of a lot stranger with many people facing confusion and anxiety. Artists have nowhere to play and audiences have nowhere to go to be distracted.
'Trent Burton, Cosmic Shambles Network producer is a bit of a technical whizz, so he has managed to work out a way that we can do shows from our home and people can watch them in theirs as they wipe their brows in their toilet paper castles.
'It's harder to "only connect" when we are all in quarantine, but hopefully this will go some way to bringing some happiness and helping out artists too.'
Thursday March 19, 8.30pm: Preview – Book Shambles with Robin Ince and Josie Long
Saturday March 21, 3pm: Preview - Science Shambles with Robin Ince, physicist and oceanographer Helen Czerski, Natural History Museum creator Miranda Lowe and musian Matt Watson
Sunday March 22, 9pm: Preview comedy night with Josie Long, John-Luke Roberts and guests
Monday, March 23, 10am: Mark Gatiss, George Egg and musician Grace Petrie
Tuesday March 24, 10am: Physicist Brian Cox, musician David McAlmont and Bec Hill
Wednesday March 25: 10am: Jo Brand
Thursday March 26, 10am: Sara Pascoe and Natalie Haynes
Thursday March 26, 6pm: Astronaut Chris Hadfield with musician JB Morrison (formerly Jim Bob from Carter USM)
For updates to the schedule, visit cosmicshambles.com/stayathome
Published: 18 Mar 2020
What do you think?