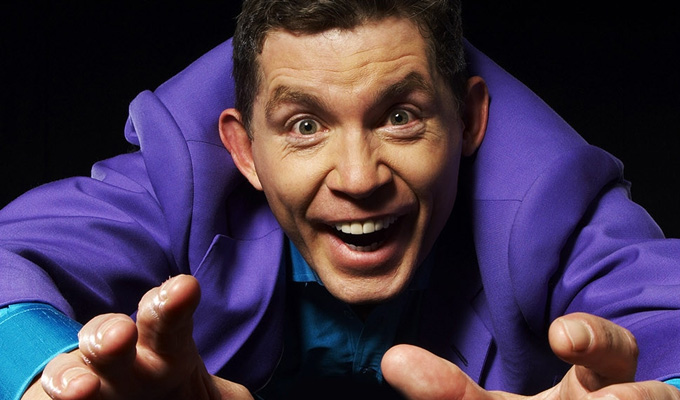 Lee Evans, Louis CK and Taskmaster
In 2018, Chortle was visited by more than 3.2million unique users. Here are the stories we covered over the year that proved the most popular:
1. Lee Evans comes out of retirement
In August, the comic announced that he was to star in one of Harold Pinter's one-act plays as part of a West End season – four years after quitting live performance at the age of 50 to spend more time with his family.
2. Louis CK planning his comedy comeback
The shamed comic was spotted socialising with comedians at the Olive Tree, the restaurant above New York's Comedy Cellar, in March. It foreshadowed his controversial return to stand-up in the subterranean venue, where he largely ignored the scandal over his sexual misconduct, making only passing referenced to how the revelations had affected his income.
3. Booed off stage... a comic who had been tipped for the top
Viral comic Darren Knight had been tipped as one of this year's comedians to watch by US showbiz bible Variety. But at a showcase at the Just For Laughs comedy festival in July, he stunned the audience – and torched his own career – with a snarky diatribe about what he saw as political correctness in comedy. After an excruciating set in which he died on stage.
4. Taskmaster gets four new series
In February, UKTV announced that it had recommissioned many more episodes of its hit series, with Greg Davies as the Taskmaster and show creator Alex Horne as his trusty sidekick. Seasons six and seven aired over the year, including James Acaster, Russell Howard, and Tim Vine among the contestants, leaving two more yet to air.
5. US comic Sean Rouse dies at 43
In July we lost the American stand-up, whose sick humour won fans including Doug Stanhope and Jim Norton, after he suffered a stroke followed by a heart attack. He had long battled with rheumatoid arthritis, too.
6. Whatever happened to the Hi-de-Hi! cast?
To mark 30 years since the end of the holiday camp sitcom in January, we looked back at what happened to its stars in the ensuing decades.
7. Robins can't fly
John Robins, James Acaster, Ed Gamble and Lloyd Langford all got stuck in New York after a heavy snowstow grounded the group's return flight in January
7. Meet the new Plebs cast member
A Q&A with Jonathan Pointing, who joined ITV2's ancient Roman comedy as Jason, after Joel Fry – who had played Stylax – quit after two series. He spoke about joining the cast, turning up for work naked, and being good at drinking…
8. Comedians to be licensed by the government
In April, we reported how comics would be licensed by the government in a new blitz on online misbehaviour. Under scheme, only those officially registered with the Home Office as comedians would be able to claim they were 'only joking' as a defence if they were accused of hate speech over a bad-taste social media post. It was an April Fool's joke... but it seemed close to home for many...
9.Ade Edmondson and Nigel Planer reunite for stage comedy
In June we reported how the Young Ones duo were getting back together for Vulcan 7, a comedy play set backstage on a sci-fi genre movie, which toured the UK in the autumn. We subsequently reviewed it here.
10. Did Britain's Got Talent comedian rip off Peter Kay?
In May, Ben Langley appeared on the ITV talent show with a routine based around the misheard lyrics of songs. It's a well-worn technique, but many viewers felt he had
Published: 31 Dec 2018
What do you think?