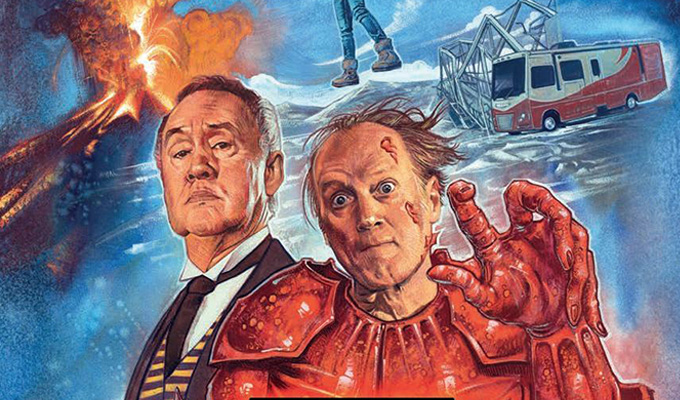 Ade Edmondson and Nigel Planer reunite for stage comedy
Young Ones stars Adrian Edmondson and Nigel Planer have reunited to create a new stage comedy based around the filming of a fantasy movie.
In Vulcan 7, the pair will co-star as former drama students Gary Savage and Hugh Delavois, one a plodding actor, the other a struggling Hollywood star. Both in their 60s, they are reunited on Icelandic wasteland, on the set of a fantasy film.
The pair both wrote and star in the show, with the cast completed by Lois Chimimba who stars as film runner, Leela.
Hugh plays Vulcan's butler and he's making his seventh film for the franchise. Gary is a one-time Hollywood A-lister playing a guest monster with four hours in make-up and one word in the script.
The description of the show says: 'Sparks fly inside the trailer as old wounds are opened. Leela, a runner, attempts to keep the peace, but outside the trailer things are not going to plan either: the director's gone AWOL, the catering truck's on the wrong side of a ravine, and the volcanic activity is growing more lively by the minute…'
Soho Theatre's artistic director Steve Marmion directs Vulcan 7, which premieres on September 19 at Guildford's Yvonne Arnaud Theatre before touring to Cambridge, Newcastle, Bath, Richmond, Malvern and Edinburgh.
As well as The Young Ones, Edmondson and Planer have performed together in Filthy, Rich and Catflap and in the spoof band Bad News.
The show is being staged by Jonathan Church Productions and Theatre Royal Bath Productions in association with Yvonne Arnaud Theatre.
The tour dates are:

Wednesday 19 - Saturday 29 September: Yvonne Arnaud Theatre, Guildford
Monday 8 - Saturday 13 October: Newcastle Theatre Royal
Monday 15 - Saturday 20 October: Theatre Royal Bath (Tickets on sale July 23)
Monday 22 – Saturday 27 October: Richmond Theatre
Monday 29 October – Saturday 3 November: Malvern Festival Theatre
Monday 5 - Saturday 10 November: King's Theatre Edinburgh
Published: 8 Jun 2018
What do you think?