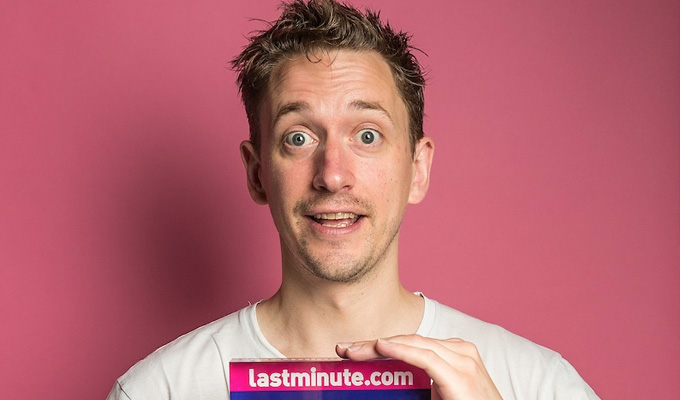 Robins can't fly
John Robins will miss his Radio X show tomorrow because he's trapped in New York.
The Edinburgh Comedy Award winner spent New Year in the US metropolis with fellow comics James Acaster, Ed Gamble and Lloyd Langford – but a heavy snowstorm has grounded the group's return flight.
America's east coast is being battered by a storm called a 'bomb cyclone' by some meteorologists. Winds are gusting up to 65 mph and Central Park is under eight inches of snow. 'This is a serious, serious storm,' New York mayor Bill de Blasio has said.
More than 4,000 flights were cancelled yesterday and more than 600 today – including a total of 1,300 from American Airlines, the carrier the comedians were due to fly with.
Josh Widdicombe or Nish Kumar will substitute for Robins on the afternoon show he hosts with Elis James, Robins' management, Phil McIntyre Entertainments, told Chortle.
Gamble has tweeted his anger at not being able to find a replacement flight before Monday, being unable to get through to customer services on the phone, and receiving no offer of a hotel room
The airline replied: 'We wish Winter Storm Grayson would take it a bit easier on us too, Ed. We'll take it up with Mother Nature.'
To which, Gamble responded: 'Whether this is supposed to be "quirky" or plain old passive aggressive, it's not helpful in this situation. People are stranded in a very expensive city with no offer of hotel help.'
Robins also tweeted: 'I am on the same flight as Ed and would like you to sort us out so I can broadcast commercial digital indie to the nation Saturday 1-4pm @radiox #GetRobinsHome'.
Acaster added: 'I am also on this flight and we're feeling pretty tense right now since you're not answering the phone'.
Perhaps predictably, doctored images of the group's plight have already started appearing on social media:
@nomadicrevery @EdGambleComedy there's probably a better one out there.

But I made this.

Come home safe x pic.twitter.com/xiqzNuiJBK

— Dan Townley (@Dan_Townley) January 5, 2018
And this! (from @flashfanatic1) pic.twitter.com/DYzW4aCN8a

— John Robins (@nomadicrevery) January 5, 2018
American Airlines is the frequent butt of comedian's jokes in the US, to the extent of being a regular target for Conan O'Brien on his late night talk show.
However, the airline is currently employing Motherland and Philomela Cunk star Diane Morgan as the face of a campaign to bring more US visitors to the UK in partnership with VisitBritain and British Airways.
- by Jay Richardson
Published: 5 Jan 2018
What do you think?