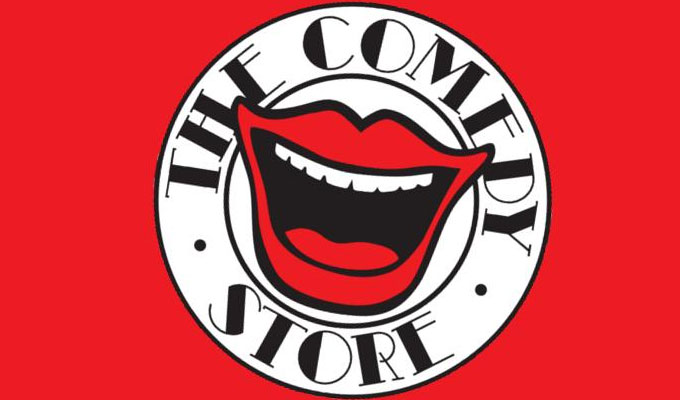 'The Comedy Store was not an alternative comedy venue'
The popular image of the Comedy Store being at the vanguard of the alternative comedy revolution has been challenged at a conference to mark 40 years since the groundbreaking movement.
The Alternative Comedy Now event at the University of Kent was timed to coincide with the anniversary of the opening of the venue in a London strip club on May 19, 1979.
But many of those who attended the conference pointed out that the Store was not set up with any of the ethos now associated with alternative comedy; that fringe venues and left-wing theatre troupes were already doing radical political stand-up before it opened; and that the movement really developed in other venues.
'The Comedy Store was not an alternative comedy venue,' Tony Allen, one of the driving forces behind the movement, stated bluntly at one session.
The venue was initially hosted by Alexei Sayle, who answered an advert inviting anybody who thought they were funny to come to an audition.
On the second week of the club, he met Allen. The pair went on to form the Alternative Cabaret, and after a one-off gig elsewhere had a short-lived residency at the Elgin pub in Ladbroke Grove, between August 1979 and May 1980.
It was at this night where what is largely considered 'alternative comedy' developed, say those that were there and academics who have studied the time, especially its political agenda.
Subsequently, The Comic Strip opened at Paul Raymond's Revuebar on October 7, 1980, with Sayle persuaded to defect to the new group, led by two double acts: Nigel Planer and Peter Richardson, and Adrian Edmondson and Rik Mayall.
But the roots of the movement were in Fringe theatre groups that pre-date the Store, which had no political agenda but was based around a gong-show talent night.
Sayle told the conference how he already performing an early version of his stand-up act as part of a Bertolt Brecht cabaret show
Conference organiser Oliver Double, a comedian turned academic, also pointed out that Alternative Cabaret pioneers were also doing political comedy, Pauline Melville with the radical cabaret group Sadista Sisters, and Andy De La Tour as part of a rock tour promoting left-wing causes.
Stand up Andre Vincent, attending as a delegate, pointed out that before The Comedy Store, comedians were doing alternative work at venues including The Tramshed in Woolwich, the Theatre Royal in Stratford and Bailey's in Watford.
Allen also spoke of 'about half a dozen clubs mostly in East End pubs' that hosted the sort of comedy he was doing.
Alternative comedy sprang from progressive theatre, he argued, 'a lot of it left-wing and trying to find the working-class audience in pubs and community centres'.
But it could be said that the roots of alternative comedy go back even further. At a keynote address, Dr Double pointed out that stand-up John Dowie had gone to the Edinburgh Fringe as early as 1971 with a show that could be considered a forerunner.
Meanwhile, from the folk circuit Billy Connolly and Mike Harding released their first stand-up albums in 1972, followed by Jasper Carrott the following year – all of which were personal stories and tall tales rather than the fomulaic, shared jokes which followed.
However Dr Double said: 'People who came through the folk clubs - actually one of the things they didn't do was current cultural critique. They would talk about their childhood, or whatever, and it was like a folk memory.'
Sayle agreed: 'They were apolitical, they didn't do lifestyle comedy. Their material was still quite narrow in its reference.'
And as early as 1975, Trevor Griffiths foresaw the rise of the alternative comedy boom with his play The Comedians. But ever the contrarian, Allen said: 'I really had a problem with this play. He doesn't understand stand-up comedy.'
De La Tour added that there was already a strong American tradition of political comedy through Lenny Bruce and Mort Sahl.
'Consciously or not, those comics from this US, coming up to Richard Pryor, were doing this type of comedy,' he said. 'That was hugely influential, being based on personal stories at the same time as a political and cultural shift with punk and all these things coalesced.
'The great thing for us is that you didn't have to be funny, you just had to be there. We got away with a hell of a lot. All the stars alighted for this to come together.'
Although as compere Sayle brought his Marxist edge to the Comedy Store, he said: 'The opening night was a riot, but there were still no performers who were politically sympathetic.'
Dr Double spoke of a subsequent 'civil war' at the Store, which ultimately led to the breakaway Comedy Strip.
Allen also questioned the official history of the Comedy Store by questioning an anecdote in the authorised book about the venue written by William Cook in 2001.
In his introduction, co-founder Don Ward recalls taking to the stage before Sayle came on and introducing the club as 'London's alternative night out'.
Allen doubts that term was used at the time, and said further questions about Ward's memory come from his recollection of his opening-night gag: 'I have an important announcement to make: Would the owner of the Sinclair C5 parked outside the club please remove it immediately as a rat is trying to drag it into a storm drain.'
For while the Comedy Store opened in May 1979, the Sinclair C5 was launched in January 1985.
---
Published: 7 May 2019
Recent News
What do you think?