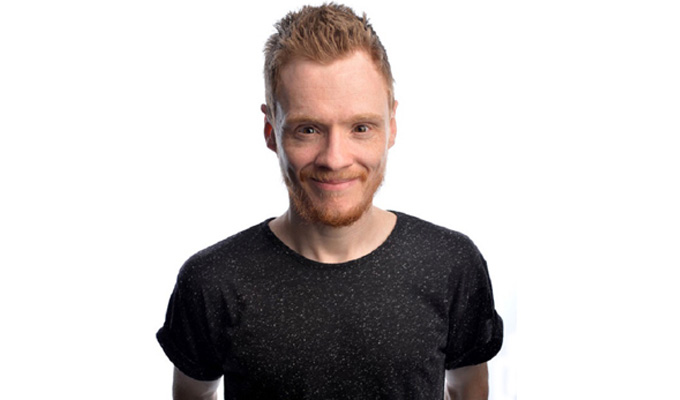 What does alternative comedy mean today?
A new generation of comedians are setting themselves out as 'alternative' – even though their principles are at odds with the original pioneers of the movement, one academic has claimed.
Whereas the 1979 revolution in stand-up was built on a non-sexist, non-racist agenda, some comedians today are claiming a radical mantle by rebelling against such liberal strictures.
Lecturer and writer Sophie Quirk has identified the likes of Andrew Lawrence, pictured, as co-opting the rebellious nature of the alternative comedy pioneers to kick back at what they see as the dictatorial left-wing dominance of comedy.
She described his material as 'an outcry on behalf of white men who might feel marginalised by progress'.
Giving the opening keynote speech at the Alternative Comedy Now conference to mark 40 years since the opening of London's Comedy Store, Dr Quirk played a Lawrence routine in which he laughed off the notion that anyone could 'promote rape culture'.
While Lawrence sets himself up as 'punching up' against the dominant force of liberalism, Dr Quirk said: 'His material refuses to acknowledge that a man speaking about rape sits higher in the power structure than those who likely to be victims of sexual assault, and higher in the power structure than the liberal elite [censoring him].'
She added that the ethos of the original alternative comedians had not totally consumed stand-up.
'The idea that comedy is dominated by political correctness is rather spurious,' she said. 'Look at the big names – Jimmy Carr I would not describe as political correctness gone mad.'
She accepted Carr was 'a bit more complex' than outright offensive comedians, acknowledging that 'he plays a game with the audience, saying "I'm going to find your line" – and that makes the audience complicit.'
But said said: 'This man is a millionaire, a culturally dominated force. You can't Turn on TV without his picture coming out at you, but he doesn't talk about his act having any sort of power, he says politicians like Jeremy Corby have power. This is a very old fashioned view.'
However the original alternative comedy movement has had an effect of modern comedy.
She cited Tony Law as one of the comics who did try to practise political correctness, saying it was all about 'manners… it's about not being an asshole, not being a bully, not making someone feel small.'
He was quoted as saying he would rewrite material if someone said it offended them, adding: 'You're such a pointless twat if you don't mind offending people.'
There has also been a new generation of alternative comedians since the boom of the early 2000s when Live At The Apollo and countless panel shows made a certain style of TV-friendly comedians ubiquitous.
Dr Quirk cited the Alternative Comedy Memorial Society as 'very consciously setting itself up as one of the inheritors of that original ethos', while other comedy nights such as Wacky Racists, The Guilty Feminist and Queer As Jokes established themselves as 'spaces for marginalised performers. These clubs are feeding into a form of lefty radical comedy that's got a real momentum.
'These kind of spaces are susceptible to criticism that they are for PC snowflakes, that it's not real comedy, just people wanting to be cuddly and nice to each other.
'But Wacky Racists says "this is not a safe space" where people really argue and give you feedback, say "you shouldn't have said that" and argue their points.'
Dr Quirk, who is senior lecturer in drama and theatre at the University of Kent in Canterbury, where the conference is being held, spoke of how Guilty Feminist founder Deborah Frances-White talks about establishing 'microclimates' for women to thrive, int he hope that these grow and combine to become the wider climate.
'Little by little we push and become the norm,' Dr Quirk said, noting how this approach reflected the original ethos of alternate comedy.
However, she said the modern iteration of the movement was not without its issues, given it's still predominantly white and middle-class; and the preponderance of niche nights has led to 'separation of audiences into different taste tribes'.
She said: 'The idea comedy needs a right-wing balance is probably a bit of a red herring but what about those left behind?
'All of the ways in which the 1980s alternative comedy was co-opted by white men still seems to be an issue.'
The Alternative Comedy Now conference continues today.
---
---
Published: 3 May 2019
Recent News
What do you think?