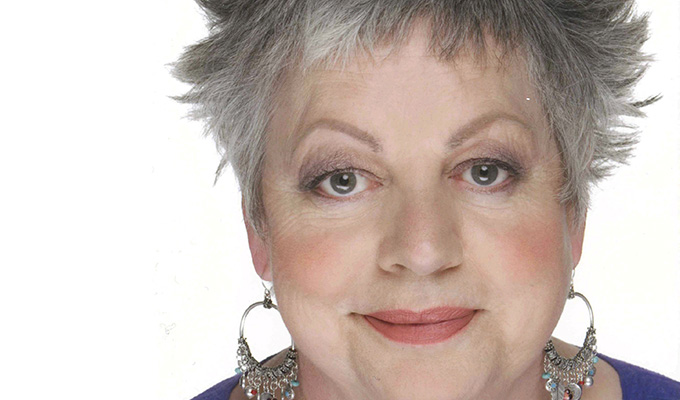 'Pretty female comics fare better than normal-looking ones'
Attractive female comedians do better in the business than ordinary-looking women, Jo Brand has claimed.
The 61-year-old comic also said the scrutiny that the media – and Twitter trolls – put women under for their appearance was driving many comics away from he spotlight.
'It seems to me that women comics that are pretty get their careers advanced much quicker than women comics who are just normal looking,' she said as she delivered the Linda Smith Memorial Lecture in Canterbury, Kent, last night.
'If you're like me, overweight, or you've got some particularly noticeable aspect to your appearance in the tabloids you'll be picked on endlessly for your looks. I've not really noticed that happening with male comics.
'That constant striving to unsettle you actually chips away. It does make your life very difficult and I've known a lot of women who have withdrawn from what they were doing for a bit because they couldn't bear the onslaught of abuse they got.'
Citing her own experience at the hands of the tabloids, she said: 'I don't know if that's changed much these days because that's been added to by all the charming people on Twitter who aren't required to say who they are but threaten women with the most ridiculous misogyny. It's very frightening and I wouldn't blame any woman wanting to withdraw from that.'
Brand used the keynote speech at the University of Kent to considered the obstacles that her friend Linda would face if she was starting in comedy today as a female, working-class political comedian – while acknowledging 'things have got easier' since the both of them were starting out in the 1980s.
She said that in those days, the comedy circuit 'couldn't have been arranged in a worse way for women because most gigs were in pubs. It wasn't that easy for women to go into pubs on their own. It was a bit of an ordeal.
'Not only that, it was in the evening and when the gig finished most women had to get home on their own and that didn't make for a feeling of safety and security. I was lucky in a way because I drove, but there were still many scary moments.'
And it wasn't just the travelling: 'Once you actually got into the clubs there was a lot of unsavoury behaviour from men, too… that was really intimidating for female comedians.'
Brand cited a night in the notorious Jongleurs in Battersea, South London, when she was heckled by a huge group of dentists. The leader of the pack 'unzipped his flies, go his cock out and shouted at me, "Suck my cock you fucking bitch."'
She said she was so shocked by his behaviour that rather than deploy a heckle putdown, she left the stage, about 17 minutes into her set.
'When I got off the stage I was expecting the owner, John, to go "Oh my god, you poor thing". Instead he looked at his watch and went "You came off two minutes early."
'So I said, "Stuff your gig up your arse" and I never worked there again. That's the good thing about being an independent self-employed person, you don't have to do these things.'
Brand said that although she was now making light of some of her experience, the murder of comedian Eurydice Dixon as she made her way home from a gig in Melbourne, Australia, showed that 'things haven't changed as much as I would like them to'.
She also said that women faced difficulties in climbing the comedy ladder when they had children, as they often wanted to stay at home with their babies. And she said that other obstacles for being a comedian – male or female – were being working-class and from outside London, as Smith was.
'It's much easy for middle-class women as they have some familial support,' she said. 'Having a cushion is really essential. When you're establishing yourself and you're not getting paid very much it's hard to survive for a woman. And young blokes as well.'
Turning to the old school tie network, she said: ''People who can get you on to the next stage, they tend not to be people from Erith [Linda Smith's home town]. They do tend to be people from Oxbridge. They are the people – and I still believe this to be true - who pull all the strings in television, in theatre. They are all over the place.
Brand, a Brunel graduate, said: 'I remember David Baddiel said to me one night when we had both being going a few years, "I'm going to dinner tonight with the controller of BBC One." '
'Well how come you're going to dinner with him and I've never been asked?' Brand quizzed him.
'Oh well, we went to Cambridge together,' came the reply.
'That's what goes on and what's still going on,' Brand told the Canterbury audience.
She also said it was difficult to get a leg-up on the ladder if you didn't live in London, citing her Birmingham-based support act Andy Robinson, saying: 'Very few people of heard of him because he hasn't had that opportunity' – saying TV executives were loathe to leave the capital.
Brand concluded by noting that she had observed a sea-change in stand-up in recent years, saying: 'These days comedians have changed their focus are a lot more confessional. It's not quickfire one-liners like we used to do in the old days, it's a lot more measured and personal.
'I've never said anything that's true about my husband in my life. But these days we are seeing people talk about their real lives and their trauma. It has a cathartic feel to it that is very different to the comedy that was going on in the 1980s. Comedy has moved on.'
Brand's lecture was the first event in the Alternative Comedy Now conference taking place at the University of Kent until Saturday.
• Jo Brand shocker: 'I don't really like cake' - BFI interview from November.
---
---
Published: 2 May 2019
What do you think?