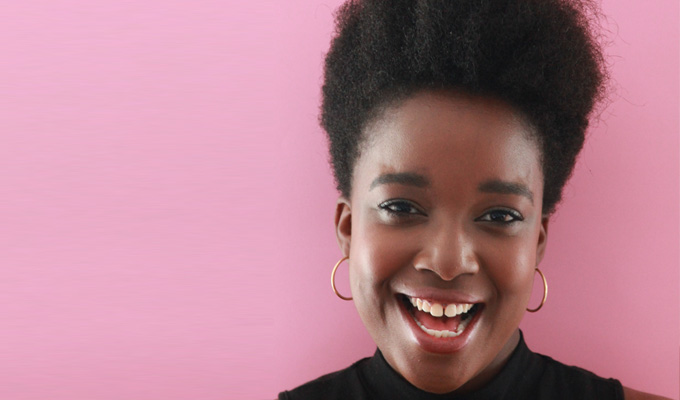 Lolly Adefope gets a heavenly US break
Lolly Adefope is to star in her first US comedy, alongside Daniel Radcliffe and Steve Buscemi.
Miracle Workers is a workplace sitcom set in Heaven, with Buscemi playing God and Adefope his disgruntled assistant, Rosie.
Rosie 'hates her job because [God is] a moron,' Adefope told Adam Buxton on his podcast. 'She did all the training to get to this executive position and then has no use for any of her talents and skills.
'So she's just really bored and hates her life, every day. But then things develop as the show goes on.'
Radcliffe plays Craig in the seven-part TBS comedy, a low-level angel responsible for dealing with humanity's prayers who has to persuade a disinterested Almighty not to destroy Earth.
Adapted by former Saturday Night Live writer Simon Rich from his 2012 novel What In God's Name, Miracle Workers is executive produced by SNL creator Lorne Michaels.
Set to air this summer in the States, the comedy originally featured Owen Wilson as God but he left the show after creative differences with Rich.
Death of Stalin star Buscemi has described his portrayal as 'a childlike God, who is incompetent in a dysfunctional Heaven'. Karan Soni, of the Comedy Central sitcom I Live With Models, also co-stars.
One of Saturday Night Live's youngest ever writers, Rich went on to create the surreal dating sitcom Man Seeking Woman and the 2016 Radio 4 sketch series, The World of Simon Rich, which featured Peter Serafinowicz, Tim Key, Cariad Lloyd, Jamie Demetriou and Joseph Morpurgo.
Shot over two months in a studio in Atlanta, Miracle Workers is Adefope's first American role. But she also appears in the upcoming James Bond spoof, The Spy Who Dumped Me, starring Mila Kunis and Kate McKinnon, alongside Gillian Anderson, Cardinal Burns's Dustin Demri-Burns and former Daily Show correspondent Hasan Minaj. The comedy will be released in UK cinemas in August.
Adefope, winner of a 2017 Chortle Award, is about to return to the Edinburgh Fringe with her third solo show, and can currently be seen in Channel 4's social work sitcom Damned alongside Jo Brand, Alan Davies, Isy Suttie and Kevin Eldon. She previously starred in the Channel 4 web millionaire sitcom Loaded and Sky football comedy Rovers.
- by Jay Richardson
Published: 25 Mar 2018
What do you think?