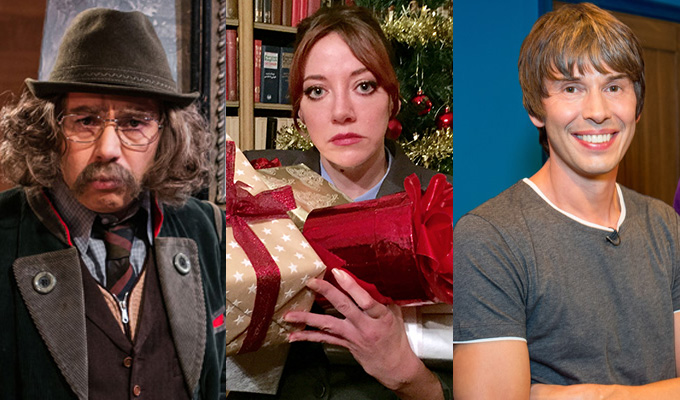 Krampus, Cunk and Cox
The comedy week ahead…
Saturday December 24
TV: In the 8 Out Of 10 Cats Does Countdown Christmas special, Sean Lock and Kathy Burke take on Jon Richardson and Russell Howard, with Joe Lycett  in Dictionary Corner. Channel 4,  9pm
TV: Trigger Happy is back for a Christmas Special, with some of the on-demand sketches released earlier this year as well as some new stunts from creator Dom Joly. Channel 4, 11pm
RADIO: Alistair McGowan stars as Baron Munchausen and all the other 43 characters in David Spicer's comic drama which the exploits of the legendary Lord of Lies, originally fictionalised by Rudolf Raspe, up to date. Radio 4, 2pm
LIVE IN LONDON: There's a Jewish Christmas Eve show at the Cafe Rouge in Hampstead, headlined by the man who made Cuprinol skin a thing way before Trump, the light entertainment king, Lenny Beige. Then there's stand-up from Bennett Arron and Josh Howie too.
Sunday December 25
TV: So, it's not exactly prime-time, but Spencer Jones's delightful Christmas short, made for on-demand last year, is being aired on Sky 1 at 10am this morning.
RADIO: Russell Howard makes his 5 Live debut, with a two-hour show from 10am.
RADIO: Radio 4 Extra continues its season of Desert Island Discs dedicated to those guests that have died this year with Victoria Wood's second visit to the show, from 2007. In it she honestly describes her Lancashire roots, awkward adolescence and living with what others readily describe as a 'weight problem'. Her choices included Marie by Randy Newman,  What A Fool Believes by The Doobie Brothers, and Shepherd's Pipe Carol by The Clare College Singer Her book choice was anything by Charles Dickens, and her luxury a bumper book of Sudoku and a pen. Radio 4 Extra, 10.15am
RADIO: Just A Minute marks its 50 anniversary with a special pantomime edition, in which Nicholas Parsons is joined by  Paul Merton, Gyles Brandreth, Rufus Hound , Shelia Hancock – and the voice of Prince Charles.  Radio 4, 1.15pm
Monday December 26
TV:The Entire Universe is a collaboration between Eric Idle and Brian Cox, alongside the creators of the Spamalot musical, telling the story of the birth of the universe in just one hour. Brian Cox agrees to present a scientific lecture for Rutland Weekend Television, but when he arrives at the studio he soon realises that Eric has produced a glittering musical, choreographed by Arlene Phillips. It also features Warwick Davis, Noel Fielding as  Einstein, Hannah Waddingham and Robin Ince. BBC Two, 9.30pm
TV: In 2003 , Bob Monkhouse entertained a room full of comedians with stand-up, chat and a comedy masterclass. The night became the stuff of legend among comedians, but was never aired. Until now.  Read more about the show here.BBC Four, 9pm
TV:  Outnumbered returns for a Christmas special, the first outing of the Brockman family in almost three years, with the kids now a lot more grown-up... 10pm

TV: Joining quizmaster Jimmy Carr for the Big Fat Quiz Of The Year are Richard Ayoade, Rob Delaney, Mel Giedroyc, Sarah Millican, David Mitchell and Romesh Ranganathan. Channel 4, 9pm
RADIO: Christmas wouldn't be Christmas without cheesy jokes. So welcome the Tim Vine Christmas Chat Show, on Radio 4 at 6.30pm. 'So I sent my girlfriend a huge pile of snow. I said, "Do you get my drift?"'
Tuesday December 27
TV: This has to be one of the main comedy highlights of the week, if not year, as Steve Pemberton and Reece Shearsmith return with a seasonally-twisted special of their anthology comedy, Inside No.9. The Devil of Christmas retells the Austrian folk story of  how all the good children are given gifts by St. Nicholas, and all the bad ones are punished by the demonic Krampus.BBC Two, 10pm
TV: There's an extended Christmas episode of Walliams and Friend, featuring Downtown Abbey and W1A star Hugh Bonneville, on BBC One at 10pm.
LIVE IN LONDON: This week's relatively quiet for stand-up, so you could treat yourself to a trip to the theatre. Dead Funny, featuring Katherine Parkinson, Steve Pemberton and a storyline involving some deceased funnymen, resumes its run at the Vaudeville Theatre. Read our review here. Back too does Ricky Whittington And His Cat at the New Diorama Theatre. Review
LIVE IN GLASGOW: The Stand comedy club is hosting its annual Hogmanay Hootfest across its venues from now until New Year's Eve. Masterful club comic Gary Little headlines a solid line-up in Glasgow, hosted by the lively and disarmingly frank Scott Agnew.
LIVE IN DUBLIN:  Comedy hip-hop from the Limerick underclass as Rubberbandits dust down their plastic bags for another raucous gig at Dolan's.
Wednesday December 28
RADIO: Award-winning absurdist comic Sam Simmons starts a new four-part series on Radio 4. In Not A People Person, Sam and Henry Paker are on the look-out for birds, but get distracted by the people they run into, raising some of his many personal issues. Also starring  Sarah Kendall, Mike Wilmot and Freya Parker. 11pm
Thursday December 29
TV: Charlie Brooker looks at the ups and downs of the year – and god knows there have been one or two – in 2016 Wipe… BBC Two, 9pm.
TV: And that's followed by a special report from one of Brooker's regular correspondents. Want to know the true meaning of Christmas? Only one woman has the investigative know-how to unearth the answers. Philomena Cunk on Christmas. BBC Two, 10pm.
Friday December 30
TV: 2016: A Year in the Life of a Year is a comic mash-up of all that's happened in the past 12 months. Creator Rhys Thomas has his work cut out there. BBC Four, 10pm.
TV:Modern Family returns for its eighth series – with an episode set in the summer. The Dunphys are in New York City, Cam and Mitchell are in Missouri, while Jay, Gloria and Manny  are in Mexico. And all have to make their way back home in time for Father's Day.Sky 1, 8.30pm
RADIO: In Johnnie Walker Meets ... Peter Kay, the  Radio 2 presenter and the comedian drive around Bolton and Manchester, Car Share-style, talking about music and their careers. Radio 2, 5pm
LIVE IN LONDON: In the Comedy Pub, the Piccadilly Comedy Club will crown its new comedian of the year from the all-male line-up of Dimitri Bakanov, Nick Elleray, Sean Gorman, Ed Night, Andy Stedman, Dan Audritt, Jon Long and Ben Pope.
Saturday December 31
RADIO: Liza Tarbuck plays tribute to a bona fide national treasure in Remembering Ronnie Corbett. In this Radio 4 programme, she's joined by Barry Cryer, whose friendship with Corbett started when they met at Danny La Rue's nightclub in the 1960s; David Renwick who wrote Ronnie's famous monologues on The Two Ronnies; and Ian Davidson and Peter Vincent who wrote his hit BBC One sitcom Sorry!, as well as the radio sitcom When the Dog Dies.Radio 4, 10.30am
TV: West End comedy Peter Pan Goes Wrong comes to BBC One, as the flagship broadcaster commissions The Cornley Polytechnic Drama Society, an amateur dramatics group, to recreate the J.M. Barrie classic. Narrated by David Suchet and filmed in front of a live audience, the show is unlikely to go smoothly.... BBC One, 6.20pm
TV: Dawn French's autobiographical stand-up show 30 Million Minutes gets an airing on BBC Four.  Here is our review of the live show. 9pm
TV: In the 8 Out Of 10 Cats Does Countdown New Year special, Sean Lock and Johnny Vegas take on Jon Richardson and Sara Pascoe, with David O'Doherty  in Dictionary Corner. Channel 4,  9pm
• For full live comedy listings, use the pull-down menus at the top of the page to see what's on near you on any given day.
Published: 24 Dec 2016
What do you think?