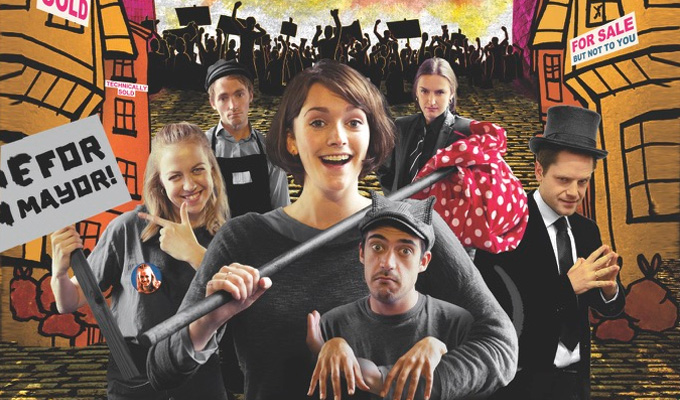 Ricky Whittington & His Cat
Note: This review is from 2016
Another week, another alternative comedy pantomime. But while the vast Weirdo's collective mucked about in Leicester Square, Liam Williams and Daran Johnson have gone for the real thing: a sharply-written, fully-formed, politically-edged panto for austerity Britain, complete with toe-tapping song and dance numbers, a brassy dame and subversive jokes that land hard. Social inequality has rarely been so jaunty.
Their starting point is to subvert the Dick Whittington story, for whoever would think that in 2016 coming to London to make your fortune could ever be a viable ambition? What with robber landlords, extortionate rents and unpaid internships - not to mention the psychological pressures of isolation and stress. We're all in this together? Oh not we're not.
Not that such a standard call and response has any place in Ricky Whittington & His Cat, event the boos and 'aaahs' have been replaced by 'murps' and 'pleeeeshb' to make things different. And that's just the tip of an iceberg that knowingly teases and playfully undermines the audience's expectation of narrative twists. Yet while there are plenty of hilarious WTF? moments – don't ask about the matador or the Time Cop – it's never at the expense of a rollicking story.
The smart, gag-filled script is matched with a memorable soundtrack, which Johnson composed with David Pegg (a Guardian investigative reporter, rather incongruously). The highlight is a delicious mocking of Mary Poppins-like nonsense ditties summed up by the perfect lyric urging those down in the dumps to 'make up an idiom that advocates stasis' – but every tightly-choreographed chorus is a delight.
What good would a top-flight script and music be without a cast, though, and this lot, harvested from the cream of the alternative comedy scene, are a cracking ensemble. David Elms - who has form with comic musicals thanks to his work with Nick Mohammed – is probably the stand-out, delivering an exquisite dame in Pig Pam, teasing and cajoling the audience and keeping spirits joyous. Rob Carter is also an attention-grabber, revelling in the chance to overact with cartoony villainy as King Rat, the one percenter screwing Londoners for his obscene wealth.
Charlotte Richie, of Fresh Meat fame, is the winsome and comically dim Ricky, who turns her back on her best pal Cat (Omar Ibrahim) the moment she tastes success, while she also pursues an entertainingly one-sided romance with Ellie White's Alice; culminating in the weirdest sex song of the festive season.
Everyone plays multiple roles, with Emily Lloyd-Saini probably switching the most, with her highlight being the depressive bar owner, serving up existential angst with every pint; while
Rosa Robson hits the jackpot with that Poppins spoof, and also gets an unlikely kitchen-sink drama scene with Richie, brilliantly undermined by a showboating Elms.
Ricky Whittington is a modern-day panto that's got everything, not least a sense of raucous fun with intelligent lines mixed with the nonsense, a social astuteness to underpin the big-and-daft comedy, and a tightly directed cast of talented people.
It's is the second production from new company Fight In The Dog, after Williams's Edinburgh play Travesty, but with its ambition and certainty of execution, it's a calling card that demands attention, and applause. Make it your Christmas present to yourself.
• Ricky Whittington & His Cat is at the New Diorama Theatre, London, until January 7.
Review date: 15 Dec 2016
Reviewed by: Steve Bennett
Recent Reviews
What do you think?