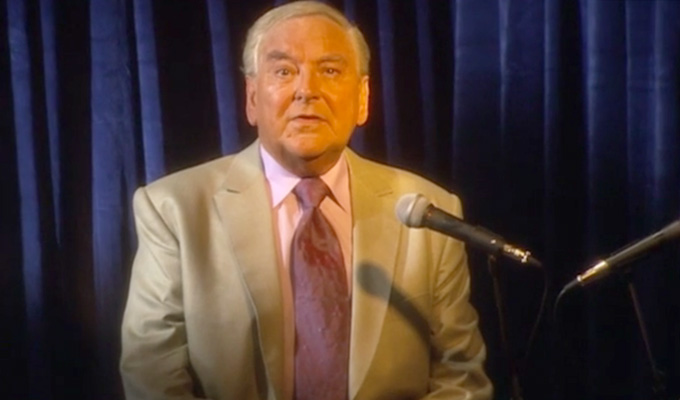 Bob Monkhouse's last gig
The BBC is to broadcast Bob Monkhouse's last recorded gig – an intimate performance to an audience full of other comedians.
And his performance took an unusual turn when the veteran comedian dropped the gags and started speaking about the comedy legends he had worked with over the years.
The show was recorded in the summer of 2003 in the tiny basement room of the Albany pub in Great Portland Street, Central London.
By the end of the year, he would be dead of prostate cancer at the age of 75.
The BBC says: 'Very little of the footage from this fascinating, emotional and often hilarious evening has ever been seen before, but it has lived long in the memory of those who were there. The night has become the stuff of folklore in the comedy world.'
And comic Kevin Day, who was among those Monkhouse had invited to be in the audience, said the gig 'has assumed a sort of legendary status, like the Sex Pistols at the 100 Club'.
Also in the room that day were Reece Shearsmith, Jon Culshaw, David Walliams, Fiona Allen, Mark Steel, Adam Bloom and Ricky Grover along with many other circuit comics.
They were also surprised when Monkhouse brought impressionist Mike Yarwood on to the stage, who by than had been retired for around 15 years and was, by his own admission, a virtual recluse.
Yarwood – who once commanded TV audiences greater than Morecambe and Wise – performed some of his impersonations, before he, too, dropped his professional facade to speak about how he missed hearing the laughter of audience, but how anxiety had driven him away from showbusiness.
The gig had started with Monkhouse cracking jokes, including some off-colour gags about the Royal family that would be at odds with his popular image as the slick quiz-show host.
But as his gags gave way to more personal tales, he admitted he had been pigeonholed by the game shows, even though they gave him a route to fame. And he told his fellow stand-ups that comedy was a 'lonely path to walk'.
As a 'gag merchant', he paid tribute to those comics who could create their own world to draw people into, citing the Goons, Monty Python and the League Of Gentlemen.
Reece Shearsmith said it was 'absolutely amazing' that Monkhouse would reference his show. 'I couldn't believe he'd seen it and was referencing it in the same sphere as the Goons,' he said. 'It was a real honour to have him acknowledge it. Of course, It wasn't what he did but it was lovely for him to notice.'
Monkhouse spoke about his early years, working with the likes of Tommy Cooper and appearing alongside Benny Hill in revue in 1947. 'Benny was awful,' he said. 'He really hated talking in his own voice.'
But the comic acknowledge that Hill – a 'strange man' –  came up with such fertile ideas for doing things on TV, he just left me behind.'
Monkhouse also spoke of how he helped Peter Sellers hone his act after watching him do 'six minutes of drumming that numbed the audience, it was absolutely awful. Then he didi these brilliant impressions…. I rewrote the jokes to make the impressions funnier.'
He added that Sellers was 'obsessed with women, but there was only one woman in his life, his mother Peg, who was a brute. And ugly too.'
Shearsmith said the attack on Peg was 'so savage it was great'
And Day added: 'It seemed to me he was saying thing he hadn't said before, or hadn't said for a long, long time, when he started talking about Peter Sellers and how much he'd helped him. These were all things we didn't know.'
He added that the night was 'rendered more poignant by the fact we knew he was ill'.
However the tone was not sombre, as Junior Simpson, who was also in the audience, acknowledged. 'We knew it was unlikely this time the following year he would probably still be with us,' he said. 'Even though he touched on it,I don't think it wasn't delivered or taken with great sadness. We were all enjoying this pocket of time in this tiny room with the legend.'
And Day suggested the gig was for Monkhouse to acknowledge fellow performers, and to help secure his place in history as a bone fide comedian, rather than a light entertainer.
'Bob's respect for other comedians is his legacy now,' he said. 'By osmosis people who don't know him now know he was one of us. If Bob was 40 years younger, he would be at the Comedy Store rather than Blazers in Windsor.'
He added: 'The was areal sense of privilege at being invited. Because the people he invited were people like me who were good comics and a certain level, but none of us were A-list stars.'
• Bob Monkhouse: The Last Stand will be screened on BBC Four at 9pm on Boxing Day.
---
Our verdict
This is quite a remarkable film about quite a remarkable gig; a real piece of comedy history.
Bob Monkhouse is usually portrayed as something as a joke-delivering automaton, a master of memory and technique, but who puts very little of himself into his act,
Yet here, among his own, he lets his guard down, not only to reveal some great anecdotes about his early life, but also some of his personal ideas about comedy. There's the strong impression here that he sees himself as a bridge between the generations, speaking about what he learned from watching Max Miller, then answering Adam Bloom's question about what tips he'd pass down.
To see one normally reticent entertainer open up is a treat – a double is something even more extraordinary.
For Monkhouse lured Mike Yarwood out of his hermit-like retirement for a rare chat that's both brilliantly entraining and touchingly poignant, as the man who was once the biggest thing on TV talks honestly about the insecurities that plagued him.
It all adds to the palpable feeling that this was a very special show. 'You can't get better than that,' Monkhouse said as he left the stage to a standing ovation from his fellow comedians. Too bloody right.
Amid an orgy of Christmas viewing, it could be easy to miss this unique programme, tucked away on BBC Four. So set your recording devices now, for a treat later on.
- by Steve Bennett
Published: 23 Dec 2016
What do you think?