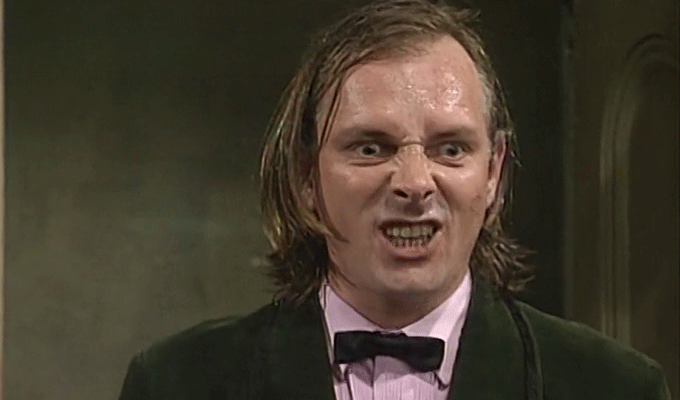 Remembering Rik
The comedy week ahead...
Today
RADIO: Frank Skinner presents a new series, The Rest Is History, which sates his curiosity about the past with the aid of historian Kate Williams and selection of celebrity guests. Radio 4, 7.15pm
LIVE IN SHEFFIELD: A comedy gala at Sheffield FC has brought a strong line-up of circuit stand-ups in aid of the British Red Cross, including copper-turned-comic Alfie Moore, pun king Gary Delaney and energetic Sully O'Sullivan.
Monday December 15
LIVE IN LONDON: Robin Ince presents his annual take on the Royal Society Christmas Lectures mixing comedy, music and fascinating stuff about the world. This year the series is titled Christmas Science Ghosts as the shows focus on the past, present and 'yet to come' with a brilliant line-up of guests, changing each night, including Stewart Lee, Ben Goldacre, Scroobius Pip and Sara Pascoe. It runs at the Bloomsbury Theatre through til Sunday (but not Thursday and Friday when Ince presents a Christmas Compendium at the Hammersmith Apollo with Brian Cox). Meanwhile, for younger audiences, Howard Read presents The Santa Claus Science Experiments in the same venue. It is described as an alternative panto that 'puts the science back into Christmas so it says "Chrisciencemas" and no longer makes sense'. It also features Richard Sandling, Joanna Neary, Bec Hill and Little Howard.
LIVE IN LONDON: Slightly Fat Features are an unashamedly old-school variety troupe who aren't going to win many prizes for being cool. But they are great fun, with a showmanship and manic energy that's infectious, as well as being masters of their various crafts. Perfect for a family audience, they begin a festive two-week run at the Leicester Square Theatre tonight. Here is our review from their 2013 Edinburgh Fringe run.
LIVE IN LONDON: Downbeat, deadbeat comic poet Tim Key is Father Slutmas, in two intimate gigs at the Invisible Dot in Kings Cross, then four nights at the Arts Theatre in the West End.
LIVE IN GLASGOW: Bizarre musical comic, beatboxer, impressionist and master of the loop pedal Reggie Watts has just been announced as leader of the band on America's Late, Late Show after James Corden takes over in March. But tonight he has a one-off gig in The Arches.
Wednesday December 17
TV: It's the British Comedy Awards on Channel 4 at 9pm - although unusually the ceremony, hosted by Jonathan Ross, will not be live - having been recorded 24 hours earlier. It's followed by Rhod Gilbert's great stand-up special, The Man With The Flaming Battenberg Tattoo.
RADIO and LIVE IN LONDON:Steve Wright In The Afternoon is turned over to the final of the BBC New Comedy Award 2014, with Patrick Kielty introducing each of the finalists live from London's Comedy Store. After a six-month search, the up-and-coming acts who've made it this far are Lost Voice Guy (aka Lee Ridley), Tom Little, Brennan Reece, Thomas Ward, Hari Sriskantha and Amir Khoshsokhan. The winner is down to a public vote. Radio Two, 2pm
LIVE IN LONDON: It's long sold out, but Michael McIntyre hosts his annual Christmas fundraiser for Kids Company at the Hammersmith Apollo tonight, with an enviable bill of Jason Manford, Josh Widdicombe, Ross Noble, Sean Lock and Seann Walsh.
LIVE IN UCKFIELD: Adam Buxton presents Kernal Panic his entertainingy wry take on the online word, with plenty of multimedia, at the Uckfield Picture House.
Friday December 19
LIVE IN GLASGOW: The Gilded Balloon gig at Drygate has a more-than respectable line-up tonight, with Felicity Ward, Harriet Dyer, Michael Fabbri and compere Zoe Lyons - all with various degrees of oddballness.
Saturday December 20
TV: BBC Two airs an hour-long tribute to Rik Mayall, six months after his sudden death. Lord Of Misrule celebrates his part in British comedy history, using rare and unseen archive footage, and talking to the people who knew or admired him. Contributors include Michael Palin, Simon Pegg, Lenny Henry, Ben Elton, Alexei Sayle and Greg Davies. But not his closest collaborator Adrian Edmondson, who has declined to take part as he felt his feelings of loss were too complex for such a show. 'If someone important dies, you can't be flippant about it,' he says. BBC Two 10.05pm
RADIO: Another tribute to a comedy great as Radio 4 Extra marks what would have been Kenny Everett's 70th birthday. In Here's Kenny, the journalist, Mark Paytress, a friend of Kenny's, presents the story of his radio and TV career. This hour-long documentary was first broadcast on Radio 4 in 2008. 8am
Published: 14 Dec 2014
What do you think?