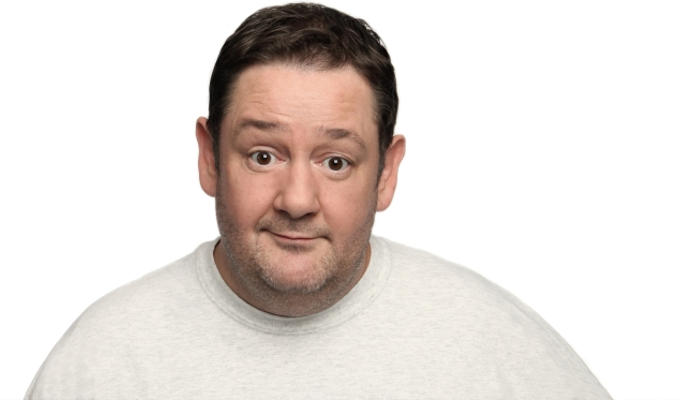 British Comedy Awards: The highlights
Johnny Vegas delivered some tough home truths in his rambling speech presenting the Writer's Guild award to Paul Whitehouse, criticising sponsors Fosters, the cruel comedy of Ricky Gervais and the handing of an award to Will Ferrell that ties in with his Anchorman 2 promotional tour of the UK. He said Fosters made him yearn for the days of Castlemaine XXXX and said 'Paul's comedy, compared to other people – The Office – it doesn't make victims of anything.' He later added: 'Tonight is not about slagging off the sponsors or giving an international award away to someone just because he was here. It is not about the state of TV and the fact you won't commission anything fresh... tonight is about Paul Whitehouse.'
LEE MACK also put some frisson into the room but putting host Jonathan Ross into the mask Nina Conti uses to make people into a ventriloquist doll, then have him apologise to Andrew Sachs for being a 'cunt' over the answerphone message.
JUST before announcing the award for best panel show, Harry Hill said: 'The standard has been so low this year they decided not to give it'. Aptly enough that was a lie, as Would I Lie To You won it.
JONATHAN ROSS called Channel 4 'fucking idiots' for cutting Steve Coogan's speech short for a repeat of Gogglebox. He tweeted his disgust just half an hour after the award show went off air.
MEANWHILE, Coogan revealed that his next project after The Trip is a semi-autobiographical film: 'A drama with some comedy set in the long, hot summer of 1976, it's about a 10-year-old boy.'
PAUL WHITEHOUSE shouted: 'Yid Army' as he collected his Writers' Guild award. Tottenham fans like him have been warned not to use the offensive term at White Hart Lane under the threat of criminal charges being bought for public order offences. Whitehouse followed it up by saying: "behave yourself! You'll have David Baddiel on you!' He had previously cracked one of the best jokes of the night by pretending colleagueDaniel Kaluuya was a sign language interpreter, in reference to the scandal at the Mandela memorial.

ROSS's opening monologue received a generally cool reception, although a reference to the Jimmy Savile scandal got a laugh. 'They have demolished television centre. The studios we have all known and loved,' he said. 'It is now a building site and ironically it is now a far less dangerous place for children to play than ever before.'
FERRELL wasn't the only one their plugging their wares. Hill joked about his movie, out on December 20, while in a prerecorded film, Miranda Hart relentlessly mentioned her website for tickets to her 2014 tour.
CHORTLE successfully predicted seven out of the 12 winners; the British Comedy Guide got five; Evening Standard critic Bruce Dessau got three on his Beyond The Joke blog.
Published: 13 Dec 2013
What do you think?