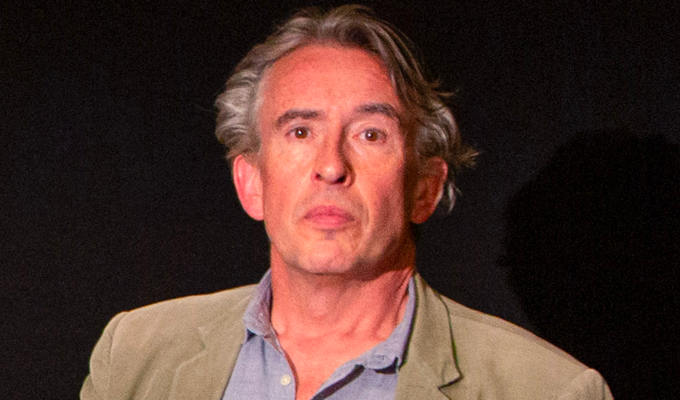 Steve Coogan
Date of birth:
14-10-1965
Born in Middleton, near Manchester,
Steve Coogan
trained at the city's Polytechnic School of Theatre. He started out as an impressionist – his first stand-up appearance being in 1986 – and went on to provide many of the voices for Spitting Image on ITV.
However, he became bored with the limitations of that act, and started creating characters to perform on the comedy circuit, and in 1992 he won the Perrier award for the show he performed at the Edinburgh Fringe with John Thomson. Coogan gave boorish, student-hating Paul Calf his first screen outing on Saturday Zoo in 1993. This character, and his loose sister Pauline – also played by Coogan – made several TV shows, including Paul Calf's Video Diary that went out on New Year's Day 1994 and Pauline Calf's Wedding Video that went out at the end of that year – subtitled Three Fights, Two Weddings And A Funeral. Other early characters included dreadful comedian Duncan Thickett and health and safety officer Ernest Moss.
But Coogan is best known for Alan Partridge, who first appeared in Chris Morris and Armando Iannucci's Radio 4 show On The Hour in 1991, which transferred to TV as The Day Today in 1994. Coogan was part of an ensemble cast, but his inept, pompous sports reporter was considered to have enough mileage for him, with Iannucci and Patrick Marber, to create the spin-off spoof chat show Knowing Me, Knowing You – which again started on radio before transferring to TV for two series in 1994 and 1995. The character's downfall after losing his precious TV show was charted in I'm Alan Partridge, which started in 1999.
Between the two series, he starred in Coogan's Run, a series of one-off playlets reviving the Calfs, and featuring a string of other characters, most notably insensitive salesman Gareth Cheeesman. He also tried to launch the smarmy singer Tony Ferrino, but with little success, before returning to Partridge. His much anticipated spoof horror series Dr Terrible's House Of Horrible aired in 2001, but also failed to take off. Saxondale, which started in 2006, was largely seen as a return to TV form for Coogan, who played a rock-loving pest controller.
Coogan's film career began inauspiciously with a cameo in The Indian in the Cupboard in 1995, followed by the role of Mole in Terry Jones's 1996 version of The Wind in the Willows.
His first significant cinematic role was the lead in The Parole Officer in 2001, playing a Partridge-like buffoon. The following year he starred as Factory Records founder and Granada TV presenter Tony Wilson in Michael Winterbottom's 24 Hour Party People. He reunited with Winterbottom for A Cock and Bull Story – an attempt to film the unfilmable Tristam Shandy novel with Rob Brydon in 2005. He also starred in Around The World In 80 Days opposite Jackie Chan, Marie Antoinette, and the 2008 High School comedy Hamlet 2.
Coogan also founded Baby Cow Productions [named after Paul Calf] with Henry Normal, which has produced such comedies as The Mighty Boosh, Nighty Night and Marion and Geoff.
Read More