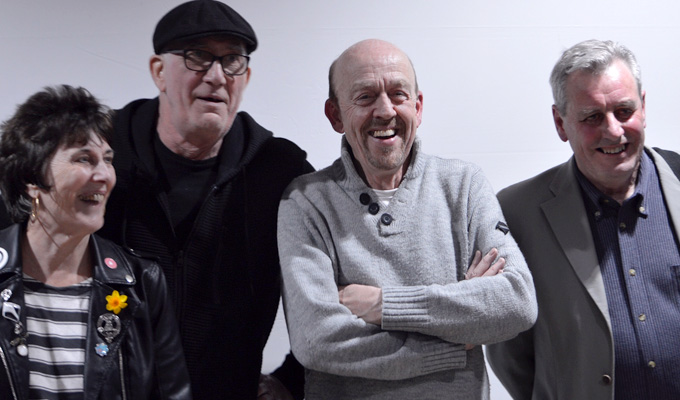 'My stuff was didactic... but it wasn't very funny'
In 1979, Tony Allen and Alexei Sayle set up a collective of politically motivated performers called Alternative Cabaret, with ethos borrowed from punk and radical theatre, from where they recruited Jim Barclay, Andy de la Tour and Pauline Melville. These three reunited with Allen at the University Of Canterbury last week (with Sayle doing a different session) to mark 40 years of the movement that had such a seismic effect on the British comedy scene. Here's how they reminisced about those days, starting by talking about what they were doing before Alternative Cabaret started…
---
Jim Barclay: I working with 7:84 [a radical theatre group named after the 1966 statistic that 7 per cent of the population of the UK owned 84 per cent of its wealth]. knew I wasn't interested in doing any more straight theatre.
Andy De La Tour: I was doing the Belt and Braces roadshow [of left-wing musicians] for the general election of 1978. It was never called in the end. But we still did the shows anyway. I asked the others if I could do a five-minute slot. If it worked, I would keep doing it, if I didn't I would stop. My first routine was about Zimbabwean independence.
Pauline Melville: I was with the Joint Stock Theatre Company. Their art was great but he politics wasn't very good so went to 7:84, where the politics was great but the art was shite. Then I joined a rock cabaret group called the Sadista Sisters.
I started just doing the character of Edie. I wanted to satirise a certain branch of the women's movement. The first time I did it there was this incredible noise – I thought it was somebody sitting on bagpipes, in fact, it was laughter.
Tony Allen: There were lots of lots of theatre groups at the time. They were striving to get content that would appeal to the working classes.
I'd been trying to get stand-up going for ages but found it hard to break the fourth wall.
The Comedy Store started in May 1979, and we started Alternative Cabaret three months later. The Comedy Store was not an alternative comedy venue.
Andy: Robin Williams came down [to the Store] once. The shows started after midnight, and he asked if he could do a bit. I'd never really heard of him – I just thought he was an actor in a kids TV show. How funny could he be? Well, he did an hour of brilliant stuff. Alexei [Sayle, who was compering] went on and without a breath went: 'That was Robin Williams please welcome Andy De La Tour' and Mr Stupid here went on and did two minutes to complete silence.
The Comedy Store didn't originally pay their acts, as it was seen a Gong Show talent night for amateurs, so Pauline Melville didn't appear at the start on principle:
Pauline: We were all; politically on the left so I can't think why anybody did it for nothing.
Tony: They opened it up as anyone could come along, and if you're not good enough you get gonged off. That's what they took from America and that's how they got around [paying people]. Then to keep up a standard rather than putting on a whole evening of terrible comics, they asked us back, and we said we had to get paid, so we got £5.
Jim: Now it's the accepted route into stand-up comedy, that you don't get paid for ages.
A couple of months after the Comedy Store opened, they set up their Alternative Cabaret collective, with the now-famous non-sexist, non-racist mantra.
Jim: We all came out of 1968/69 student movement and we thought if we all work together we can move to get the profit motive out of comedy. Ha!
Andy: What appealed to us, apart from the comradely bonding, was that we could get gigs. I could get paid for this. I would never have thought that would happen.
Tony: The previous wave of stand-up comics used stereotypes and compounded stereotypes. What I wanted to do in my art was to smash those stereotypes of the dumb blonde and the stupid Irishman. We started doing the opposite, challenging the cliches.
There were also gigs in other pubs with Cast (the radical Cartoon Archetypical Slogan Theatre run by Roland and Claire Muldoon). They started doing gigs in pubs in 1981 as New Variety at places like the Albany Empire and the Half Moon, so we were burbling on doing our shows.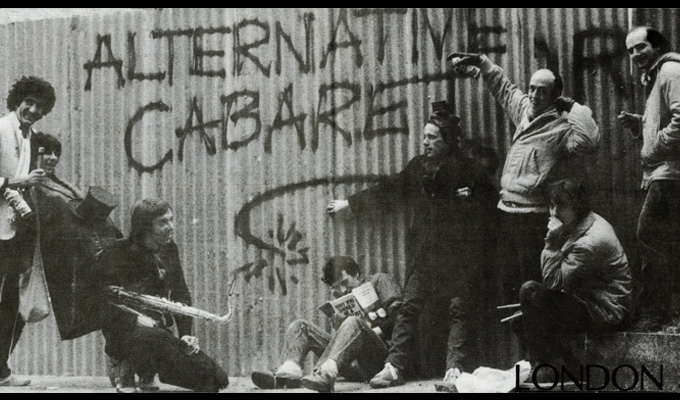 The group went to the Edinburgh Fringe in 1980 and 1981, followed by a national tour which they also released as an album, recorded at Cambridge University.
Jim: The amazing thing about that Cambridge week its that Stephen Fry, Hugh Laurie, and Emma Thompson put in an appearance – as groupies, really. But we were eventually usurped!
That was a breakthrough because I realised my stuff was didactic,.. but it wasn't very funny. And I thought I should wear funny clothing and put on a funny voice. Don't worry about the politics, be funny!
Pauline: But if you can do both, do both!
Jim: I found this bowler hat in my wardrobe and this nail-though-the-head thing and deeley boppers. Then there was this trick I got to hold a 10p pieces in my backside, walk across the stage and drop it into a pint pot. This used to buy me some time.
Andy: When we went to Edinburgh in 1981 one of us had the idea of getting a road sign. I went to the Hackney Council works department and asked them to make up a sign for Alternative Cabaret. I offered to buy it from them, but they thought it was such an idea that they made this sign for us and wouldn't take a penny from us. That was on the album [below]
Tony: I didn't know that, that's brilliant.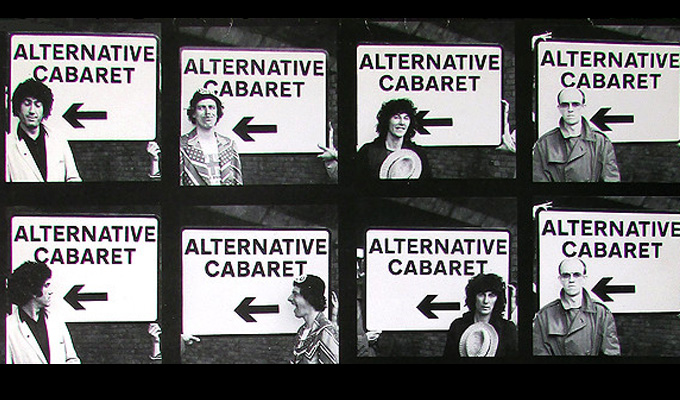 Interviewer Oliver Double, who curates the British Stand-up Comedy Archive at the University Of Kent then produced some accounts from the Fringe run.
Olliver Double: They earned £390 each. That scaled up [for inflation] is £1,400. Young acts starting out now come back with much more than that in debt.
…And they weren't afraid to be properly political.
Pauline: I was banned from the BBC for talking about the IRA
Andy: One evening at the Comedy Store I did a five minute routine about [The Troubles] being a war in all but name and had it been a proper war we could have had a load of great war movies. This was in 1980 between the two hunger strikes in Belfast, at the height of the Troubles. A woman there said she could organise some gigs for me in the Republican areas of Belfast. At 2am with several beers inside me, I was like 'yeah!'
I was there for a week it was probably the most remarkable week of my life.
Double plays a clip of one of De La Tour's jokes, about a war hero turned politician murdered by a car bomb in the house of Commons car park: 'Poor Airey Neave, he scaled down a cliff at Colditz but couldn't manage a ramp at Westminster', which he performed at a Republican pub in the Markets area of Belfast at the time.
Andy: The first week [in London] it got a great laugh because it was three days after the event, but it used to polarise audience because it isn't a joke.
In that week I played another Republican stronghold: at the front role was the senior leadership of Sinn Fein: Danny Morrison, Martin McGuinness, Gerry Addams. Danny Morrison gave a speech about the power of culture in the fight against imperialism. It wasn't a great warm-up. I have the memory of these six guys just sitting there…
Jim: I think it's interesting that the only time the acts were collectively censured was over the death of Princess Diana. Comedians were told by the organisers of every gig: nobody must do any jokes about Princess Diana's death.
On why they stopped performing…
Jim: I thought, 'I really want to be an actor.' I got to work at the National Theatre for about three years then the work dried up so I went back to comedy – but comedy had moved on.
Andy: It's not false modesty but I was never as good a stand-up comedian as I wanted to be, so I stopped. I thought there were things I was better at. I didn't want to spend years and years becoming a middle-aged person scrambling at the foothills of stand-up. I thought that if I couldn't be at the top, I didn't want to do it
Pauline: I only did it for the hell of it. I never wanted to make a career of it. Comedy was savage – much more than these days, But then it started becoming very commercialised. People were becoming reactionary and making a lot of money, which didn't interest me. The feeling of excitement, that there was as a political movement, was dying. So I lost interest really, so I went on to write books.
Tony: I thought I hadn't really got hold of it properly until the late 1980s, when started doing a solo show with Sharon Landau ho polled dynamite political songs. We did a two-header for a while and toured. I was very proud of what I was doing. Then I started teaching. I'd always been a layabout and went back to it.
I've been writing the same book for 20 years about Joseph Grimaldi. It will be great when it comes out. I'm happy being a writer and teaching comedy.
Pauline: I did go back four or five years ago, when Stewart Lee was putting on the At Last The 1981 Show. He phoned up my literary agent to ask me to do the show and she said, "Oh I don't think she's done anything like that." I said to Alexei, "I'll do it if you do it." And he did. It was at the Royal Festival Hall in front of 2,000 people. I made up a new act about how similar Osama Bin Laden was to Jesus Christ.
---
---
Published: 7 May 2019
What do you think?