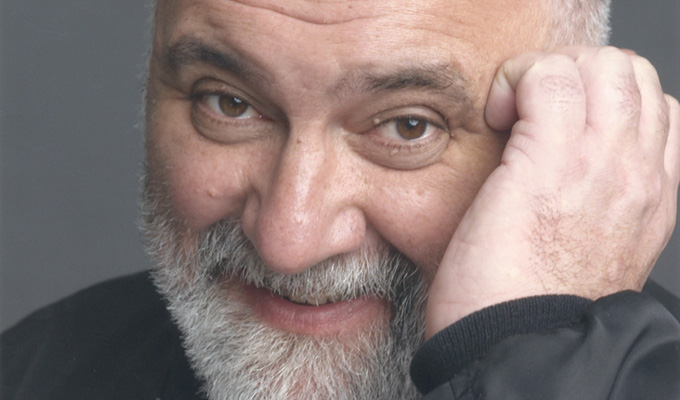 I was funny, I was innovative – and most importantly I was intimidating
Forty years after the Comedy Store opened and the alternative comedy boom started, pioneer Alexei Sayle sat down at the Alternative Comedy Now conference to discuss his role in the groundbreaking movement with event co-organiser Oliver Double of the University Of Kent. Here's what he said about those early days….
---
I'd been to art school so I was at Chelsea until 1974. Then I was unemployed.
A friend of mine wanted to put together a cabaret of the songs of Bertolt Brecht and he asked me to be part of it, so I sat at a piano and sang the songs and read the poems. We opened a venue called the Factory in 1976 and Tony Allen [another pioneer of alternative comedy] actually heckled me – for 'excessive marxism'
We did that for a couple of years then the group split up. I had this idea – a sort of vision in a way – that there was no intelligent comedy. If you were a university graduate and you wanted to see some left-wing political comedy you had to go and see some fringe theatre about wage negotiations at British Leyland.
So we slowly put together this kind of sketch show and I would come out of character and talk directly to the audience. We would tour that mostly to indifference for a couple of years. But it wasn't always indifference; sometimes fights would break out.
We went to the Tramshed in Woolwich – which was the birthplace of Hale and Pace – it went down so badly that the bloke who ran it had to come down an tell the audience off: 'These lads are trying!' We were clueless really.
I remember Rik [Mayall] and Ade [Edmondson] did a residency there - it was really rough. They were there on New Year's Eve and they ran out of material about 10.30pm so they just said: 'Happy New Year!' to the surprise of the band of Scottish pipers.
So I had the basis of an act and when Linda, my wife, saw the advert for the Comedy Store looking for acts I went along and auditioned with a bit of material from the show I'd been doing. They offered me the job of MC, basically, because I was the only person who wasn't insane.
I did have a unique set of attributes in that I was funny and I was innovative but I had this incredibly intimidating persona. It was what was needed because it was wild, the Comedy Store.
The opening night was a riot, but there were still no performers who were politically sympathetic until Tony came down [the following week] We had similar feelings about the way that we wanted to take comedy.
[Commenting on a later poster listing some of the acts who had been at the Comedy Store, he reminisced:]
Bob Flag did the opening night of Alternative Cabaret night at the Water Rats. David English was very strange, he did after-dinner speaking and did a lot of material about cricket. Peter Wear was a mime artist.
Steve Dixon, he's interesting because he had one great line, that catchphrase 'I'm fucking brilliant' [in an exaggerated Mancunian accent] he was really shit apart from that.
He's a university vice-chancellor now! When Peter Kay was very young we did something together I told him and he stored it up and put it in his book. Because Peter Kay was actually taught by him.
Les Dawson turned up [to the Comedy Store]. Don [Ward, the venue owner] said to him, "Do you want to go on?" and he was like "Fuck that!". There was a museum guard who went on every week and died [Cliff Shaw]. [Even though Dawson hadn't been on], he went to Les afterwards and said, 'Great working with you Les.'
There was never an audience for that sort of straight comedy at the Store. It was clear that the audience was coming from the growing radical left and they wanted material like we were doing. I did shape a bit because if a right-wing comic did come on I'd be int he wings shouting, "Gong!"
We then started talking about going away from the Comedy Store because it was a circus. It was right that we performed at the Comedy Store and that it was in a strip club in Soho, which was still very demimonde, but we also wanted to perform to a more radical audience
We had a meeting about forming a troupe and going out to student bars. We had our first gig at The Pindar of Wakefield, which is now the Water Rats. Then we had a regular residency at The Elgin on Ladbroke Grove and then we used to perform at student unions.
Then there was the Comic Strip, a group that Peter Richardson set up, He wanted to take acts from the Comedy Store and take it to another strip club - we shared a venue with Paul Raymond's Festival of Erotica and a bouncer told me that anyone who smelled of beer they would force into our show and anyone who smelled of aftershave they would send into the Festival of Erotica. And anyone Japanese! Ryuichi Sakamoto of the Yellow Magic Orchestra he came down one night and was forced into the Festival of Erotica!
Those acts were, apart from me and Arnold Brown, more apolitical: Adrian Edmondson, Rik Mayall, Peter Richardson, Nigel Planer, me, Arnold and then, later, French and Saunders. It was a more formal setting: theatre seating although you could bring drink in. There we got less experimental and there we really honed our act.
The first time the Comic Strip was taken seriously was by a guy called Ian Hamilton, I think. He did a review in the London Review Of Books in late 19790 early 1980 and I remember the line: 'After a few seconds Sayle has the audience agape. Apparently, they have never been called cunts before.' Which gives you an idea of how it went.
One of the things we were reacting against was the fake bonhomie of the old classical club comic. I've said this before but all the club comics were nasty men pretending to be nice and we were nice mostly men pretending to be nasty.
We were all decent human beings I think – apart from Keith Allen obviously! But we wanted more than anything else honest I think. As A compere at the Comedy Store, which you still don't really see I think, is that I would do my best to build an act up but if they failed I would be horrible about them. It was cruel - but it was funny.
We all wrote our own stuff, that was central to the project. It was the same thing that had been replicated in pop music that you wrote your old material whereas those old-time comedians just told gags.
When I got to meet a few of them, the bizarre thing is they would do it in conversation too. When I met Frank Carson, who'd had a really interesting life he'd been in the Paratroopers and been in Palestine. But you'd say "you alright Frank?" And he'd go "I've just been in hospital' and he'd go into some fucking gag. I thought, "Why can't we just have a conversation?" It was all gags. It was horrible.
I was incredibly ambitious I really wanted to go as far as I possibly could in terms of mass entertainment but I couldn't not do the sort of stuff I did. The first time I was on this show OTT, which was a late-night primetime on ITV.
I sang this song about Albania and then ended with a joke about Stalin. I was like "You are on primetime. Why are you singing a song about Albania?" People liked it because it was so mad but it didn't really land with the mass ITV audience. People didn't go: "I really liked that guy with his song about Albania the Marxist-Leninist country I've barely heard of!"
I was beset by doubt because I had this ravening ambition to get on, but at the same time I couldn't be anything other than there was so there was a tremendous conflict there.
Ultimately, although I did really well – I had my own TV series and all that – I was eventually surpassed by other people: Rik, obviously, and then French and Saunders who surpassed us all and became megastars.
---
---
Published: 6 May 2019
What do you think?