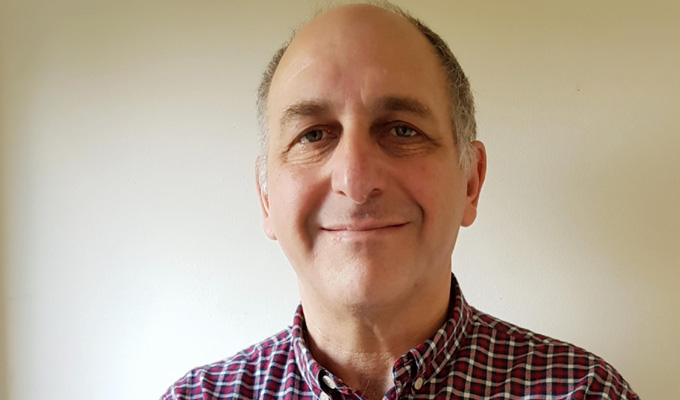 Stand up and be characterised
We all know the difference between stand-up and acting, don't we? The stand-up engages with the room, so we feel like we're seeing the real person on stage, whereas the actor is pretending to be someone else. As a stand-up, your material is largely based on your own experience, making connections with the audience, seemingly one half of a conversation - albeit one where you only get to cheer when you're asked if you've got an Android instead of an Apple. It's less about the written word than the spoken.
But even at the start of alternative comedy, Rik Mayall was playing with the form. Rik trained as an actor and the early shows with Ade Edmondson were written as plays, but those first performances involved interacting with the audience. Characters have always been a part of the stand-up scene. In the early 1980s John Sparkes performed as the filthy compere Frank Hovis, later came Harry Hill, fully formed from day one, like a cartoon version of his real self.
The stand-up character comedian was lifted to new heights by Al Murray, his monster creation the Pub Landlord blurring the lines between truth and reality, to the extent that some people were shocked to see him standing in the 2015 General Election against Nigel Farage.
When I was a performer there was always an air of sniffiness from those who believed stand-up must be pure, and not unsullied by vulgar arts such as singing songs or character-playing, but this started to change as alternative comedians became famous. The first TV stand-up superstar was Ben Elton, and while most of the audience assumed his stage persona was little more than an exaggeration of what he was like in real life, to many of us who'd seen the original he appeared to be playing the character of Alexei Sayle.
With the rise of post-modernism (definition – permission to be sexist and racist as long as people think you are being ironic), the character-real person divide blurred further, so the Larry David who created and wrote Seinfeld became 'Larry David', the hideous exaggeration of his true self in Curb Your Enthusiasm. It's no longer considered taboo for a stand-up to admit that the person on stage is an artifice, a heightened, well-crafted version of only the choicest aspects of who they are in real life.
If you want to be a stand-up, or have already performed a fair deal, you might want to spend some time thinking about how you can stand out from the crowd, and try defining yourself as a comic character. This isn't about inventing a new person, but taking what you think are your strongest personal traits and building an exaggerated comic version of them for your performance.
I haven't seen much of the live circuit for a couple of years now, so if there's a post-2016 trend in comedy characterisation at the clubs then I'm not yet aware of it. This list of examples of types of character is undoubtedly not in the least exhaustive, more based on everything I've seen live or on TV over the last few years.
The 'over-sharing neighbour'
This was a phrase I first saw used by Mr Chortle himself, Steve Bennett, to describe Sarah Millican.
The gossip over the garden fence, who will keep you entertained for hours on end with graphic exaggerated tales of horror from their little worlds. But because it's comedy this character can be outrageous.
Over the years I was frequently on bills with potty-mouthed comics like Frank Skinner and Jerry Sadowitz, but the filthiest stand-up I ever worked with was Richard Morton. If you've ever seen Richard live you might be surprised at this observation, but he's such a genial character that he lures you in with a few innocent lines, then whacks you over the head with a single entendre of such filthitude you can't believe that he said that.
Thinking aloud
A form popularised by Eddie Izzard, for many years it became lazy shorthand for lesser comedians who used the spoken pause to get a laugh without feeling the need to also come up with a fun reward for the audience indulging them.
The physical activity of sitting at your laptop and writing is probably the least used way of creating this type of stand-up, and you probably need to be performing regularly enough to be in that zone where you're comfortable switching between tried and tested material and improvisation.
But you can still use writing skills to develop this style on stage. Have an idea of what you want to talk about, and think briefly of some funny routes you can imagine going down, but don't over-think.
The Bloke In The Pub
Forgive the sexist preconception but it's nearly always a bloke. You're not going to be astonished by hearing a point of view that challenges your preconceptions but this chap, John Bishop or Peter Kay or Michael McIntyre or Mickey Flanagan, will observe familiar aspects of your own life and feed them back to you in comedy form.
Before you tut and sigh that you're never going to settle for writing the kind of anodyne observational material that's the hallmark of these performers, bear in mind these are the most popular stand-ups in the country. Admire the work and craft that goes into a routine and admit it, if it was that easy to come up with three minutes' funny material about biscuits you would all be doing it.
Sarcy Get
Sarcasm is the lowest form of wit, apparently, but who cares, so long as the audience is laughing? Like the over-sharing neighbour, the sarcy get is a familiar character in our lives, we tend to think of them as a bit sneery, but you might be surprised to know that in a recent survey about what makes people laugh, the word 'sarcasm' is most associated with 'warmth'.
I realise you can read that last sentence out loud in a sarcastic voice and make it not true, but think of our great sarcastic stand-ups – Lee Mack, Jack Dee, Jo Brand, Paul Merton, Stewart Lee – and these are all people who are often most accorded "national treasure" status, however much they may scoff at such a term.
I would probably include James Acaster here, although he strikes me more as one of those rare comedians you can't compartmentalise. Watching him wring two and a half minutes of original comedy gold out of a cheese grater reminded me of another one-off, Jeremy Hardy whose earliest set-closing stormer was a routine about a lemon squeezer.
Storyteller
Following the great tradition that began with Billy Connolly and Dave Allen, Tommy Tiernan and Daniel Kitson were probably the first examples of storytelling alternative comics, but the undisputed boss of this genre is Sarah Kendall. Sarah is a great performer, but you can tell there's a huge amount of thought and work gone into the writing. To some extent we are all storytellers, it's possible to say there's something epic about Acaster's cheese grater routine, but Kendall's tales have you literally on the edge of your seat, wanting to know what happens next. I think you're less likely to find work as a jobbing stand-up with this style, but if you can tell funny stories that keep audiences guessing the outcome, you're more likely to find work as a stand-out solo performer.
Misanthrope
How do you feel about the world? Does it fill you with despair? If you want to be a stand-up comedian, you're one of the few people who should be indulging those moods. Romesh Ranganathan and Frankie Boyle in their different ways are not happy with the world and they're not afraid to explain how.
Outsider
I'm sure anyone who seriously wants to be a stand-up comedian is an outsider. I can only speak for myself and possibly a few of my generation, when stand-up barely existed as a thing and when for the first time in my life I felt I'd found a tribe to which I belonged. But my other tribes of northern and Jewish had already marked me out from the majority of comics working in London. Like the many Catholics who began performing stand-up at the same time as I did, I knew what it was to feel like an outsider from the vast majority of the population, without having to suffer the daily insults you get if your skin is a different colour.
My job as an outsider, I felt, was to represent the tribes I grew up in without demeaning them, to show the rest of you that there were other worlds on your doorstep if you chose to find them, and that underneath it all we share universally funny traits. An increasing number of comedians from immigrant communities have been performing this role.
Gag Machine
Jokes. I love jokes. I'll happily sit and watch any comedian who stands on stage and delivers a stream of one liners, and so will many audiences. I read a lot of scripts for TV and radio and often even the most successful writers, in their excitement to create new characters or tell different stories, forget to add enough jokes. Tim Vine, Gary Delaney, Jimmy Carr and others unapologetically reel off the gags, pummelling their audiences into a state of stomach-clutching laughter. Is there a nobler calling in life?
Confrontational
Okay you're starting to get annoyed with my simplistic categorisation of types of comedian. That is so not you. You like to challenge audiences, shock them. To which I would say, fine, but you still need to make your audience laugh. The more focused your character on stage the more compelling you can be.
I'm sure there are more types of comic. How would you describe yourself? What makes you similar to those people, and what is it about you, uniquely, that you can bring to that? Search hard, that'll be the place where you find your biggest laughs. You may not be performing at the Apollo but even the crummiest venues have a light focused on the front and a raised stage, it's still showbiz. So come on, dazzle.
• Dave Cohen's Writing For Stand Up course is on Wednesday February 27. Details here
Published: 7 Feb 2019
What do you think?