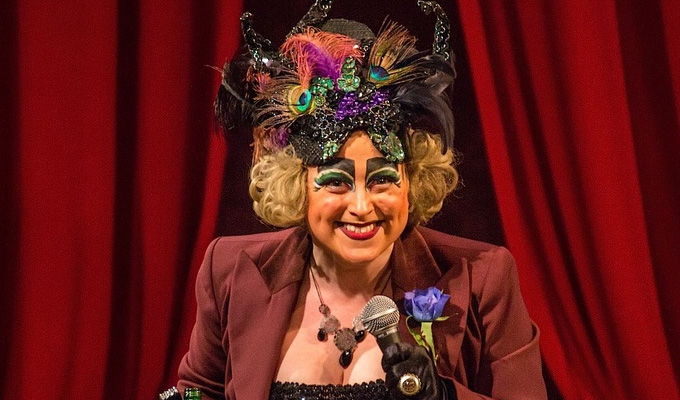 Look who's on Chortle's London Fast Fringe!
The best of the week's live comedy, picked from the thousands of events Chortle currently has listed. Use our search panel to check our full listings by date and region.
Sunday July 3
LOUTH: A Spike Milligan gala night features a staged reading of his absurd apocalyptic play The Bed Sitting Room and a Q&A with his daughter Jane. Read more about the event here
DERBY:Funhouse Comedy Club is hosting one of its day-long run of Edinburgh previews, offering new shows from Hal Cruttenden, Ian Stone, the Scottish Falsetto Sock Puppet Theatre and more at a bargain price.
LONDON: FOC It Up, the Femmes of Colour comedy club, hosts another showcase gig at 21Soho with regular Kemah Bob introducing a wide range of comedy styles courtesy of Desiree Burch, Thanyia Moore, Ninia Benjamin, Erika Ehler, Celya AB and Mary O'Connell
LONDON: A double dose of famous Franks this week as Frankie Boyle starts a long run of work-in-progress gigs at the Leicester Square Theatre tonight. While Frank Skinner is at 21Soho all week running out his new stand-up show.
Monday July 4
BRIGHTON: Another great comedy night at Brighton Open Air Theatre as quick-witted local stalwart Stephen Grant introduces Jessica Fostekew and Sara Pascoe.
Tuesday July 5
LONDON: Comic Relief are staging a Pride-themed stand-up night at 21Soho tonight, with LGBTQ+ acts Sofie Hagen, Stephen Bailey, Jodie Mitchell, Michelle De Swarte and Charlie George taking to the stage
Wednesday July 6
BRIGHTON: The city's Comedy Garden kicks off in Preston Park today, boasting five days of the finest comedians including Stewart Lee, Dylan Moran, Sara Pascoe, Simon Amstell, Tim Key and more. Full listings and tickets
Thursday July 7
LONDON: Chortle's annual Fast Fringe showcase is back, and now at the Bloomsbury Theatre where Arthur Smith will introduce 28-Edinburgh bound comedy and variety acts in one ridiculously overstuffed and frenetically paced showcase. The line-up is: Marcel Lucont, Celya AB, John Hastings, Frank Sanazi, Rosie Holt, Jen Ives, Emmanuel Sonubi, Garrett Millerick, Griffin & Jones Idiot Magicians, Joz Norris, Ada Campe, Jordan Gray, Yuriko Kotani, Jazz Emu, Flat & The Curves, Morgan Rees, Michelle Shaughnessy, Alex Mckeith, Luke Rollason, Finlay Christie, Christian Brighty, Eryn Tett, Sugarcoated Sisters, Yasmine Day,, Stokes & Summers, Lew Fitz, Richard Stott, Christy Coysh and Simon David. Tickets.
EDINBURGH: A top-drawer line-up of comics is coming out for a fundraiser for those affected by the war in Ukraine. Playing the benefit at The Stand are Susie McCabe, fresh from her debut on BBC One's Question Time last week, Tom Stade, Susan Morrison, Liam Withnail, Jay Lafferty Jo Caulfield, Vladimir McTavish and MC Hammersmith.
Published: 3 Jul 2022
Recent News
What do you think?