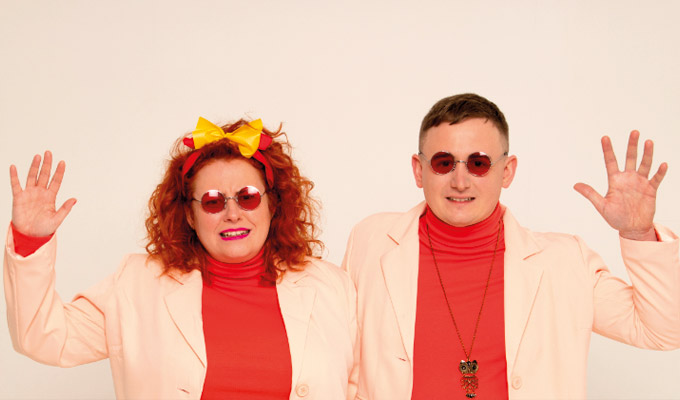 Radio 2 announces four comedy pilots
Radio 2 is to pilot four new comedy shows from The Delightful Sausage, Tommy Tiernan, Kiri Pritchard-McLean and Indian comic Anuvab Pal.
Pal has written a series set in colonial Darjeeling, where a magistrate must grapples with the responsibilities of his new post.
The cast of The Empire features Stephen Fry, Michelle Gomez Rasika Dugal as Sapna and Anuvab Pal as Harbans and as Mrs Campbell.
Meanwhile Delightful Sausage – Christopher Cantrill and Amy Gledhill, pictured - are making a travelogue based on UK getaways.
In the pilot of Staycations, the Edinburgh Comedy Award-nominated double act stay a Dracula-themed B&B, sampling some eye-watering cuisines and having a truly unforgettable stay at a Yorkshire holiday camp.
The BBC says: 'Expect gross-out humour, deranged characters and really, really northern accents'
Co-stars include Gabby Best, Ibinabo Jack, Paul Dunphy and Nicola Redman,
In Tiernan's show the Irish stand-up books at beards, considering the the facial hair of everyone from Roy Keane to Karl Marx.
And in Pritchard-Mclean's the Chortle Awards and Edinburgh Comedy Award winner in which she explores all the things she's missed whilst living in isolation.
The shows will be broadcast on Radio 2 on March 6 and 7 from 9pm: The Delightful Sausage and Tiernan on the 6th, and Pritchard-Mclean and The Empire on the Sunday.
They are part of the BBC's Festival of Funny, a previously announced celebration of comedy across the Corporation's output in late February to mid-March. The event includes a new live stand-up series for BBC Two, airing of existing specials, and Radio 4's ongoing series of comedians' shows.
Shane Allen, the BBC's director of comedy commissioning said: 'We're bringing together the very best of BBC Comedy past, present and future in a dedicated festival of funny to do comedy's job of bringing sunshine and laughter when we need it the most.'
Of the Radio 4 pilots, The Empire is produced by Ed Morrish for Channel X; The Delightful Sausage On Staycations is produced by Hannah Moulder for Various Artists; Tommy Tiernan on Beards is made by Mabinog Productions; and Kiri Pritchard-Mclean: Secret Desires is produced by Suzy Grant for BBC Studios.
All today's Festival Of Funny announcements:
• New stand-up showcase for BBC Two
• New Radio 2 pilots from Delightful Sausage, Tommy Tiernan, Kiri Pritchard-McLean and Arnuvab Pal
• Celebration of Caroline Aherne
• Series of stand-up specials
• Showcase of comedy shorts, including a new series from Harry Hill
• Radio 4 stand-up show for Patrick Kielty
Published: 15 Feb 2021
What do you think?