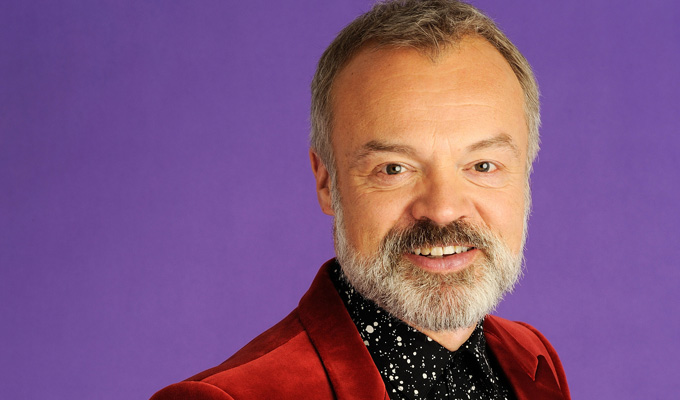 Graham Norton recalls horrific mugging
Graham Norton has revealed how he thought he was going to die after being stabbed during a violent mugging.
The talk show host lost 'half his after being attacked in 1989 on his way back home from a drama-school party.
He was brutally beaten over the head, and after they left him in a heap on the floor, he realised he was covered in blood. Pulling his T-shirt off, he discovered a hole in his chest.
'Even in my drunken state I knew this was serious,' he writes in the new book Dear NHS: 100 Stories To Say Thank You, which was compiled by doctor turned comedian Adam Kay.
Norton started knocking managed to get help from an elderly couple, who called an ambulance.
Once in hospital, he recalls asking a nurse, 'Am I going to die?'
'The long pause before she gave her uncertain response, "No" made my flesh hug my bones,' the former stand-up writes.
He spent two weeks recovering in hospital, and describes how the mental scars took longer to heel, writing: 'Your lungs regain their strength long before you stop flinching when a stranger gets too close on the street.'
Norton is one of more than 100 famous names who shared their experiences of the NHS in the book.
Among the other stories in the book:
• Kevin Bridges reveals that he had an 'embarrassing' operation to repair a torn fissure nerve last year after straining too hard on the toilet.
• Jo Brand shares some of her experiences of being a mental health nurse, including being held hostage by an elderly patient and responding to an emergency bleep to find a police cadet on the war holding down a 'protesting wild-eyed woman in her sixties'. 'All great,' Brand writes. 'Except this woman was the senior sister.'
• Sir Michael Palin recalls how he was reassured by the regular stream of doctors attending him while he recovered from his recent heart surgery… until a nurse told him they weren't his medics, just fans.
• Sandi Toksvig describes having an ovarian cyst 'so large it was written up in the journal the Lancet' – containing seven pints of fluid; and Phil Wang tells of having an ulcer so impressive the doctor who removed it wanted to keep it.
• David Baddiel describes dashing around Cornwall to get treatment for his partner, Morwenna Banks, after she cut the top her finger off on a jagged shed door on Christmas Day 2015.
• Stephen Fry recalls having an asthma attack while entertaining Ben Elton, who struggled to call an ambulance but eventually got him to hospital in the nick of time.
• Bridget Christie describes a difficult birth, and This Country's Daisy May Cooper telling of the pain caused by not having a poo for more than a week after her C-section in 2018.
Further contributors include Lee Mack, Frank Skinner, Dawn French, Peter Kay, Stewart Lee, Frankie Boyle, Miranda Hart, Jimmy Carr, Jack Whitehall, Johnny Vegas, Mark Watson, Sue Perkins, Paul Sinha, Shappi Khorsandi and Nish Kumar
• Dear NHS: 100 Stories To Say Thank You, compiled by Adam Kay is available here.
Published: 13 Jul 2020
What do you think?