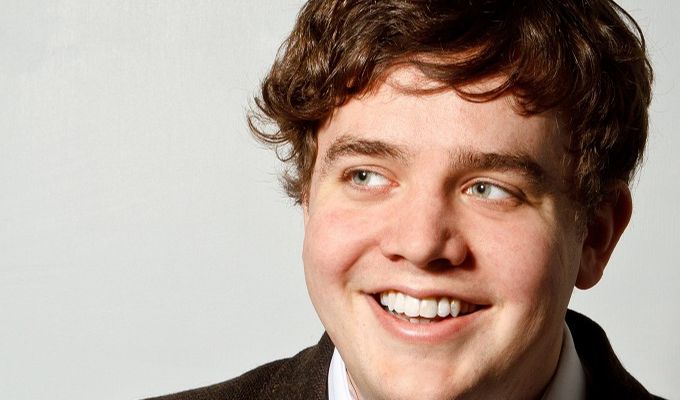 It's the longest laugh
More than 60 comics are attempting to set a new record for the longest ever stand-up gig.
The effort is set to last 83 hours from 1pm on Saturday March 15 to the evening of Tuesday March 18 – beating the existing record by three hours.
Most of the comics taking part will be running through work-in-progress shows for the forthcoming Edinburgh Fringe in hour-long blocks, while the evenings are given over to club-style stand-up shows.
The current record is 80 hours, set at the Laugh Factory in Hollywood in December 2010 and featured 150 comedians. The longest show by an individual was 40 hours and 8 minutes, by The Midnight Swinger (the stage name of David Scott), set in Iowa in April last year.
This new attempt will take place at Fratton Park in Portsmouth to raise money for the New Theatre Royal and witnessed by officials from Guinness World Records.
It is the brainchild of stand-up Joe Wells, pictured, who said: 'I decided to do it, among other reasons, to help put Portsmouth on the comedy map, theres some great clubs and venues here and some really good acts who live locally (Sean Collins, Raymond and Mr Timpkins, Andy Askins, James Alderson) but its never been somewhere thats talked about in the same way places like Brighton or Bristol are as a "place to see comedy" and I'd like to change that.
'Its been surprisingly easy to book, and I'm really pleased with the standard of act we've been able to persuade to come down. Guinness insist that we must have at least ten paying (and awake) audience members at all times in order for the record to be valid so we're actively trying to get comedy fans from around the country to come down for the overnight bits of the show.
'The 5am show audiences are going to be made up of a small crowd of hardcore comedy fans seeing comics trying out stuff for the first time, I'm hoping to capture what it was like when I was at uni and we'd stay up all night watching comedy DVDs in a live show
Tickets go on sale later today at £5 for three-hour blocks.
Here is the schedule:
Saturday March 15
1pm: Gary Colman
2pm: John Hastings
3pm: Ian Smith
4pm: Eric Lampaert
5pm: David Trent
6pm: Best of Stand Up Comedy with Julian Deane, Neil McFarlane, Nick Page, Dave Johns, Rhys James, Chris Purchase, Simon Feilder, Paul T Eyres, Yianni, Ian Smith, Tom Toal and Andrea Hubert.
Sunday March 16
12am: Ben Target
1am: Matthew Highton
2am Mark Cram
3am: Will Mars
4am: Sean McLoughlin
5am: Tom Toal
6am: Simon Feilder
7am: Nathaniel Tapley
8am: Stuart Laws
9am: Chris Coltrane
10am: Tony Cowards
11am: Chris Purchase
12pm: Comedy of Science
1pm: James Acaster
2pm: Kids Comedy Club with Nat Tapley and Stuart Laws
3pm: Paul F Taylor
4pm: James Alderson
5pm: Carly Smallman
6pm: Tom Allen
7pm: Best of Stand Up with Dave Johns, Phil Jerrod, Max Dickens, Jane Hill, Sooz Kempner, Daniel Simonsen, Matt Rees, Mat Ewins, Alfie Brown and Ross McGrane
Monday March 17
12am: Nathan Caton
1am: Phil Wang
2am: Joe Wells
3am: Sooz Kempner
4am: Phil Jerrod
5am: TBC
6am: James Alderson
7am: Jim Holland
8am: Lindsay Sharman
9am: Laurence Owen
10am: Stuart Goldsmith
11am: Jen Brister
12pm: Dane Baptiste
1pm: Matt Price
2pm: Milo McCabe
3pm: Stuart Goldsmith
4pm: Aidan Goatley
5pm: Suzi Ruffell
6pm: Best of Stand Up Comedy with Adrienne Coles, Matthew Bayliss, Jack Campbell, Iszi Lawrence, Elliot Steel, Gwilum Argos, Colin Owens, Gerry Kyei, Russ Powell, Janice Phayre and Gareth Morinan.
Tuesday March 18
12am:
Paul Savage
1am:
Aidan Goatley
2am:
Mark Restuccia
3am: TBC
4am:
Lloyd Griffiths
5am:
Ben Van Der Velde
6am:
Gareth Morinan
7am:
Danielle Ward
8am: Johnny Kats and
Pierre Novellie
9am: TBC
11am: Kids Comedy Club with
Ben Van Der Velde
and
Joe Wells
12pm:
Paul Kerensa
1pm :
Kevin Dewsbury
2pm:
Harriet Dyer
3pm:
Kate Smurthwaite
4pm:
Ivo Graham
5pm: Best of Stand Up Comedy with
Joe Wells
, James Alderson, Martin Semple, Phillip Simon and
Matt Green
Published: 26 Feb 2014
What do you think?