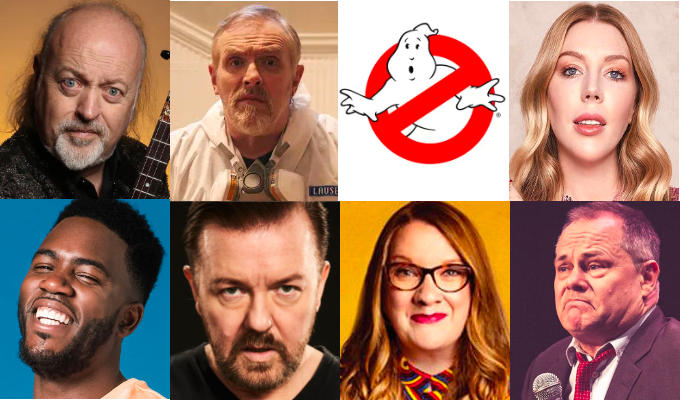 Comedy to look forward to in 2021
For everyone's sanity, 2021 has to be the year when comedy returns. Already Chortle is listing almost 4,000 live tour dates, most of them postponed from last year, and that's even before any clubs can announce reopenings, unsure of when vaccines might make normality a possibility again.
Then there are the TV shows, movies and books in the pipeline, all aiming to make us laugh although nothing, of course, is certain these days.
Here, then, are just some of the things to look forward to from the world of comedy in 2021. And click here for a full list of the 109 acts who have already announced tours.
January
Comedy Central launches Rhod Gilbert's Growing Pains, a panel show in which the comedian judges which guest had the most embarrassing teenage years. Starts January 12. And on E4 there's the the return of Dead Pixels, the comedy set in the world of online gaming starring Charlotte Richie.
Dane Baptists new comedy entertainment show Bamous alongside rising black comedy talent Toussaint Douglass, Munya Chawawa, Lola Jagun and Thanyia Moore. Coming to BBC Three iPlayer on January 12.
February
The Leicester Comedy Festival returns, even if many - if not all - the events will be online. But there is a programme of live shows still scheduled, including the annual Pun Championships and comedian of the year competition, as well as plenty of works in progress as stand-ups reacquaint themsleves with their craft. Website.
He's not usually associated with being unduly optimistic, but Jack Dee is hoping to hit the road this month with Off The Telly, his first tour in seven years. 'In these difficult and uncertain times people need hope – a ray of sunshine to brighten their day. And that's very much where I come in,' he's quipped. Dates
Meera Syal revives her alter-ego Granny Kumar for a new Radio 4 series, interviewing a string of notable women.
March
The National Comedy Awards, Channel 4's bid to reinvent the British Comedy Awards, is expected to air this month, Covid-willing. The ceremony aims to honour both emerging and established talent.
Jenny Eclair is set to go tour from now until the summer, with a new show celebrating and/or confronting 'a new decade of decrepitude' as she turns 60. Schedule.
And Stewart Lee resumes his postponed Snowflake/Tornado tour, comprising two separate hour-long shows. Dates
Eddie Murphy sequel Coming To America 2 will be distributed via Amazon Prime
April
Alan Carr will be embarking on his first tour in five years, with stories in Not Again Alan! including his star-studded wedding day, officiated by Adele, and becoming an accidental anarchist, Dates.
At the other end of the comedy spectrum, outspoken American comic Doug Stanhope is due a short tour of the UK and Ireland with his often controversial stand-up. Schedule. And if you like your comics outspoken, Reginald D. Hunter's back on tour with Bombe Shuffleur. Dates
Tez Ilyas's adolescent memoirs, The Secret Diary of a British Muslim Aged 13 3/4, are due to be published, telling of his upbringing in an insular community in his hometown of post-Thatcher Blackburn. Publishers Little, Brown says it shows 1990s Britain at its best, and its worst. Order
The movie version of Bob's Burgers is scheduled to be released, featuring H. Jon Benjamin, Eugene Mirman, Kristen Schaal and the rest of the regular cast.
May
In Milton Keynes, Sarah Millican starts her sixth international tour, Bobby Dazzler, featuring talk of how to throw poo over a wall, a surprisingly funny smear test, and how truly awful a floatation tank can be. Schedule
Geoff Norcott considers what made him, the working-class son of a union man, become a Tory in his book, Where Did I Go Right?: How The Left Lost Me, which takes up the themes of some of his stand-up work. Katherine Ryan says the volume 'helped me make sense of "the other side" - and because Geoff Norcott is so funny, it unfortunately means I can't dismiss his views entirely.' Order.
June
Ricky Gervais begins the full tour of Supernature, the show Netflix bought for millions before he'd written a word of at the First Direct Arena in Leeds - although most of the dates are in the autumn.
Frank Skinner is back on the road with Showbiz, a very loosely themed collection of anecdotes, intimately shared, kicking off at De Montfort Hall in Leicester. Full schedule.
Master of the one-liners Gary Delaney also takes the road, after a series of work-in-progress gigs in April and May. Dates
Ghostbusters: Afterlife, a sequel to the first two movies with Bill Murray, Sigourney Weaver and Dan Aykroyd reprising their roles 30 years on, is scheduled to hit cinemas.
July
There have been plenty of books about Morecambe and Wise, but Louis Barfe, who recently penned a definitive biography of Ken Dodd, has a reputation for comprehensive research, and his new book, Sunshine and Laughter, promises to get to heart of what made the popular double act tick. Order here.
Meanwhile, Ellie Taylor considers motherhood in her debut book, out this month: My Child and Other Mistakes: How to ruin your life in the best way possible. Order.
August
The Edinburgh Fringe will be back from August 6 to 30 - but there's still some question mark about what form it will take. In an end-of-year message, Shona McCarthy, the chief executive of the society overseeing the festival, said: 'It's far too early to tell what [it] looks like at this stage, and as such we're planning for all scenarios – from a return to live entertainment to a sustained focus on digital events.'
September
Social distancing is anathema to Jason Byrne's shows, which inevitably culminate in him dragging some punters on stage for a ridiculous stunt. His new tour, Audience Precipitation, should kick off in Norwich in September. Dates.
TV's Katherine Ryan talks about the marriage she never thought she would find herself part of in Missus, a major tour kicking off in Crawley this month, and running through to May. Schedule
Old-before-his-tine Jon Richardson shares more of his pernickety obsessions in his new tour, The Knitwit, kicking off this month and running through to 2022. Dates.
New Doctor Who companion John Bishop embarks on his eighth tour, Right Here, Right Now – and it's a massive one, stretching through to March. Full schedule.
And breakout star Mo Gilligan, whose gone from internet videos to his own Channel 4 show, also hits the road with his show, There's Mo To Life. Dates.
October
With a new legion of fans thanks to Strictly, Bill Bailey hits the road with his En Route to Normal, looking at chaotic moments in history and how human resilience has got us through. How very apt - even though the comic insists he wrote the show long before we'd heard of Covid. Dates.
Date to be announced
There' an 11th series of Taskmaster featuring Charlotte Ritchie, Jamali Maddix, Lee Mack, Mike Wozniak and Sarah Kendall – as well as a Champion Of Champions from series 6-11: iza Tarbuck, Kerry Godliman, Lou Sanders, Ed Gamble and Richard Herring. Meanwhile, Greg Davies will star as a man responsible for tidying up crime scenes in The Cleaner, and as a psychiatrist in Sky One's Safe Space.
Ben Whishaw will play Adam Kay in a TV adaptation of the medic-turned comic's NHS memoirs This Is Going to Hurt and Stephen Merchant stars in and writes The Offenders, a new BBC One comedy drama about a group of people doing community service.
Also look forward to the second series of This Time with Alan Partridge; a sixth series of Inside No 9; the return of Mortimer & Whitehouse: Gone Fishing, Mel and Sue's Sky One comedy-thriller Hitmen and Mae Martin's Channel 4 show Feel Good. And on Netflix, Natasha Lyonne's time-loop comedy Russian Doll is due a return.
Published: 4 Jan 2021
What do you think?