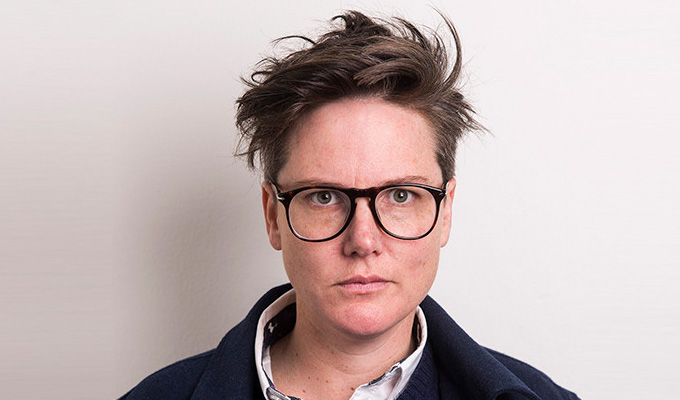 The most memorable comedy gigs of the 2010s
So much for the most memorable gigs of the year, as unveiled yesterday. It's also the end of the decade. What are the most memorable gigs of the decade? Here Chortle editor Steve Bennett recalls the shows that had the biggest personal impact since 2010. In reverse order this time:
10. The Muppets
Place Des Arts, Montreal, July 2012
No matter how cynical you are, hearing the opening strains of the Muppet theme as the curtain rises on those multi-storey arches full of adored childhood characters is a truly joyous thing. There's a vast theatre full of fans all palpably going: 'It's the freaking Muppets!' – not on telly but in the actual fur.
And the stand-out of this show at Montreal's Just For Laughs was Adam Hills, so chuffed to be there that all the industry facade of this most corporate of festivals fell away in a gleeful session. Hills' whole routine was Muppet-based.... and ended with some banter with the Swedish chef. So far more memorable for him, I'd wager...
9. Richard Gadd: Monkey See, Monkey Do
Banshee Labyrinth, Edinburgh, August 2015
After getting noticed with a high-concept multimedia show the previous year, Richard Gadd cemented his reputation with this disturbing, bold and visceral show that put the audience through the wringer as he addressed toxic masulinity – and his own sexual abuse. And he did it all while running on a treadmill, which add to the panic and urgency of his story as well as making his torment tangible.
It wouldn't be the first nor the last time this decade that the criticism 'yes, but is it comedy?' would be applied to a show, but that was the metier Gadd used to go deep. And it's notable how many of the shows on this list, that echo though the years, do blur the lines and twist the limits of the art form.
Pleasance Courtyard, Edinburgh; August 2017
The first 20 to 30 minutes of this show was a pure tour-de-force of performance and writing as he savagely parodied the clichés of stand-up shows seeking emotional heft from the death of a relative.
It established him as an exceptionally creative comic with a wild physically that means you're never quite sure what he's going to do next in thought or deed, ensuring he feels like a genuinely exciting talent. Original review.
7 Fleabag, London
Soho Theatre, London, December 2016
Phoebe Waller-Bridge actually first staged her astounding one-woman show in 2013, but this revival was the first time I'd seen the stage version and was blown away how good it was, sharper, and even more intimate than the BBC adaptation with an authentic performance that makes you absolutely believe all this happened to here did. Her alter-ego's bitchiness is refreshing, while even the hollowness at the heart of her character becomes a dramatic virtue.
This dark comedy masterpiece was nothing short of astounding – audacious, funny and with a real sense of character – so no wonder it propelled Waller-Bridge to be queen of the world. Read the full review here.
6. Doug Anthony Allstars Live On Stage
Pleasance, Edinburgh, August 2016
There was undoubtedly a poignancy about this comeback show, a return to Edinburgh after 25 years for the former rock-and-roll Bad Boys of the Fringe, especially now Tim Ferguson has multiple sclerosis.
But should you think there was any mawkish sentimentality about the swansong, the brutal humour would quickly disavow you of that notion.
Frontman Paul McDermott could viciously mock Ferguson for his disability, with acidly bad-taste jokes that could have repulsed in the clumsy hands of an one-dimensional offence-peddler. But the affection – no, love – between him and his long-term comedy partner was palpable, and put even the most vicious jibe in the context of matey teasing. And, of course, Ferguson gave as good, if not better, than he got by mocking McDermott's fading looks – and career – while catfishing the audience into laughing at the most offensive disability jokes.
Paul Livingston completed the lineup, as original member Richard Fidler got far too grown-up for such shenanigans, adding a touch of weirdness, especially as his alter-ego Flacco.
The DAAS songs still rock, and while there might have been a touch of poignancy about the show, at its heart here were three lords of misrule, still behaving badly when they are old enough to know better. And quite wonderful it was to behold, too. Read the original review here.
5. Monty Python: Live (Mostly)
O2 London, July 2014
As a show it didn't always hit the mark – but a chance to see probably the most influential comedy troupe of the the last century was not to be sneezed at. And all the fans felt the same: this was the one show I've seen at the O2 that came even close to overcoming the venue's normal atmosphere of a disused Soviet tractor factory to create an air of palpable excitement, with the audience as much a part of the show as the septuagenarians on stage.
A big-budget musical tribute to the legacy, this was more celebration than anything else… and certainly anyone in the audience over the ten nights will long remember that jollity. Original review
4. The Wrestling
Pleasance, Edinburgh, August 2011
'Only in Edinburgh' is a phrase that's applied to lots of shows, as the density of talented performers and uniquely gung-ho artistic atmosphere within the Fringe bubble leads to plenty of unique collaborations.
But occasionally the scale and ambition of an idea expands the limits of even this unique environment. The Wrestling – like Mark Watson's super-long shows – was one of those defining shows.
The brainchild of Max Olesker, one half of comedy duo Max & Ivan and a one-time wrestler himself, the insane plan was to mix actual fighting, where people can and do get hurt, with comedians – who are, by and large, reckless and fragile. The result was astounding, especially on its first outing when no one knew what to expect, turning a crowd of arty, liberal festival-goers into a brawling mob as brawlers executed breathtaking moves, and comics made it all brilliantly fun.
Highlights included seeing Patrick Monahan almost pay a heavy price for his spotlight-hogging antics, enraging a wrestler who seemed genuinely unhinged, Nick Helm's full-on ring announcing and Olesker's acrobatic finale, in which he unfortunately sustained an injury. Plus special credits to Andrew Maxwell, who as the 'good' commentator opposite Brendon Burns for the heels, masterfully played the crowd, and producer Beth O'Brien who somehow made this nightmarishly complex event happen.
You're Not Alone, Traverse Theatre, Edinburgh, August 2014
Memorable, if not necessarily for comedy reasons, Kim Noble's 2014 Edinburgh Fringe show was not always the most comfortable to watch.
This intensely introspective look at loneliness in a connected age wielded much emotional power along with its jet-black humour. As with his previous work, the often bleak show charted his trangressive real-world behaviour and thoroughly smudged the boundaries of morality, generating laughs of discomfort about his doubling behaviour.
But its poignancy towards the end of a difficult but rewarding hour was what elevated You're Not Alone to a haunting piece of theatre, with a comedy bent. Original review
2. Comedians Boxing
Blyth Sports Centre, Northumberland, February 2016
Not really comedy, but stand-up Kai Humphries took the idea of comedians' wrestling several stages further, not just for a great night out but one which created a palpable sense of community; a town getting together to do something amazing – both in terms of a big event and in raising money for charity. The atmosphere was electric.
Twenty one comics stepped into the ring, with more in the corners or at the commentary box. Some of the contestants took the event as a joke, of course they did. But they learned the hard way that not all their peers had done the same, with some seeking professional training before stepping into the ring. 'It's been considerably more brutal than I expected,' announcer Rhod Gilbert said. But it was easy to get carried away with this amazing night.
Read the original report here.
1.Hannah Gadsby: Nanette
Melbourne Town Hall; April 2017
This was surely the show that defined the decade; a powerful show pushed the limits of comedy, with an emotional impact felt long after Hannah Gadsby left the stage.
Her recollections of some of the most harrowing incidents in her life weren't all LOLs – and the show was deliberately left that way, as she wanted to remain frank, feeling the issues she raised would be cheapened by leavening them with a gag.
The most potent section gave an intensely personal insight to the political posturing over marriage equality debate raging through Australia at the time, a stark reminder that such public discourse can create a poisonous atmosphere that emboldens the hateful, with real, lasting and damaging consequences for those they target.
Despite its serious foundations, Nanette nevertheless applied a comic lens to the topics under discussion for most of the show – just not when that would have been inappropriate.
A remarkable piece of work it became totemic when made into a Netflix special, introducing US audiences especially to the sort of emotive, issues-based stand-up that dominates Edinburgh and the Australian festivals.... and one of the very best examples of it. It sparked a debate about whether it was comedy at all - which is what happens when you start to redefine the parameters of the artform.
Here's a year-by-year breakdown of my memorable gigs. Click the link for the full top ten:
Most memorable gigs of 2011. No 1: The Wrestling
Most memorable gigs of 2012. No 1: The Muppets
Most memorable gigs of 2013. No 1: Dame Edna Everage
Most memorable gigs of 2014. No 1: Kim Noble
Most memorable gigs of 2015. No 1: Spencer Jones
Most memorable gigs of 2016. No 1: Comedians Boxing
Most memorable gigs of 2017. No 1: Hannah Gadsby
Most memorable gigs of 2018. No 1: The League Of Gentlemen
Most memorable gigs of 2019. No 1: Tarot
Published: 31 Dec 2019
What do you think?