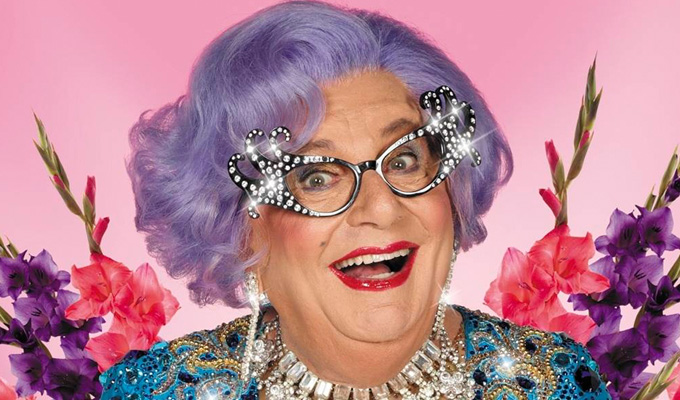 The most memorable gigs of 2013
10. Alexei Sayle. Southbank Centre, London, July
Sayle's tentative return to stand-up after a 17-year gap evolved into a full-scale tour this year; and the old dog proved he hasn't lost it. He may have matured considerably since leaping maniacally about the stage of the very first Comedy Store, but he still possesses a venomous passion, an uncompromising attitude and an eloquent wit, which he admittedly mixes in with lower-key moments. It was a treat to see such an old master at work.
9. The Gentleman Of Leisure. British Museum, London, January
Site-specific comedy is always memorable, and Nish Kumar and Tom Neenan presented a brilliantly funny and stupidly over-the-top introduction to some of the treasures of the British Museum, obviously driven by a passion for the history, but not afraid to mock it (as well as certain aspects of Britain's colonial past that explains how these items were 'obtained'). Their explanation of the linguistic secrets the Rosetta Stone unlocked, via the medium of Google Translate, was particularly well done, but there were plenty of highlights on this alternative tour. The only criticism is that it was way, way too short. Original review.
8. Royal Free Rocks With Laughter, Adelphi Theatre, London, December
An embarrassment of comedy riches at this World Aids Day fundraiser included the quadruple delights of Rowan Atkinson squeezing laughs out of every syllable in his classic headmaster roll-call sketch, a reunion of the League Of Gentlemen - even if they didn't do new material, Harry Hill going properly bonkers, and the return of Smashy & Nicey with Paul Whitehouse and Harry Enfield making plenty of sly Operation Yewtree gags. Like any busy benefits it was hit (Matt Lucas, Lee Mack) and miss (Julian Clary), but for star power alone, this was probably the line-up of the year. Original review
7. Red Bastard. Assembly George Square, Edinburgh, August
I don't know about you, but having my face squeezed between two enormous red buttocks certainly counts as an unusual Thursday afternoon. This is perfectly acceptable behaviour on the Edinburgh Fringe, of course, where American performance artist Eric Davis, clad in padded scarlet lycra and with his face painted ash-white, combined comedy and clowning for a sort of extreme self-help session. He bullied, seduced and cajoled the audience, getting them to bow to his command - even if defiance is what was demanded - and ultimately persuaded them to shed the shackles of convention and do something daring. It was a mesmerising performance, and a proper encapsulation of the spirit of the Fringe. Original review
6. Tree. Manchester Royal Exchange, September
Daniel Kitson normally features somewhere on this annual list; and this year it is for his first ever two-handed theatre piece, for which he recruited Tim Key to play a suburban man nervously awaiting to meet his date beneath a tree. A full-sized one was erected in this theatre in the round, with Kitson lurking in the upper branches. His character apparently now lived there, the result of an eco-protest got out of hand. The banter between the pair sparkled, giving a new dimension absent from Kitson's brilliant monologues and further underlining his reputation as a creator of quirky, witty, original and though-provoking pieces. Original review
5 The Wrestling II. Pleasance Grand, Edinburgh, August
From the comparatively low-key to a production for which nothing can be too extravagant - the return of The Wrestling to the Edinburgh Fringe. While the first bout, two years ago, had the unrepeatable frisson for the audience of not knowing what to expect, this built on the spectacle with a stronger storyline, more direction (though chaos is still part of the fun) and a sublime interlude from The
Boy With Tape On His Face
, who us about as far from the muscle-bound hulks as you can get. Meanwhile, the comedians seem to be getting more acrobatic in the ring, and
Tom Rosenthal
increasingly disturbing in his perverted, gimp-suited 'Explosenthal' alter-ego, that's enough to give you nightmares. Another glorious night of spectacular showmanship.
Original review
.
4. Bo Burnham: What. L'Astral Montreal, July
.
The virtuoso second show from comic prodigy Bo Burnham is a hugely impressive onslaught of ideas, music, wordplay and multi-layered set pieces that perpetually keeps you on your toes… and even so, it is so densely packed with ideas that you're sure to miss something. Good job, then, that he has just released the show in its entirety on YouTube for free. I saw this impressively theatrical offering at an intimate theatre at the Montreal Just For Laughs festival, just before its run at the Edinburgh Fringe and subsequent UK tour. In Canada, it was easily the best thing on offer among the English-speaking world's finest comedians, which is quite some achievement. Original review.
3. John Kearns, Sight Gags For Perverts. Voodoo Rooms, Edinburgh, August
.
It's always great to see a comedian who ploughs their own furrow suddenly 'get it'. Lunatic absurdist John Kearns has spent years baffling, even enraging, audiences with his uncompromisingly peculiar sets, often deliberately designed to test the patience. I have to admit to having been on the 'not getting it' side of the room on previous occasions too. But with his Edinburgh debut,named after a critic's description of Dr Strangelove, Kearns grounded his oddball ingenuity with some context, and his arhythmic pace and apparent non-sequiturs all worked to marvellous effect, creating something genuinely original and genuinely funny. Original review.
2. Adam Hills: Happyism. Princess Theatre, Melbourne, April
The feelgood show of the year, no doubt about that. Hills is so effervescently charming that he can tell us of encounters with everyone from The Muppets to the Dalai Lama and it not seem like boasting, just entertaining tales from a good bloke who stuck it lucky. (Though I'd argue talent has a lot more to do with it). Hills has increasingly been delivering messages with his heart-warming banter and storytelling, a facet he built upon with discussions of racism, offence and disablism (inspired by his breakthrough TV show The Last Leg). Hs showstopper might have been a touch emotionally manipulative - but it worked like a dream. This is a show guaranteed to have everyone leaving the theatre with a spring in their step and warmth in their heart. You can't argue with that. Original review
1. Dame Edna: Eat, Pray Laugh, The Farewell Tour. Milton Keynes Theatre, October
How good was Dame Edna's farewell performance? Enough to banish the dated old racist claptrap peddled by Sir Les Patterson just minutes earlier - that's how good. But ignoring that toxic set, the rest of this show was a a triumph: a glorious frolic around Barry Humphries' six decades in the spotlight with a dazzling performance from the Housewife Superstar herself, with deft and acidic insults, filthy double entendres and over-the-top glamour. The final adieu struck the perfect mix of celebration and sadness that this iconic character was to be pensioned off after 58 years. But she went out with bang, you have to give her that. Original review
And the worst?
We have a tie! Between the Trailer Park Boys at the Hammersmith Apollo or Tracy Morgan at the Melbourne Comedy Festival.
Morgan'dated, misogynistic, sex-obsessed stand-up was so bad it made news, with several papers reporting on the many walkouts. My feeling was not that they left through moral outrage, but because the 30 Rock star was just so pathetically out-of-touch and unfunny, using blunt crudity - usually about 'stinky pussies' - in place of any wit. It's a joyless show that made me feel dirty just watching it. Original review.
In London in May, cult Canadian troupe the Trailer Park Boys served up an insult of a show, which surely took longer to perform than to write. And I used the word '"write" in the loosest sense, as crude dating gameshows, tedious photo montages and even stopping the action to sell hamburgers were among the diversions keeping the boys from actually doing something funny. Some of the predominantly drunk audience - constantly up and down out of their chairs to the bar - seemed to enjoy shouting catchphrases at the people from the telly. Fine... but it wasn't comedy, by any stretch. Original review
Published: 30 Dec 2013
What do you think?