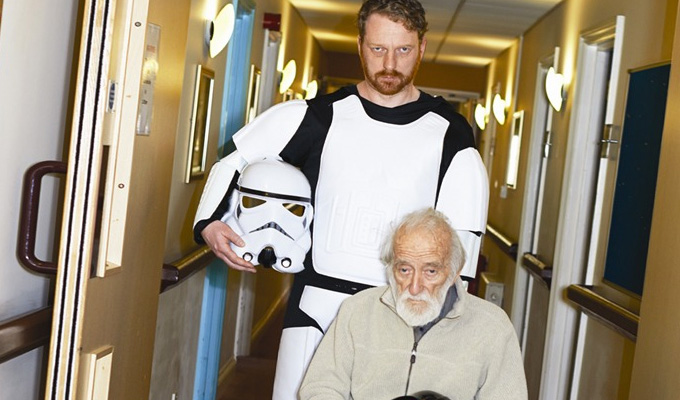 The ten most memorable comedy gigs of 2014
Another year over, and here's the now-traditional (at least for me) list of the ten most memorable gigs of the 300 or so I saw over the year, compiled with the benefit of hindsight. It's a personal list so there are omissions of shows I didn't get to see – Still Game being the notable one – and it's based on memorability, not just how funny a show is.
But it must have been a good year when the likes of Simon Amstell, Miles Jupp, Bridget Christie, Cardinal Burns and Adam Riches – all of whom had excellent shows in 2014 – can only make a bubbling under list, along with such interesting experiments as Come Heckle Christ in Melbourne and Eleanor Tiernan's National Therapy Project at the Galway comedy festival.
And the worse shows of the last 12 months? It has to be a toss-up. On one side, Lee Evans's Monsters tour, a disappointing and lazy retred of old ideas that nonetheless was the biggest live show and DVD of the year. I saw that at the O2 in September, while on the other side of the coin – and at the other end of the scale – Gareth Morinan's free show in an Edinburgh pub room was an utter waste of time as he and his poor guest pissed about for an hour with a supposed improv format neither had a clue about. The audience lobbed in the best lines, but mostly this car-crash – Chortle's only one-star review of the Fringe – proved that good improv needs good planning, or good experience.
But focussing on the positives, here are the ten shows of 2014 that made my entirely subjective cut:
10. Tim Key: Single White Slut, Arcola Tent, London, March
Before transferring to the Edinburgh Fringe, multi-award-winner Tim Key presented his engaging mix of poetry, dryly witty bathos and gauche banter in a wonderfully theatrical in-the-round staging, the audience 360 degrees around the bed that formed such a central part of his story. The setting was intimate, the pace languid – and the result a sheer hypnotic delight. Original review.
9. Margaret Thatcher, Queen Of Soho, Latitude Festival, Suffolk, July
As the Iron Lady fused with disco diva, Matt Tedford has created an instant cabaret favourite. At the Latitude festival he and his cohorts overcame vast technical challenges with the boisterous high spirits that epitomise this bold, brash and infectiously silly pantomime of a show. Original review
8. Alexis Dubus: Cars and Girls, Melbourne Comedy Festival, April
Alexis Dubus, the man behind sneering French flaneur Marcel Lucont, performed this unique storytelling show at the 2013 Edinburgh Fringe, but it wasn't until its run down under that I caught up with it. His touching tale of adventure and love is told in verse, yet so natural you barely notice, and takes the audience on an evocative journey around the world, and around his relationship. It's beautiful, funny and mighty impressive. Original review
7. .John Kearns: Shtick, Edinburgh Fringe, August
The first comic ever to win the main award at Edinburgh the year after being named best newcomer, John Kearns proved that even off-the-wall comedy can have a wide appeal in the right hands. His loner personality, bewildered by his modest success in comedy, shone through his strange set pieces and his delivery of it wearing a comedy wig and teeth throughout. My only criticism of this glorious show was that at 40 minutes it was over too soon (although other performances ran the full hour by all accounts) – and that can't be so bad. Original review
6. Kraken by Trygve Wakenshaw, Melbourne Comedy Festival, April
So much creativity was on display in the rubber-limbed Kiwi's near-silent show, an hour of clowning that was as silly as it was inspired. This charming, playful offering would go on to attract rave reviews in Edinburgh and London, and rightly so as it latched on to the current trend for physical comedy but taking its own direction. Original review
5. Luisa Omielan: Am I Right Ladies?, Edinburgh Fringe, August
It's something of a mystery why this didn't make the Foster's shortlist… perhaps because it's not so consciously 'artsy' as some of the other contenders. But Luisa Omielan's gutsy follow-up to What Would Beyonce Do? contained a feminist message behind the high-energy fun, and seems targeted at a sub-demographic of younger women that comedy often overlooks. Mainly though, it was fun, invigorating, and hilarious, wearing its message as unselfconsciously as a hen party wears L-plates. Original review
4.Noel Fielding at Sheffield City Hall, October
After a five-year absence from touring, Noel Fielding returned distinctive, bizarre and hilarious offering showing he's at the peak of his powers. He was aided in his madness by his brother Michael and brilliant Tom Meeten, who really ought to be famous in his own right by now. The gig was occasionally self-indulgent, but the big pieces - especially the finale, which had been skilfully set up over the entire show – will stick in the mind. Original review
3. A Show For Christmas by Daniel Kitson at the Battersea Arts Centre, London, December
This annual list probably wouldn't be complete without an entry from one of the most consistently impressive comedians of his generation. Of all the shows he performed this year, his typically bitter-sweet Yuletide offering, about an elderly Christmas grinch sharing a long motorhome journey with a thirty something everywoman was the best: In turns hilarious and mesmerising, and a real festive treat. Original review
2. Monty Python, O2 London, July
By a lot of critical measures this was a long way from a comedic success - but this was the one show I've seen at the O2 that came even close to overcoming the venue's normal atmosphere of a disused Soviet tractor factory to create an air of palpable excitement, with the audience as much a part of the show as the septuagenarians on stage. They certainly knew the lines a lot better that some of the Pythons we could mention. A big-budget musical tribute to the legacy, this was more celebration than anything else… and certainly anyone in the audience over the ten nights will long remember that jollity for a long time. Original review
1. Kim Noble: You're Not Alone, Traverse Theatre, Edinburgh, August
The most memorable show of the year was not always the most comfortable to watch – as is Kim Noble's trademark. This intensely introspective look at loneliness in a connected age wielded much emotional power along with its jet-black humour. As with his previous work, the often bleak show charted his trangressive real-world behaviour and thoroughly smudged the boundaries of morality, generating laughs of discomfort about his doubling behaviour. But its poignancy towards the end of a difficult but rewarding hour was what elevated You're Not Alone to a haunting piece of theatre. Original review
Published: 28 Dec 2014
What do you think?