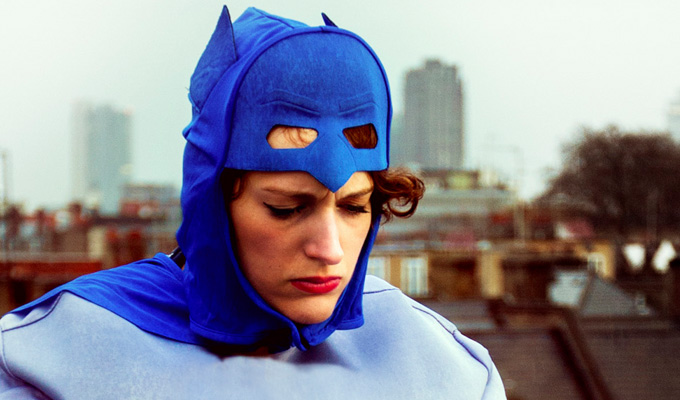 Fleabag
As calling cards go, Fleabag is attention-grabbing: an audacious, hilarious, candid, compelling and heartbreaking look at the life of a very modern 'hot mess'.
No wonder Phoebe Waller-Bridge's astonishing one-woman show was picked up for TV so soon after debuting at the 2013 Edinburgh Fringe. No wonder that programme, on BBC Three and Amazon Prime, is picking up a slew of awards. And no wonder that when this return run was announced at the Soho Theatre, which helped developed the original show, it sold out in ten minutes.
Fleabag, possibly a corruption of its creator's first name but undeniably appropriate, is an outrageously beguiling character, sharing confidences with glorious indelicacy and fierce wit. Her life is a mess - she runs a failing guinea-pig themed cafe and her personal life is a string of meaningless, often boozy, sexual encounters – even her central on-off relationship. 'I'm not obsessed with sex,' she protests. 'I just can't stop thinking about it.' But there's no joy in it, from masturbating sadly to YouPorn to the emotionless look on her face as she manoeuvres herself into position for a vaginal selfie – her resigned ennui in contrast to the excited reaction of the boy she's sexting.
Her exploits are recounted with a frankness that sits right in that glorious grey area between refreshingly honest and callously bitchy. Delivered from a single stool, Waller-Bridge talks directly to the audience and occasionally reacts to us, recreating the perfect gossipy, wine-fuelled night out with an indiscreet friend.
Fleabag is fiercely self-centred, casually spiteful, and refreshingly opinionated and she, or rather Waller-Bridge's pin-sharp, tautly efficient script, describes each situation with masterfully vivid turn of phrase. Everyone immediately feels real and three-dimensional, from the small-mouthed 'Tube Rodent' she picked up on public transport to the outwardly successful, inwardly conflicted sister.
While it might seem that Fleabag can't connect with people well, she had a soul mate in her pal and cafe co-founder, Boo. It's no spoiler - especially if you've seen the TV show – to reveal that Boo died when a cry for attention went tragically wrong, an accident which seems to have heightened Fleabag's narcissistic nihilism, considering that the only people she really cares for are so brutally seized from her.
This is but one facet of a jet-black foundation for the monologue as more about Fleabag's volatile life is revealed. Waller-Bridge's mesmerising performance – enhanced by director Vicky Jones – can spin the audience's emotion in an instant. One revelation produces a huge gasp from the room, while laughs frequently give way to rapt silences.
Waller-Bridge brings to life the other characters too, often with the most subtle physical or emotional expression. Meanwhile, other people are provided in voiceover, throwing even more focus on Fleabag's perfect reactions.
The theatre, especially one as intimate as Soho, has an intensity that the small screen cannot hope to capture, even though the TV adaptation, faithful to large parts of the play, is such a fantastic piece of work. You'd wish for a longer run than this short revival, but Waller-Bridge is clearly such a towering talent that such confined space can no longer hold her.
• Fleabag is at the Soho Theatre until December 16. Returns only.
Review date: 9 Dec 2016
Reviewed by: Steve Bennett
What do you think?