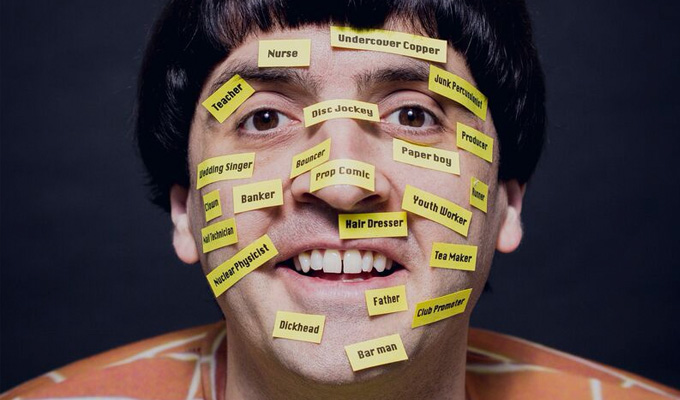 Comedy gigs of the year 2015
Here's my annual list of the most memorable gigs seen this year – a tougher year than most since there was a huge spread of very good gigs, but also few transcendental ones; a fact perhaps reflected in the fact Chortle awarded no five-star reviews at the Edinburgh Fringe.
Personally, I saw 341 gigs this year, everywhere from Hampton Court Place to sitting on the Tarmac of a blustery Brighton seafront in front of a beach hut, so trying to pick just ten is tough.
Bubbling under are Dave Chapelle at the Hammersmith Apollo in July, fine Fringe shows from Mark Steel, James Acaster, Joseph Morpurgo and Australian Alice Fraser, whose work was new to me, giving it extra impact; top touring work from Kevin Bridges and Dara O Briain, Harry Enfield and Paul Whitehouse's stage comeback, and even Daniel Kitson's epic storytelling night at the Manchester Dancehouse.
So if talents like these didn't make it, who did? This lot, that's who:
10. Rob Delaney (Queen Elizabeth Hall, London. June)
Riding hight with the second series of Catastrophe, Delaney keeps reminding us of the less civilised side of life, portraying himself as a 'inept, dumb, barely presentable schlub' stuck in a 'jalopy of a marriage'. A candid, and hilarious, look at a chaotic life. Review
9. Tommy Tiernan: Out Of The Whirlwind (Soho Theatre, London, June)
Out of the whirlwind? He's the very cause of it; a vortex of big ideas, powerfully delivered, that sweeps up all before it. The passionate Irishman again nailed the wisdom of fools in a typical mix of the cynical and the fanciful, sometimes yelled, sometimes whispered, but always falling on attentive ears. Review
8. Frankie Boyle (Cliffs Pavilion, Southend, October)
Boyle's vicious, stinging vitriol is aimed more squarely than ever before at our screwed-up society. He speaks a lot about the context of his jokes, denied when reported by outraged tabloids, but the crux of his comedy is that nothing he says can be as offensive as the things politicians are up to. Yet unlike most lefty comics, he's not preaching to the converted; but a more laddish audience. They come for the brutal one-lines, but hopefully some of the politics will stick. Review
7. Tree (Old Vic, London, January)
Ah, so Kitson did make the list after all. This was my second time of seeing his tricksy two-hander with Tim Key, following its debut at the Royal Exchange in Manchester in 2013 – and it lost none of its capacity to surprise on its second outing. Glorious language and and a lovely dynamic with Kitson, atop a tree presumably in protest, and Key meeting a date down below creates memorable dialogue. An excellent way for the Old Vic to use its new in-the-round layout. Review
He'd go on to win the main Foster's award at Edinburgh, but even four months earlier it was clear that this was something special. The sometimes intense absurdist offered a peek at what made him the sort of oddball he is, giving a rare but welcome bit of context to his insanity. That said, the moment that most sticks in the mind is him violently bashing two lettuces together over his head – so sometimes context is a hinderance. Weird and wonderful, and the best hour this always-interesting act has ever done. Review
5. Bill Bailey: Limboland (Vaudeville Theatre, London, December)
Late in the year, Bailey sweeps into the top 5 with the show he'd been touring for a while before it hit London's West End. This near-perfect mix of politics, humiliating tales and – of course – musical mash-ups was a celebration of awkwardness, lovingly written and endearingly performed. Real fun. Review
4. Stewart Lee: Room With A Stew (Leicester Square Theatre, London)
Like an Irish menu, this list wouldn't be complete without Stew – and this year he produced yet another display of irony-drenched intellectual grandstanding to remind us all we'll never be as smart as him. Nor as funny, with a show that's not only written with piercing insight, but is peerless in its execution – though many would try to imitate it. Brechtian alienation has never been so funny. These were three of the six stand-up routines that will comprise the next series of his Comedy Vehicle on BBC Two. Viewers have a treat in store. Review
3. 'Weird Al' Yankovic: Mandatory Fun (Hammersmith Apollo, London, October)
Let's helter-skelter down to the other end of the intellectual scale… but 'Weird Al' scores for knowing just how to put on a show. With costume changes, hilarious video inserts and full-on production values, this was a little bit of Vegas in W6. Song parody is a genre that's never been cool but by Yankovic absolutely owns the cheesiness, and by going full-out for the rock experience, his show was an absolute blast. Review.
Speaking of throwing yourself into an idea, Gadd – and a game cast of alternative comedian helpers – did just that with this high-concept multimedia show about him running late for his own Edinburgh show. As he called in with updates to his whereabouts, the full extent of the predicament he found himself in unravelled. In a suitably late-night slot in the bowels of an Edinburgh Old Town pub, this was the audacious show all the other comics were talking about, And with very good reason. Review.
I did have a criticism of this inventive and delightful show at the time – that there just wasn't enough of it. For there's so much to enjoy in Jones's idiot alter-ego, raiding the pound shop for adorably stupid props and demonstrating an innately hilarious physical comedy as he dances around to his homemade music. He's full of childlike delight – and childlike mischief, as he impersonates the relatives who urge him to stop mucking about with cheap toys and get a proper job. He'd better bloody not. Look out too for his excellent Christmas short on Sky Arts, available now on demand if you're a subscriber. Review.

Published: 30 Dec 2015