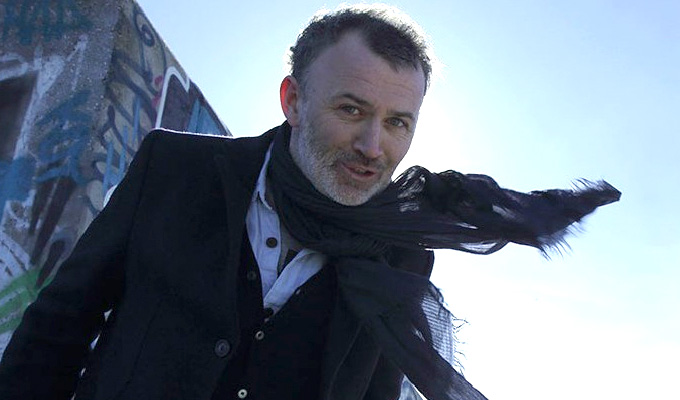 Tommy Tiernan: Out Of The Whirlwind
Note: This review is from 2015
Tommy Tiernan's always had the mischief in him; a compulsion for naughtiness that, combined with his impetuousness, can sometimes land him in trouble.
That's perhaps why he frames so much of this show as being a whimsical whirlpool of nonsense; that whatever he may say – whether it be that all women are insane or that we should hunt the obese – it's never sincere. Nothing should be read into his philosophical-sounding stand-up, he demurs, he's just 'mooing for the sake of mooing'.
Still, that didn't stop one punter tonight getting upset about Tiernan venting his fictionalised frustrations at his fictionalised wife as she slept in their fictional bed. For the very fact that Tiernan always flirts close to a truth – if not THE truth – is what gives his spirited comedy such an edge.
His worldview is a counterintuitive blend of the cynical and the fanciful. He has a less romantic view of sex than he does of homeless people shouting at traffic. Meanwhile, his wife and children delight and exasperate in equal measure, and the knowledge that his 45-year-old body is deteriorating is a source of both sadness and celebration, as he mourns his hair loss but sees an upside to impotence.
That's typical of the fool's wisdom Tiernan so potently expresses. In a uniquely powerful performance, he yells himself hoarse with frustrated passion, then contrasts it with moments of whispered contemplation, while backing his words with an emotive physicality, often Bent Double in intensity as he pleads his case.
Yet sometimes he doesn't look at the audience at all, proclaiming out to the wings or even down to the floor, as if addressing invisible adversaries, imploring them to see his point of view. But although the style is highly mannered, it's not forced, even when he decries capitalism in what's almost a beat poem, as relentlessly grinding as the cogged wheels of the system itself.
For he embodies the free spirit of a man whose calling is to stare out of the window pondering life, until he gets inspired, goes mad, or both. The product of that is then ejected from his brain with force, a pressure-cooker of ideas, exploding outwards. And because it's uncontrollable, purposeful trains of thought combine with more esoteric musings, especially at the start. Before he settles into his rhythms he even grasps for the right words, but once he hits his stride, that's never a problem as he artfully expresses every puckish thought to ceaseless roars of laughter from an audience swept up in Tiernan's tornado.
Review date: 10 Jun 2015
Reviewed by: Steve Bennett
Recent Reviews
What do you think?