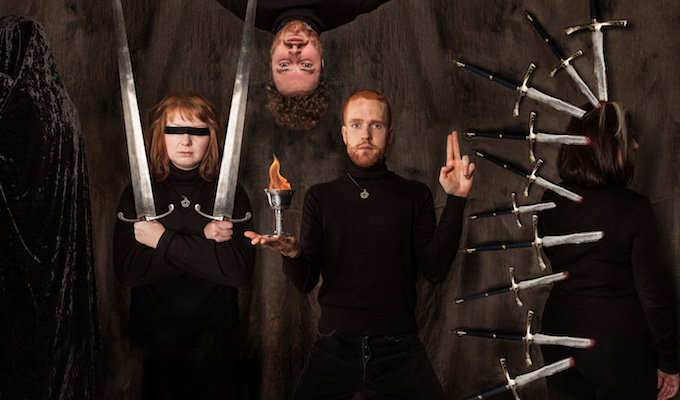 From hysterical pandemonium to the sensitive and heart-rending... the top ten comedy gigs of 2019
As is tradition, here's my look back at the ten most memorable comedy gigs of the last 12 months. There are bound to be omissions – the 300 or so shows I see each year are but a scratch on the volume of work the UK's industrious comedy scene produce – and the emphasis is on the 'memorable' not necessarily the funniest or the most game-changing, even if tthese qualities are so often interlinked.
So, in order:
1. Tarot
Pleasance Courtyard, Edinburgh, August
Tarot were packed into the sweatbox of Pleasance Attic at a time when all sensible folk are abed. But 'sensible' is not a phrase to apply to this manic, ridiculous, dark, sordid and preposterous trio, comprising Ed Easton and Kath Hughes from Gein's Family Giftshop and Goose's Adam Drake.
Between them the created hysterical pandemonium with performances that were at once intense and able to bend with audience reaction, capturing that frisson that only live performance can, existing in the moment. TV will never be able to capture this anarchy, which had the true spirit of alternative comedy.
It was, in short, a blast. Original review
Melbourne Arts Centre, April
Following up the game-changing Nanette was always going to be a tall order, especially given that Hannah Gadsby had announced it as her farewell to the world of stand-up, believing comedy to be an unhealthy for her, and not up to the job of addressing serious concerns.
Luckily for fans of the art form, she found herself with more to say and the strength to say it. Her life has changed unrecognisably since being feted by the US industry, one of several factors that put her in a better place personally. This gig was in a fancy venue, with ticket prices to match, and phones locked into pouches. That's what a Netflix deal does for you…
She served up another virtuoso display of stand-up, tackling critics who called Nanette a 'lecture' head-on, exploring the effects of centuries of sexism, and revealing how her feelings of being out of step with the world were finally revealed to have a scientific explanation.
It may have lacked the powerful sucker-punches of her earlier show – which must have taken an emotional toll to repeat night after night – but Douglas conclusively showed complaints that Gadsby can't do 'proper' comedy were wide of the mark, while having plenty to say about the sometimes toxic state of the world. Food for though, and for laughs, this established Gadsby as being more than the landmark show that made her name.
3. Catherine Cohen: The Twist… ? She's Gorgeous
Pleasance Courtyard, Edinburgh, August
More intensity in this New Yorker's car-crash cabaret, which scooped the best newcomer award and so perfectly captured the gulf so many people feel between projecting an Instagram-perfect image while feeling insecure inside.
For Cohen, her outlet was the stage not social media, and her portrayal of a rampant egotist on the edge was never short of compelling, in a force-of-nature performance that gave the impression of freewheeling out of control with simultaneously revelling in her boastful fabulousness. Great stuff
4. Cassie Workman: Giantess
Melbourne Town Hall, April
Trans rights are increasingly coming to the fore, with a lot of shouting and hysteria surrounding the issue, no matter from which direction the trenchant opinion comes.
At the Melbourne International Comedy Festival, Cassie Workman offered pause among the noise for a sensitive, heart-rending and deeply personal story of her journey, from feeling out of place as a youngster to being denied her identity as she grew up, told through a fairytale analogy.
With as many funny moments as tender ones, this charming hour also addressed the alienation – if not downright demonisation – an already marginalised group feel, through an an empathetic, self-deprecating storyteller
6. Baby Reindeer
Bush Theatre, London, October
Another first-hand story from a comic who has earned a reputation for the fearless ways he has addressed trauma through his art. Billed as a theatre show, rather than comedy, Baby Reindeer was a darkly funny retelling of how he fell victim to a stalker; a topic so often treated flippantly, especially when it is a man being relentlessly pursued by a woman.
This tense telling had the edge of an unsettling psychological thriller because it could happen to anyone. In his vulnerability Gadd considered whether he might have been complicit, until the escalating attention makes it clear he wasn't. Gadd and the simple but effective staging exploited the tension expertly, only occasionally easing back for a jokey comment, making for a story that will long stay with you.
7. Jack Tucker: Comedy Stand-Up Hour
Underbelly, Edinburgh, August
Back to high-intensity madcap with this alter-ego of comic Zach Zucker. Tucker is a desperate hack of a stand-up, hiding his insecurities through comedy, and his lack of good jokes behind an explosive onslaught of energy and sound cues. You will never hear Lenny Kravitz's American Woman again without experiencing a flashback.
Gradually bits of back story emerged from the frenzy, while Tucker's humanity is emphasised by the occasional hope in his eyes when a bit does land. Maybe this could be his ticket to big things, thought it's unlikely.
There are lots of precedents for this sort of sad-sack act: Neil Hamburger, Nick Helm, Johnny Vegas, Phil Ellis… but Zucker makes his room-splitting creation work on its own terms.
Incidentally, Stamptown, the late-night comedy gig Tucker presents featuring likeminded offbeat comics, could easily have made this list, too, as it's unpredictable, anything goes nature makes it the best late-night show on the festival circuit.

Pleasance Courtyard, Edinburgh, August
Winner of the main prize at Edinburgh, this marked the ever-creative Jordan Brookes going back to basics, after last year's tech-heavy show. Here the comic is restlessly killing time, trying to figure out things to do as the clock runs down and his hour's up.
Partially-scripted, partially him trying to make what he could of every minor distraction in the room, the show treated the profound flippantly and the flippant profoundly. It made good use of Brookes's malleable physicality, and a genuine sense of not knowing what was coming next, not so much in a wildly anarchic way but rather because you didn't know where his restless, but idling mind, would go.
8. Max and Ivan: Commitment
Pleasance Dome, Edinburgh, August
Much of the best on offer at Edinburgh, like Brookes' show, shared a slightly unpredictable vibe. But Max & Ivan went the other way, with a taut narrative packed with more jokes, I expect, than any other hour at the Fringe.
The story involved them attempting to get their teenage band back together again, which allows liberal mocking of their youthful selves, some modern-day geek comedy (party-planning spreadsheets and a brand-new language) plus some deliciously absurd asides.
Through all the silliness, as tight Voodoo 7:2's snare drum, the pair subtly offered a look at male friendships, drawing the audience in to their fine bromance. Expertly directed by Kieran Hodgson, this was an impeccable hour of comic storytelling. You can almost see the movie version already…
Assembly Hall, Tunbridge Wells, April
In 2019, Rhod Gilbert returned to stand-up after six years away – and now he's in a double act. Not that the other guy knew about it: John was a driver he employed for a whil who had enough outlandish opinions to fill a book – and to fill Gilbert's show as his took on the dumb logic using his trademark exasperated fury. It's the Ricky Gervais/Karl Pilkington dynamic, basically, but without the irritating laugh.
But there are more serious undertones, too. John was employed after Gilbert had a mini-stroke, and the comic was also forced to face up to the fact he might be infertile – with the trip to the clinic inevitably forming one of the show's comic highlights.

Pleasance Courtyard, Edinburgh, August
Memorable for being one of the more surprising discoveries of the Edinburgh Fringe, London Hughes sophomore show spotlighted a comedian who has perfected how to harness her larger-than-life personality into a rambunctious sex-positive hour that had her audience roaring. Outrageously frank, entertainingly free-wheeling and performed with the energy of Sizewell B, despite the intimacy of the Fringe venue; this was a force of nature at work. 
Original review.
Honourable mentions in no particluar order:
Published: 30 Dec 2019
What do you think?