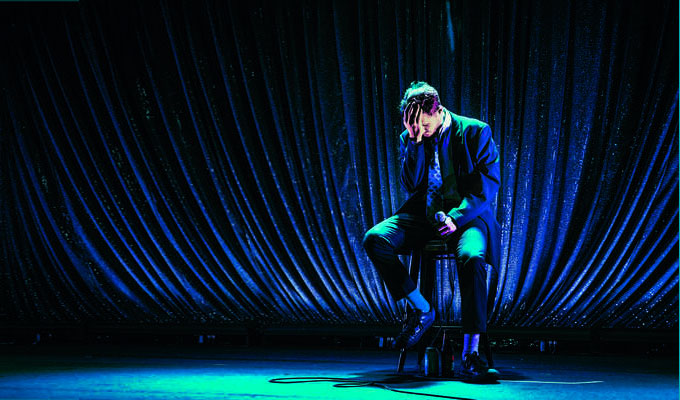 Jack Tucker: Comedy Stand-Up Hour
Note: This review is from 2019
There has always been something compelling about seeing a stand-up struggle. For it surely the height of valiant failure to witness the spiralling indignity of a comic reaching ever-desperately to find something, anything, that will entertain the crowd.
Through his obnoxious, wretched alter-ego Jack Tucker, American comic Zach Zucker recreates that torment every night. Tucker is the ultimate hack comedian, a sleazily unkempt figure who's all truculent Noo Yawk bluster and no material.
An aggressively triumphant sound effect follows every cheesy line: usually Lenny Kravitz singing American Woman, a gun cocking, or a blast of machine-gun fire (so you may have to put real-world events to the back of your mind).
He checks we understand the most universal of reference points, has to steal a glance at his notes on the back of his hand to remember where he's playing – and of course mangles the pronunciation – and randomly drops in clichés like 'give it up for the bar staff' with zero sincerity.
He could be playing the same low-rent circuit as Neil Hamburger, but while Gregg Turkington's creation has all-but given up, tragically trudging through his miserable set night after night like a punishment from the Greek gods, Tucker still believes he can make it. He's investing all this energy into the act, because however little it is, it's all he's got – especially after his wife left him. As revealed in dewy-eyed asides to the audience, this aspect makes the wild desperation a little more endearing.
In his destructively optimistic delusion, Tucker grossly overestimates how successfully he's doing, while taking disproportionate pride in every minor success. For example, after the most perfunctory bit of crowd work he'll let out a triumphant cry of 'riff!' as if to congratulate himself on an achievement unlocked.
Stand-ups mocking stand-ups is hardly new, and of contemporary comedians Nick Helm also uses sound stings and bellicose delivery to batter a crowd down. But what sets Zucker apart is the sheer chaotic energy that never lets up; his Gaulier-honed clown skills that add a manically clumsy slapstick, and his rapport with director Jonny Wooley in the tech booth, who triggers those sound cues, nudging Zucker to ad-lib and push the performance in a slightly different direction.
A caveat: there is a good chance all this will irritate you intensely. Zucker wears his walk-outs as a badge of honour and at this performance, maybe nine people headed for the door about 40 minutes in – a perfectly timed departure to give fresh poignancy to the act and more reason for Tucker to fight to turn things around. It helps stop the central joke wearing thin over an hour.
But strap in for the ride, and it's a raucously hilarious 60 minutes.
Review date: 8 Aug 2019
Reviewed by: Steve Bennett
Reviewed at: Underbelly Cowgate